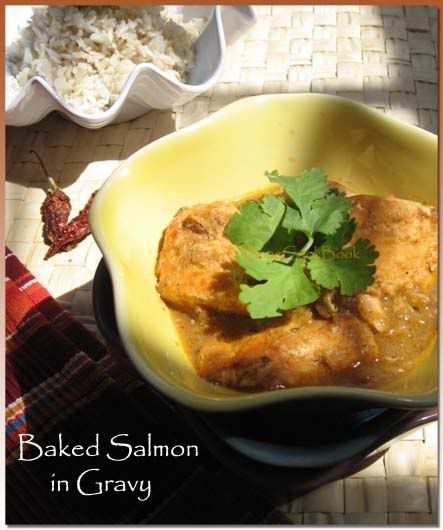 T
his recipe is for SJ of
A Pinch of Spice
. Until she mentioned I did not even know that a dish called "
Baked Salmon er Kalia
" was titillating Bong palates up North-West. I knew the regular
maacher kalia (or fish kalia)
but this was salmon and that too baked. My local bong friends spoiled by the bangladeshi fish sellers abounding the east coast seldom cook salmon while entertaining and so such a nouveau dish had not found its way in their kitchen.
So I searched high and low, actually I just Googled and bam landed on
this recipe
. "So this is what it is", I thought, "almost like a regular kalia but the salmon has been marinated in spices and baked" ?
I still do not know the answer i.e. if this is the REAL "
Baked Salmon er Kalia
" or not. Only SJ can testify. Till then all I can say is this was a lovely salmon dish, just like a regular macher kalia but with salmon and we thoroughly enjoyed it with a bowl of brown rice. Big Sis S seems to have taken a liking for salmon and certain fish fillet, and this dish apparently earned her approval
Read more...




For 6-7 pieces of salmon fillet. Each piece roughly a square of 2" x 1.5"





Prep

: Make a marinade of

2 -3 tbsp yogurt

,

1/2 tsp of garlic paste

,

1/2 tsp heaped of ginger paste, 1/4 tsp of R. Chilli Powder and salt

. In a shallow flat bowl(or even a plate) put the fish pieces and pour the marinade over the fish. Put back in the refrigerator for

20-30 minutes



Grind

1/2 cup of chopped red onion + 1 fat clove of garlic + 2 green chilli

(adjust according to your hot tolerance)

to a fine paste





Start Cooking:



Drizzle a

little olive oil

and bake the

salmon pieces

for 20 minutes at 275F 350 F After 20 minutes turn them over,

sprinkle a little sugar

and put in broil for next 5 minutes. Note: After suggestions by a friend I have been baking Salmon at a lower temp of 275F and the fish is much more moist and delicious. So i am updating this post with the new bake temperature.



To Make the Gravy:



Heat

Oil

in a kadhai or a heavy bottomed pan

Temper the oil with

1 large Bay leaf

or

2 small tej patta

(tej patta is usually smaller than bay leaf) +

4 Green Cardamom/Elaichi + 1/2 tsp of Whole Jeera/Cumin Seeds

.

When the spices sputter add the

onion + garlic paste



Fry for a couple of minutes with a sprinkle of

sugar

.

When the onion turns a nice reddish brown, add

1 tsp of fresh grated ginger + 1 small tomato finely chopped

(try to get a nice juicy stem tomato and use only 1/2 of a large one)

Fry till you see the tomato turn into a pulp and there is no raw smell

To

1-2 tsp of yogurt add 1/2 tsp of Corriander powder + 1/2 tsp of Cumin Powder + 1/4 tsp of Red Chilli Powder + little Turmeric and make a paste

. Here instead of yogurt you can make a paste in water also

Add this

paste + salt

to the Kadhai/Pan, turning the heat to low

Fry till you see the oil separate from the masala

Add about

1/2-1 cup of water

and let the gravy come to a boil. You may need to add more water depending on the amount of gravy

Let the gravy simmer till it thickens. The gravy will have a smooth consistency.

You can

pour the gravy over the baked fish

and serve. Alternately

add the baked fish to the gravy and let it simmer for 2-3 minutes

. Garnish with chopped

fresh corriander leaves

and serve




My other Fish Kalia with Rui -- Maacher Kalia

Salmon in an Indian Chilli Fish