"
Baby A loves to tickle and get tickled. She will stand in front of her big sis, pick up her sis's shirt and poke her sis's belly button saying "tikol-tikol". Big Sis S will stand there, wriggle, laugh out loud and aid the process. Wrapped up in such laughter, I pause my worries about Baby A's health and join in the merriment
"
"
We are back from a late dinner. Baby A is still awake, doesn't want to sleep yet though its way past bed time. I put both the sisters to bed, trying in vain to make them sleep. Big Sis S holds baby A tight, sings a "made up" song and pats vigorously. Strangely Baby A falls asleep. Doesn't happen every day but when it does, is the rare times that I feel blessed
"
"
Big Sis S is excited about an age old Mac, that her Dad has handed down to her. She browses over to Nick Jr to play something. Then she asks her Dad "Pichone tar ta ki lagano ache?"(Is the computer plugged in ?). "Why would you need it to be plugged in?" asks her Dad wondering if the battery is low.
"This game here says Flash Plug-in required", she says
"
"
Baby A will call her Baba -- Babba, she will call her sis -- Babba, she will call me -- Babba. Unless she is in distress she will not say "Mamma" and if I say "Mamma bolo, Mamma" she will pat herself. Weird !!!
" Recent Update: she is now calling me "Mamma", hurray but only 50% of the time
I am thankful for these moments. I am thankful for the freedom to blog, to retreat into a world where I can forget my cares. I am thankful for being around.
Appreciate the small moments that each day brings and once in a while try to be thankful for them. I am not a pro at this, just trying.
Happy Thanksgiving.
See you all next week.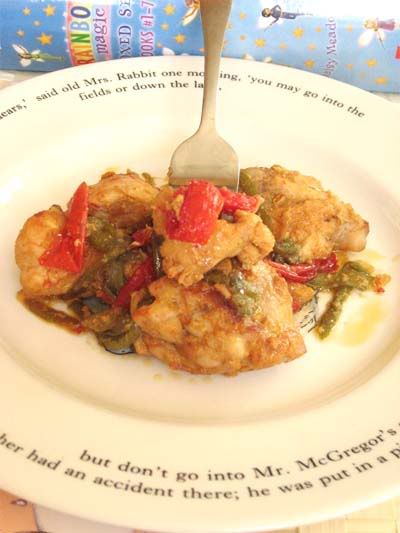 While you are busy making the turkey or whatever that you do on Thanksgiving, you might need a simple yet appetizing recipe for the kiddos. This
Quick Stir Fry Chicken
is really quick and easy and tastes great. Every kid should love it, ok at least like it.
"Does S, your almost 6 year old, like it ?" you, the regular reader might ask.
I would gulp a few and be totally honest, just because you are the regular reader.
"Well I am not sure", I will say. "She liked it at least 3 times in the last 3 years and that is something."
And then I will say "But the last time I made it which is just a couple days back, she preferred the
Pepper Shrimp
to Chicken Stir fry. Actually even the other kid who was invited, took several servings of Pepper Shrimp and only one of this."
Just ignore that discussion, I love this dish and so does D. I follow almost the same recipe when I make a chili chicken, will post that sometime. For now, if you have adults in mind add some chopped green chilis and a dash of hot sauce, it will make them swoon.
Read more...






Quick Chicken Stir Fry



Marinate

2& 1/2 -- 3 lb chicken

cut in small pieces with


1 tsp of Garlic paste

,


1 tsp of Ginger paste,


and

salt

for an hour or half

When you are ready to cook add
1&1/2 tsp of Soy Sauce or Tamari,
1 beaten egg
& 1 tbsp of Corn flour to the chicken pieces and combine

Heat Oil in a wok or kadhai or a saute pan

Add the

chicken pieces

in a single layer and

fry till they are lightly browned

.

Remove the lightly fried chicken pieces

and keep aside

To the same oil, add

1 clove of garlic

finely minced.

Note

: If for grownups, add 2-3 green chili finely chopped

When you get the flavor of garlic( careful don't burn the garlic)

add 1 cup sliced onions

. Fry till onion is pinkish brown.

Add

1/2 cup of french cut beans

and

1 red/yellow/green bell pepper thinly sliced

. Saute for 2-3 minutes

Add

1 tsp of Soy sauce + 1-2 tsp of tomato ketchup(the kids brand) + salt

and mix.

Note

: Soy sauce has salt so careful. Instead of tomato ketchup add some Hot sauce or Sambal Olek if it intended for grown ups.

Add the f

ried chicken pieces & saute for couple more minutes combining the sauce and veggies

. Add about

1/4 cup of water

and cook uncovered till chicken is done

Serve with fried rice or noodles



Similar Recipes:






Chicken Fry


Ginger Chicken -- My Style

Test