D
ecember is a special month for Big Sis S. And in her honor I am going to post recipes of food that she likes to eat, for the whole of next week. Now S likes good food and so she likes a lot of grown up food, her recent favorites being the Pepper Shrimp and Chicken Korma. If the food is hot but to her liking she will gladly eat it with a bowl of yogurt on the side. But if not, then it is another story.
For this week, I am going to concentrate
only on those recipes
which is
solely intended for her
. These are stuff which makes her face glow and she will eat them without any cajoling. These will be mostly quick and easy stuff which also make good lunch box items.We also love those but these are
kid specific versions, mildly spiced, wholesome and healthy,
I mean healthy for kids, me I try to stay away from too much cheesy stuff.
I know one week is not enough to blog all of them but I will see how much I can do.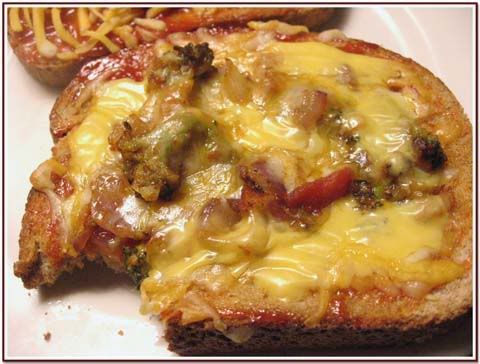 I am also going to try out new easy kid friendly recipes from other blogs, easy being the keyword. To start off is this
Bread Pizza
which is inspired by
Sailaja's Kids Zone
which by the way has volumes of great kid friendly recipes. S loved it and so did we. Actually S liked it so much that she took over and prepared most of the bread slices before I popped them in the oven. Thanks Sailaja for such a kid pleaser.
Read more...






Bread Pizza



Soften

butter

and spread smoothly on slices of brown wheat bread. You can use white but brown is better

Note

: I tried some without the butter and they were as good

Spread

tomato ketchup

in a thin layer on top of it

Heat a little olive oil in a frying pan

Add some

finely chopped onion

and fry till onion is soft and pink

Add steamed

broccoli

, chopped in small florets and fry for a minute. You can substitute with other veggies like carrots, corn or bell peppers too

Add a

little pasta sauce

and mix well. If you don't have pasta sauce season with salt and pepper.

Spoon this topping on the bread slice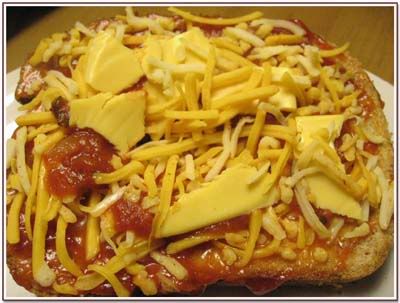 Cover with enough

shredded cheese

on top

We also added a slice of Kraft singles cut up in bits

Bake in the oven at

375 for 8-10 mins

or so till the cheese melts

The yummy and easy bread pizza is ready

Test