M
ung Bean is BIG in Ayurveda. As I read through I see whole green mung(moong) dal referred to having magical and powerful effects. It seems to be as magical as the magical bean of Jack and the Bean Stalk.
"Mung bean soup pacifies all three doshas and is nutritious yet easy to digest. Mung Bean Soup recipe is used to clear even the most chronic, troublesome digestive issues and used to enhance overall health and vitality."

Really ??? You say to yourself. Those
tiny shiny green beans
and they want you to
make a soup of it, a dal actually
, and
that dal is supposed to get rid of the toxins
in your body ??? Whoa, and you fall right into it and before you know you have this big pot of green moong dal bubbling on the stove and you are having a bowl full of it everyday. It does not exactly detox if you follow it up with cut
mirchi bhaji
and
samosas
with your afternoon chai but what the...
Actually the
green mung(moong) dal
is pretty delicious. Made the
Ayurvedic way without the onions and garlic
, makes it not rich but very tasty. I deviated from the recipe a little and followed my Mom's way,added vegetables like cauliflower and carrots. I think greens like spinach would be a very good idea too.
The
split and hulled moong dal, which is the yellow moong dal
has equal magical properties and you can use that instead of whole green mung beans. The yellow moong dal cooks faster and is also easier to digest.
When you are making the mung bean soup and you want to follow the
Ayurveda detox regime
you need to determine which category you fall in. Depending on the
dosha
you have you have to use different spices. The recipe I have here is loosely based on
Kapha Balancing Mung Bean Soup
. I have used whole green mung and also the pressure cooker. You can use yellow moong and do it in a regular pot.
Read more...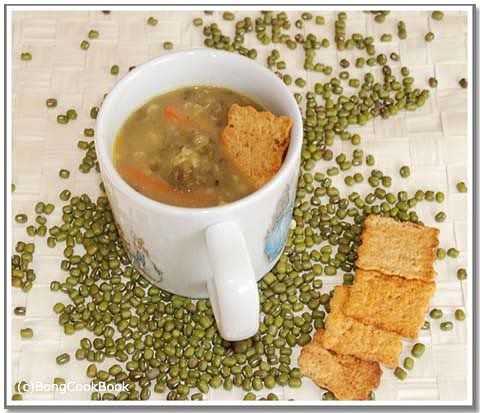 Green Mung Bean Soup




Wash and soak

1 cup of whole green moong beans

for couple of hours or overnight. You can skip the soaking if in a hurry.

Pressure cook the beans with double the water, little salt and 1/4 tsp of turmeric powder

Heat

Ghee

in a soup pot.

I used Olive Oil about 3 tsp



Temper the oil with
1/2 tsp of Whole Cumin/Whole

Jeera


1/2 tsp of Whole Fennel/Whole

Saunf

,
6-7 whole Fenugreek seeds/Whole

Methi

seeds
and a pinch of asafoetida/

Hing

.

If adding vegetables add them now and saute for a few minutes

Add the

cooked mung beans



Add

1" ginger grated or pounded

in a mortar and pestle

Add

1/2 tsp of fresh corriander powder

and

salt

to taste. Mix well. Add about

2 cups of water

and let the dal come to a boil.

At this point you can blend the dal to make a puree, I do not.



Adjust for seasonings. Squeeze

juice of a lime quarter

and enjoy hot.



Alternately



Skip step 2 i.e. do not pressure cook the dal at the beginning. Instead start the whole process in a pressure cooker and pressure cook the dal after adding all the spices.

I am sending this off to MLLA -19 hosted by Simple Indian Food and the brainchild of Susan of The Well Seasoned Cook

Test