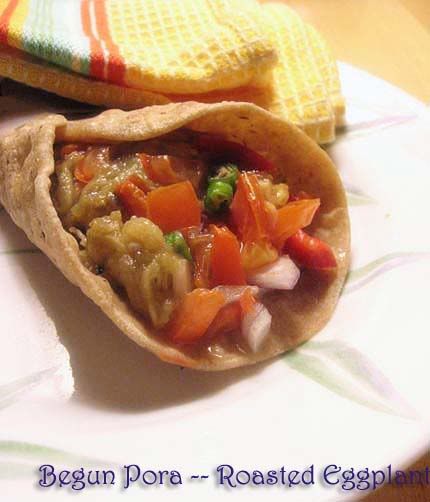 Begun Pora -- the rustic suburban cousin of Upper East side
Ms. Bharta
is a very simple, easy and quick if you can rope in the husband, dish.
The only scary part in this whole thing is roasting the eggplant, on the open flame, till it is charred and your smoke alarm starts ringing and the sprinklers go on and there are good looking firefighters ringing your door bell.
That would call for some exciting drama and you might get on page 2 of your local daily but if you abhor paparazzi choose from the following options:
1.On a balmy Tuesday afternoon when the birds are chirping and the wind is gentle hand the hubby a beer and an eggplant. Ask him to put it on the outside grill and keep a watch. Tell him he might get Begun Pora if he is good and some wilting lettuce if he is not. However un-romantic this might sound, the Bong hubby will watch and give you an eggplant that is done just right.
2.On other afternoons when nature is not on your side, rub the eggplant with that golden yellow pungent Mustard oil of yours, sprinkle some salt and stick it into the broiler.In 45minutes to an hour the eggplant will be charred to perfection.
Puritans will insist that you are missing out on the smoky flavor this way, which is true but anything better than cleaning a messy stove or meeting a firefighter in cooking dungarees, I say.
So after that eggplant has been done by the husband or the broiler or the ripping flame as your case might be, let it cool. Remove the charred skin and scoop out the soft velvety insides. To this add some more of that Mustard Oil(yes, you must), fresh chopped green chili, finely chopped onions and fresh corriander leaves and then mix with your fingers. It is a sensational feeling.
Now me being me and wanting a novelty in even my begun pora, I roast some tomatoes and garlic and add it to the above mix.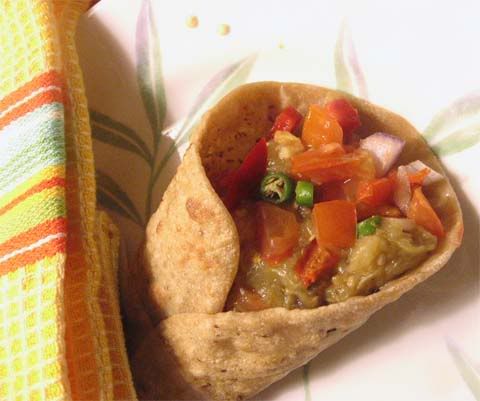 Wrap it up in a roti and have your dinner. My roti making skills are terrible and the six year old claims she can roll a better one than me, so if such is the case wrap it up in a tortilla.
Now that was quick wasn't it ? Less than 30 minutes of your live time for a Bong dinner. You can also do the eggplant in the broiler a day before and just do the quick mash and mix when you are ready to eat.
Read more...






Begun Pora -- Roasted Eggplant



Wash an

eggplant

thoroughly. It is good if you can soak in water for 10-15 minutes. Pat dry completely
Score the tip with a knife.

Rub with

salt and a tsp of mustard oil

. Now broil in oven or grill it on the outside grill.
To broil in oven -- put in a baking tray lined with aluminum foil, drizzle some more oil on top and broil. It usually takes between 40-50 minutes to an hour.

For stove top -- "Smoke or roast the eggplant: Hold the eggplant over a low open gas flame. Rotate the eggplant 90 degrees every few minutes or so. The skin will gradually darken, the eggplant will start to sag, and you will notice a pleasant smoky smell. After about 20 minutes or half an hour, when the skin is completely charred, remove the eggplant from the flame. This step can be done by broiling or roasting the eggplant in the oven, but you will not get the same smoky flavour which makes this dish so good. Allow the eggplant to cool, then discard all of the skin, chop the flesh then mash with a fork." -- Source

Once the eggplant has cooled remove the charred skin and mash the soft, velvety flesh.

Add

Mustard Oil

and mix

finely chopped onion, finely chopped green chili, salt

to taste and

finely chopped tomatoes

. If you wish you can

roast some tomato and garlic

in the oven and add it to above.

Garnish with

fresh coriander leaves

. Let it sit for a 10-15 minutes to soak up the flavor. Now scoop it up with a roti and eat.

Similar Recipes:

Baingan Bharta


Test