H
ave I told you that the parents have gone back home where they can drink their tea in peace while listening to
Robindrosangeet
leaving behind
(a) Tomatoes growing in abundance
(b) Two cranky kids missing their grandparents
(c) and an acute shortage of time for me
Have I told you I am so messed up right now that the one day I mange to
reach the gym
I arrive there
in my flip-flops
?
Have I told you that
no one thinks
I am a super mom, not my mom, not the husband's mom, not the kid's mom, not the husband's mom...ok I repeat.
If I have how did you ever expect that you will see step-by-step pics of food getting cooked here.
Don't you think your expectations are lofty, your aspirations are sky high and you might actually do good if you write the GMAT than browse through my page ?
So the bottom line is there is no Step-by Step pic, there are few steps, all others are missing.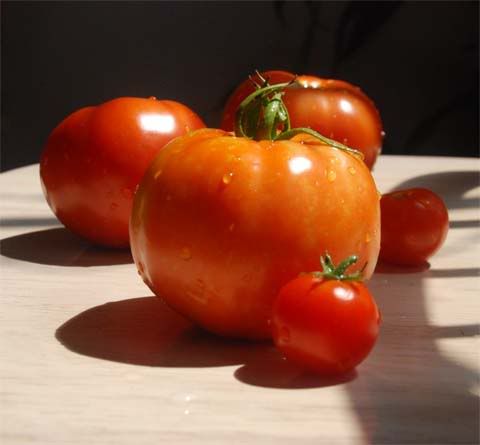 And really this is a very simple recipe, not even a recipe actually,
tomatoes thrown together to be blended
and
roasted
before they are thrown together and
sun-dried tomatoes and basil
added before they are blended and
red ripe juicy tomatoes
picked from my very own tiny veggie patch before they are roasted. You get the drift ? Now go ahead and make it.
This is a
beautiful sauce
that you can toss your pasta in. My girls adore it and that is something. I make the pasta like
this
, you do your own way.
And please do remember I use my small toaster oven for such things in small quantity, so my temp settings might be different, be careful about your own oven settings.
Soak about

1 cup of coarsely chopped sun dried tomatoes

in hot water for 30 minutes or more till it softens

Chop & Roast

two plump juicy red tomatoes

and

5 cloves of garlic

drizzled

liberally with olive oil and generously dusted with garlic pepper powder and salt

till the tomatoes are well roasted. Be careful, do not burn them.

In my toaster oven, I had the temp at 400F and it took me about 30-35 minutes.



Cool and

in a blender

add
roasted tomatoes with garlic, oil and everything,
sun dried tomatoes that are now softened
Blend to make a paste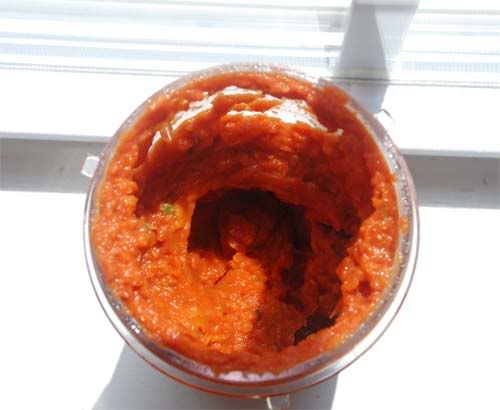 Add some

fresh basil

. Blend with above to make a fragrant

Tomato Basil Paste

.
If the tomatoes are not sweet, and you think the paste is a bit tart for your paste, add a little sugar when you are using it.
Cool and store in the refrigerator. Till date I have kept such pate for 7-10 days. While tossing Pasta make the sauce more liquid by adding pasta water like here or add some olive oil.
Test