B
ecause it is December and we are in the Northern Hemisphere where December == Cold Winter, I have decided to
crank up the oven on Friday nights
to give us the much needed warmth.
This will also help me work on my non-existent baking skills. My goals aren't lofty. I just want to bake something decent that BS and LS might love and their children might enjoy and 200 years later the family fondly remember Great Grandma Bong Mom's Pound Cake while beating eggs 300 strokes by hand. Ahem.
So far, BS loves the
Chocolate Brownies
and the
Better Than ... Chocolate Cup Cakes
.
I haven't told her the name and yet she loves them. They are really rich and chocolate-y.
Before Thanksgiving I made the
Zebra Cake
which looked really nice with the zebra patterns. But it was a little less sweet and not very rich in texture. Me & D liked it because it was less sweet and more bread than cake like.
BS didn't really show much enthusiasm.
Now honestly BS's showing or not showing enthusiasm does not mean much except a snub on my "I am the best" feeling. She could have ga-ga'ed over the same cake if it was at her best friend's house and might even come back and eat this two months later. You never know.
Last Friday, my project was
Chocolate Marble Pound Cake
from Sailaja's Kitchen. Pound Cakes have loads of butter but since it is December, I said ok and went ahead. While baking I am trying to understand the
science that goes behind all that creaming and beating
and it would be really nice if I could experiment more and flush the product down anywhere but my throat till I get the perfect cake.
This particular cake was
rich and dense
. When had the next day it needed to be nuked for 10 secs to get the moist taste.Also the batter was thicker and more spreadable than pourable. That I learned was not a source of panic but the norm for pound cakes. Really ? Is that true ?
I also needed 1/4 cup more milk than the recipe asked for to make the batter moist. The cake again was a little less sweet for the kid's liking but they enjoyed it with some preserves.
Since I am trying to find meaning in this madness of baking, I will have my two cents on baking science right here. None of them are my theories, they have been sourced from
here
,
here
and
here
.
Let me put some jam on this
Most buttery Pound Cakes start with a step called creaming. What happens when you cream butter and sugar ?
The first step in making a pound cake is to take
lots of butter at room temperature
and beat it with an electric mixer. This incorporates
air bubbles
. Sugar is gradually added to the butter. As the
sharp sugar crystals cut into the butter, tiny pockets are formed
and fill with air as the mixer blades pull more butter over the top of the hole to close it. This makes the butter double in volume and become creamy in texture, which is why this procedure is called "creaming."
While creaming you know you have reached there: when you're no longer able to see sugar granules, but you can still feel them if you rub a bit of the creamed fat between your fingers.(from the God of Such Things
Alton Brown
)
Here is a
"one bowl" or "quick method"
pound cake that skips this step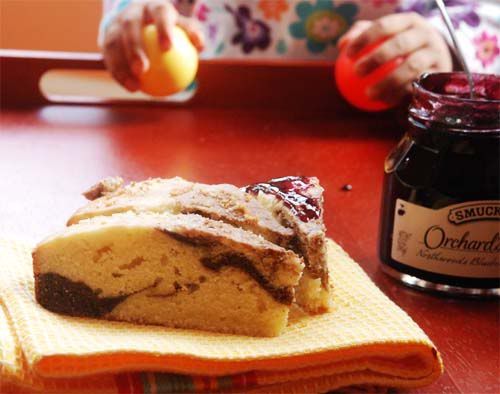 What's the fuss all about ?
How to add eggs ?
Eggs
should be at room temperature
before they are added to the butter-sugar. Never happens with me, I will put them in luke warm water for 5 mins and proceed. Ok, maybe I SHOULD bring them to room temp.
Add eggs one at a time to the creamed butter and sugar and beat. Now Alton Brown says, adding eggs one at a time is silly.
It must be. Anything one at a time sounds silly to me. Just dump all together and get it over with, I say.
It is better to
mix the eggs together first
so that the water in the egg whites can hook up with the emulsifiers in the yolks.
Did that even make sense ? Whatever.
Now this is easy to understand.The eggs adds more volume and allows the mixture to hold even more air. Beat until the mix is smooth, light in color and the volume has increased to look fluffy.
The texture of the cake is dense if the eggs are added whole and much lighter if the egg whites are beaten separately and then folded into the rest of the batter.
I want lots of that gooey purple stuff. Much more than Didi has.
How to add the dry ingredients ?
First
sift all the dry ingredients
, i.e. the flour, the baking soda or powder. Then
add the dry ingreds first
, usually
alternating with liquid
(which in this case was milk) till it is well blended. The protein in flour, the
gluten
is what makes the cake hold its shape but too much of it will make the cake tough.So
do not overbeat
as that will produce more gluten.When you start with the dry you cover the flour particles with fat and so water can't get to the flour and there won't be any gluten. This ensures a tender cake.
Whoa
!!!
The baking soda or powder when comes in contact with liquid or when heated, releases carbon dioxide that forms bubble in the batter. So you get more air pockets or holes in the batter.
This one thing is elementary science at least
.
Ooopsie Daizy !!
What happens in the oven ?
As the batter heats up in the oven,
bubbles(remember air pockets formed during creaming) expand
and the
batter rises
. As the carbon dioxide breaks down, the moisture in the cake forms steam, which fills the air pockets our sugar made. Eventually, the steam evaporates, but by this time the protein in the flour has had enough time to set, thus making the cake hold its shape.
Just as heat makes steam and carbon dioxide expand, coolness causes contraction. So if you open the oven door before the cake is set, a draft will burst the tiny bubbles and the cake will fall.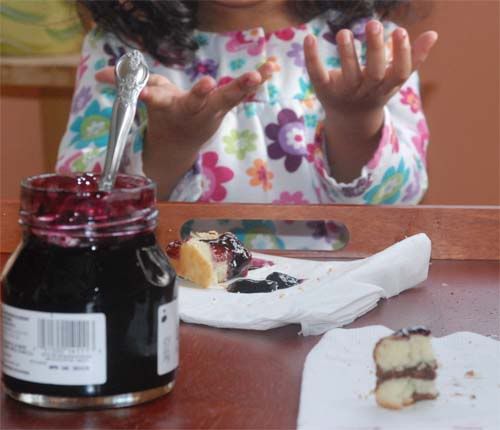 This is Messy
What is it about cake pans ?
The size and shape of the cake pan plays an important role in baking. Apparently all cakes cannot be baked in all kinds of pans. Size and material does matter. Most cake recipes work well for cup cakes too. To make
pound cake cup cakes
try this.
I am not eating any more of this stuff. I am done.
Read more...





Chocolate Marble Pound Cake




What You Need


AP Flour -- 2 cups
Baking powder - 1&1/2 tsp
Salt -- a pinch

Butter ~ 1 cup
Sugar ~ 1 cup

Egg ~ 3
Vanilla extract ~ 1 tsp

Milk ~ 1/2 cup(Original recipe said 1/4 cup)
Cocoa powder ~ 2 tbsp



How I Did It


Preheat oven to 350F. Grease and dust a 9" round pan with flour.

Sift together the Dry ingredients

2 cups of AP Flour
1&1/2 tsp of Baking Powder
Pinch of salt

In a mixing bowl add
1 cup = 2 sticks of unsalted butter
With the aid of your mixer beat the butter.
Add 1 cup of sugar gradually.
Beat till sugar and butter mix is light in color and fluffy.

In a small separate bowl add
3 eggs
and beat lightly with a fork

Add the egg mix and 1 tsp Vanilla extract to the creamed butter and sugar and beat with your mixer(for 2-3 mins) till you get a smooth mix.You could also add eggs one at a time to the sugar-butter mix, beating for 30s -- 1 min each time.

Now add 1/3 of the dry ingredients to above, gently mixing. Follow with a little of the milk. Continue this ending with the dry.

Remove a cup of this batter in a bowl and combine with 2 tbsp cocoa pwd. Mix it gently. My batter was thick and not easily pourable.
Pour a tbsp of white colored batter into the greased and floured pan. Alternate with a tbsp of cocoa batter. Continue through out till both the batters are finished.
Smooth out the top with a spatula.
Take a knife and swirl it around the batter in a zig zag fashion, 3-4 times.

Put in the oven and bake for 40-45 mins. Check with a toothpick to see if it is done. Take out of the oven and cool for 10 mins.


Test