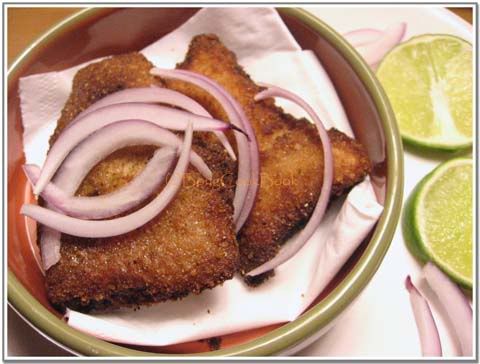 T
he
Bengali fish fry
is not really the everyday bengali fish fry. The
everyday bengali fish fry
is actually the
maach bhaja
, steak pieces of fish, smeared with salt and turmeric and fried golden in smoking mustard oil. The
maach bhaja
can be eaten on its own as a side with the dal. It is also a precursor to the bengali fish curry, the every day
maacher jhol
, bengalis rarely make a fish curry where the fish has not been fried and it is these fried steak pieces that are slid into the gravy and left to simmer to complement each other.
However when a Bong says "
Fish Fry
" with a glazed look in his eyes and a dreamy smile, don't get fooled, he isn't thinking of Katrina Kaif, she isn't dreaming Hugh Grant, both are thinking of a
Bong version of their British legacy, breaded and fried fish
, famously known as what else but "
Fish Fry
".
The "Fish Fry" was not a household name when I was a child. First we weren't in the heart of Bengal ever and secondly my childhood now seems to go back to the days when life was very different from today's. I had my first taste of fish fry when we were attending some family wedding in Kolkata, I don't remember when. The taste was heavenly as everything else tasted in wedding feasts of the yore but the
fish fry stood ou
t because of its anglo heritage among the
radhaballavi
,
cholar dal
,
begun bhaja
and such.
We then had it at some specific Calcutta restaurants, probably "Bijoli Grill". Though honestly I preferred the Kobiraji Cutlet around College Street, and
associated "Fish Fry" more with wedding feasts
.
Gradually everyone realized that making "Fish Fry" with
bhetki(the preferred fish for making fish fry in Bengal)
wasn't really such a big deal after all and almost every other house started making a fish fry. Every wedding feast had a Fish Fry and later Fish Orly on their menu.
We rarely make fried goodies at home and by the time I make an attempt I forget the recipe I followed maybe a year back. The recipe that I have used this time here is that of my friend's, the domestic diva of 70 chops, everyone else's recipe is almost exactly same so go on be creative.
The
crunchy on the outside, tender on the inside, fish fry
tastes great as a snack with hot tea on the side and company to keep you warm. It also acts as a wonderful appetizer or even a side to the main menu when you are entertaining.
Read more...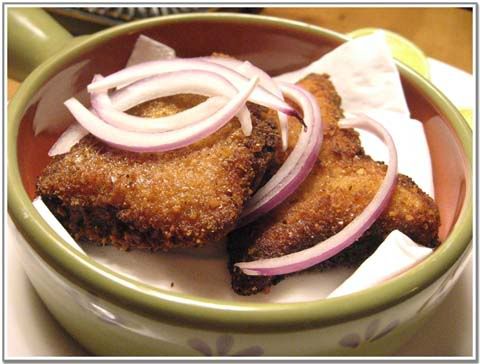 Bengali Fish Fry



I had

3 fillets of Tilapia cut in 12 pieces

, each fillet in 4 that is.

Each piece was about a 3"x 2" piece or smaller

. You can use fillet of fish like

Bhetki

if in India or Cod, Tilapia when Bhetki is not available.

Make a paste of
1/2 of a small red onion,
2 fat cloves of garlic,
1/2" piece of peeled and chopped ginger(or 1 tbsp of peeled & chopped ginger),
2 green chili
with little water. This is the paste that will be used to marinate the fish.

Put the fish pieces in one single layer in a shallow bowl. Sprinkle

salt

to taste on them.

Marinade the fish pieces with the
paste in step 2,
1 tbsp of vinegar or lime juice,
1 tsp of corriander powder,
1 tsp of Roasted Cumin Powder &
1/4 tsp of Garam Masala. All of the fish pieces should be nicely coated with the marinade

Cover & refrigerate overnight. If in a hurry, half an hour to an hour is fine.

Before you start frying, take

each of the fish pieces out from the marinade and drain the excess liquid

.

Set up a "breading station". First have a
flat plate of bread crumbs seasoned with salt and black pepper(you can also use all purpose flour seasoned with salt & pepper),



next a shallow bowl of 2 eggs whisked to a smooth consistency

,



another flat plate of bread crumbs seasoned with salt & black pepper

.

In a small Kadhai or Frying pan(suitable for deep frying) heat enough oil for deep frying.

Take the fish piece,

roll it in bread crumb(or flour)

-->

dip it in the egg wash

-->

roll in bread crumb again gently rolling off any excess

-->

and then gently slide in the hot oil.



When the fish has nicely browned on both sides take out with a slotted spoon and drain on a paper towel.

Enjoy it

hot off the Fryer with some mustard sauce

or my all time favorite Maggi Hot & Sweet. A side of chopped onions & cucumber works wonder

If you are a vegetarian don't be disappointed you can make

Paneer fingers

just like this from here at Cooking and Recipes.


BTW was Chef Mehta on The Next Iron Chef using a bottle of Maggi Ketchup yesterday ? Was it me or did anyone else notice that ?
Test