She was hesitant, nervous even
Dancing had never been her forte. To say that she had two left feet would be a mere understatement. The last that she had wiggled her fat hips were at the New Year Eve party but that didn't count because mostly people were under the influence and she had an excuse -- the baby in her arms.
But she so wanted to. As she rolled around the name on her tongue it sounded so much fun, maybe even wild, certainly not something that a middle class bengali girl from a
bhadro
family would do. She imagined graceful women with flaming red lips in swishing silks twirled around by tall, dark men with taut muscles. And she decided she would go.
"But I don't know much dancing, is that ok ?", she muttered to the girl at the reception
"I don't know but it seems like so much fun. Why don't you try?", whispered the young girl
She looked around, shuffled her feet, took a deep breath and pushed open the glass door.
Read more...




The room was bare with mirrors all around washed in white light. Maybe they will dim these she thought. She looked around and instead of swirling silks she saw these women, so many of them, all fit and flat, their slim legs encased in fitted black leotards, their chests pulled back in black top tanks. She didn't see any men and was secretly thankful, she didn't want to be twirled around by unknown men after all.

And then the beat started, it was pulsating, fast and made your heart jump.
And she let her inhibitions drift
and she danced....

While all the fit ladies in black went left, she in her faded tees and crumpled tracks went right. While they shook their slim waists in circles, she with the girth of Saroj Khan shook hips like Amitabh Bachchan. She wiggled and jiggled and sweated and panted.

It didn't matter anymore, her lack of skills, lack of glistening hot men or silks, lack of her hand-eye co-ordination. What mattered was that she was having fun and sweating in the process.

And so Bong Mom danced away to the rhythms of Zumba at her neighborhood sports club

If the neighborhood sports club had any business acumen, they would cash in on the above event and arrange for a peep show, after all its not everyday that you see fat bong mammas jiggling lard out of sync with Latin music.

Back home she wanted something spicy out of her salmon and with a brain that had been charged up by all that energy she decided to make Fish 65 a la Chicken 65. It was hot and spicy and immensely fulfilling, a tad more than the Zumba.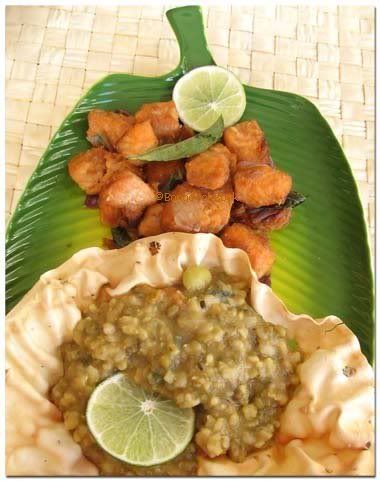 Fish 65 with the other half's

Brown Rice Khichuri






Fish 65 or Hot Indian Chilli Fish



This was just enough to serve two people

Marinate about 2 cups of filet of fish cut in bite size pieces in 1 tsp of Tamari or Soy sauce, 2 tsp of fresh lime juice, 1 tsp of freshly grated ginger, 1 tsp of garlic paste, 1/2 tsp of cumin powder, 1/2 tsp of Garam Masala Powder, 1/2 tsp of Red Chilli Powder for an hour or so. I used salmon but you can use any other filet of fish too.

Heat oil, enough to shallow fry the fishes

Sprinkle 1 tbsp of corn flour on the fish, toss them and fry them in oil till nicely browned on both sides. I had salmon and shallow fried them, but you can also deep fry. Remove the fish pieces and keep aside.

In the same oil, fry 2 fat cloves of garlic finely minced, 3 chopped green chillies and 6-7 curry leaves till you get a wonderful aroma

Add 1/2 cup of finely chopped red onion

Fry till the onion are translucent and light pink in color

Add the fried pieces of fish and mix well, carefully so that fish pieces do not break

In 1 heaped tbsp of thick yogurt, add 1/4 tsp of R. Chilli Powder, 1/4 tsp of ginger paste, mix well and add it to the fish in the pan. I wanted this to be totally dry so did not add any more yogurt.

Add salt, toss the fish around and let it cook on slow heat for maybe 5-8 minutes.

You will get a beautiful aroma and the yogurt will totally dry up. Taste and if you think it is fine you are done

Serve with wedges of

lemon



Note: Depending on your heat tolerance up or down the Red Chilli powder and green chilli. This was ok hot, not good for my daughter but we could have definitely tolerated more



Trivia:The word "ZUMBA" is derived from a Colombian word meaning "fast moving". Its also a fusion of the word "samba" the Brazilian dance and the Latin word "rumba" meaning "party". In other words Zumba ® means" to move fast and have fun"