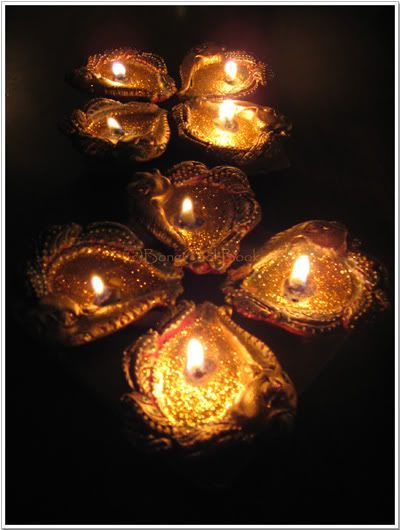 May the lights this Diwali banish Darkness from our lives
Happy Deepavali
This Diwali I don't have a recipe to share with you, instead what I will share is ahem knowledge, about food and memories
Nupur's
this post
had opened up the beautiful new world of
Food Memoirs
to me. And I couldn't think of a better opportunity than Sra's
The Write Taste
, to share these gems with you.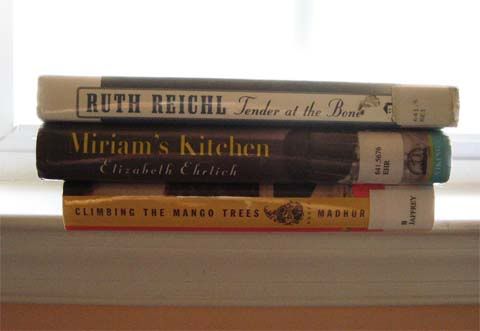 I am not much of a cookbook reader. Cookbooks are too much of a burden, they make me feel very, what do you say "lacking". I cannot read a cookbook at leisure, I feel I need to get up and stir something up from the book, I feel I owe that to the authors and that takes away the charm of relaxed reading.
The food memoirs on the other hand are simply beautiful. You get to delve into
food intertwined with life
and that is like sitting by your grandma, listening to her stories while she kneads the dough, rolls it out, stuffs it with spiced pea mix and fries up puffed
karaishuti'r kachuri
while all you do is take in the smell, the taste and the stories without lifting a finger.
It all started with
Ruth Reichl's "Tender on the Bone"
. Honestly I hadn't heard of Ruth Reichl before and when I turned the first page there were no expectations. The first page after I was a huge fan and had researched her head to toe on the internet.To read more about this famous food persona go
here
. I will leave you with an excerpt.
"

Most mornings I got out of bed and went to the refrigerator to see how my mother was feeling. You could tell instantly, just by opening the door. One day in 1960 I found a whole suckling pig staring at me. I jumped back and slammed the door hard. I had never seen a whole animal in our refrigerator before, even the chicken cam in parts. He was surrounded by tiny crab apples and a whole wreath of vegetables.





This was not a bad sign: the more odd and interesting things in the refrigerator, the happier my Mother was likely to be.

"
Next was
Madhur Jaffrey's "Climbing The Mango Trees"
. Now Madhur Jaffrey I knew, from movies and from her cookbooks. Only I hadn't really thumbed any of her cookbooks. This book however is a beautiful read, you are transported into pre-Independence era Delhi and Kanpur and you get to peep into the life, times and food of an Indian family heavily influenced by the West and yet firmly rooted to the Indian culture.
Following is an excerpt from the book where she describes the Lady in White who would arrive with her wares, "
daulaat ki chaat
" at breakfast
"The Lady in White was the color of milk. What mattered most to us, though, was not her milky color but the milky ambrosia that she carried on her head.





Yes, balanced there, on a round brass tray, were dozens of mutkainas, terra-cotta cups, filled with daulat ki chaat, which could be translated as "a snack of wealth." Some cynic who assumed that all wealth was ephemeral must have named it. It was, indeed, the most ephemeral of fairy dishes, a frothy evanescence that disappeared as soon it touched the tongue, a winter specialty requiring dew as an ingredient. Whenever I asked the Lady in White how it was made, she would sigh a mysterious sigh and say, "Oh, child, I am one of the few women left in the whole city of Delhi who can make this. I am so old, and it is such hard work. What shall I tell you? I only go to all this trouble because I have served your grandmother from the time she lived in the Old City. First I take rich milk and add dried seafoam to it. Then I pour the mixture into nicely washed terra-cotta cups that I get directly from the potter. I have to climb up the stairs to the roof and leave the cups in the chill night air. Now, the most important element is the dew. If there is no dew, the froth will not form. If there is too much dew, that is also bad. The dew you have to leave to the gods. In the early morning, if the froth is good, I sprinkle the cups with a little sugar, a little khurchan [milk boiled down into thin, sweet, flaky sheets], and fine shavings of pistachios. That, I suppose, is it."





Those cups were the first things placed before us at breakfast that day. Our spoons, provided by the Lady in White, were the traditional flat pieces of bamboo. Heavenly froth, tasting a bit of the bamboo, a bit of the terra-cotta, a bit sweet and a bit nutty—surely this was the food of angels."
Thanks
Nupur
for the wonderful reads and thanks to
Sra
for an opportunity to share. Looking forward to reading more of Ruth Reichl over the next months only my reading is hugely slowed down by lack of time and I keep on renewing these books over & over. In the process I keep coming back and re-reading them again but the charm is there each time, every time.
What are your favorite Food Memoirs ?