L
ast week BS's school had a
Scholastic Book Fair
. This was probably the first time, she had a free rein on what book to buy, without Mom saying "The Barbie Princess book is absolute trash".
She would have probably freaked out if not for the $5 restriction in budget and the voice of conscience that I had put.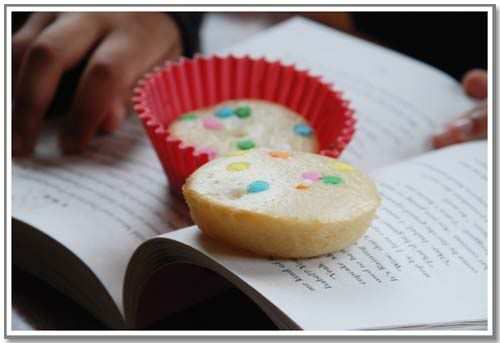 And then she finally picked something because I am guessing, the cover looked cute and she loves cupcakes. The
book
is "
It's Raining CupCakes
" by Lisa Schroeder. It is about this 12 year old girl who helps her Mom set up a cup cake store and in the process wins a cup cake contest in New York. At least that is what BS told me, don't blame me if it is about Dinosaurs and not little girls.
The book had a couple of recipes and of course BS wanted to do one of those. Now I am not the kind of person who bakes s'more cup cakes or has jars of marshmallow cream in their pantry or wakes up at 5 in the morning to exercise.I don't even know what marshmallow cream is except that if you eat jars of it, you better get up at 5 in the morning to exercise.
So I said, "Why not we make some
Lemon Cupcakes
?", with not an ounce of clue about anything to do with lemon cupcakes.
BS loves lemons, she can suck lemons all day long. That adage about if somebody gives you lemons does not even hold true for her because she will happily suck through them anyway.
Thankfully, I had
Sunita's Eggless Lemon Bundt cake
bookmarked because well it was
eggless
and
butterless
and
all purpose flourless
and yet looked gorgeous. My only problem was I did not have mini bundt pans. I so love mini bundt pans but I didn't have any so I guess if I was making it, it was going to be
bundt less
. They might as well be cupcakes then I thought and BS loved the idea, the idea of "cupcakes" and "lemon", she didn't know the "less".
This was one case where
"Less is More" is so very true.
I mean "less" in the ingredients, while eating all you say is "Give me More".
Really is "Less ever More" except in the case of these
Eggless, Butterless, Bundtless Lemony Cupcakes
of course. Oh and I did it Sugar icing less too because I am mean and think icing-less cupcakes are good enough for six year olds.
I so love bloggers, they share such beautiful gems. And of all I love Happy Cook. You might think I am selfish, but no really I love
Happy Cook
. And it is not because she picked me the winner of her Giveaway. Ok, that might be the reason, I mean who would not love someone, who gives you a beautiful Cuisinart hand blender. Thanks Happy and Sunita and everyone who blogs and reads and keeps the blogosphere moving.
After BS had a couple of these gorgeous cakes, I asked her to be polite and pose for me, so that I can take one of those pics I have seen in multitude blogs. You know the one where the cute hands are holding something so delicious that the pic looks ethereal.
So BS stood and fidgeted, and talked,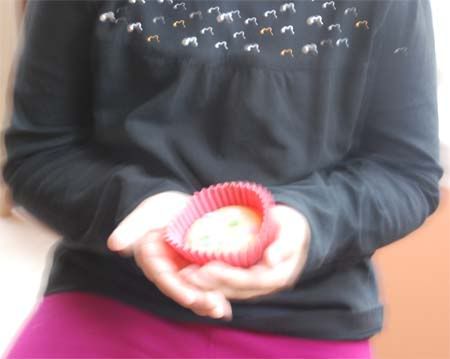 and fidgeted, and moved her fingers
and I said "Enough"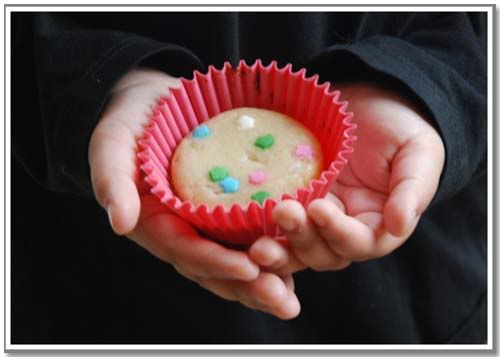 Read more...






Lemony CupCakes



Original Recipe

Preheat oven to 350F

In a bowl, place


1/2 Cup + 2 tbsp flour,




1 tsp baking powder,




1/4 tsp baking soda

and


zest of one whole lemon

in a bowl and rub in with the fingertips.


Note

:

I used all purpose flour, though the original recipe says whole wheat flour(atta)



In another bowl, whisk together


1/2 Cup + 2 tbsp milk,




4tbsp oil and




6 tbsp sugar




Note

:

Since I avoided the icing, I increased the sugar by 2tbsp



Make a well in the center of the flour mixture and tip in the milk mixture. Fold in.

Add

6 tbsp of lemon juice

and fold in. With a wire whisk mix everything together. Taste. It is yum. Stop and proceed, lick the whisk if you wish.

Grease

12 cupcake liners

.



Cut up some peaches from the Dole Fruits in a Cup and place in each. This is totally optional.



Spoon the mixture into the cup cake liners. If you have 5-7 year olds, at this point they will probably add sprinkles, crayon shavings(Nooooo!!!), M&M, anything to the cupcakes.

Place the pans in the center of the pre heated oven and

bake for about 25-28 minutes

or till the top is lightly golden and a toothpick inserted through the center of the cakes comes out clean.

Cool the cakes for a few minutes. Gently remove the cakes and cool completely.

If you are loving and caring and not mean like me, then mix a few tbsp of icing sugar with a little lemon juice to make a free flowing icing. Drizzle the icing on the cup cakes.