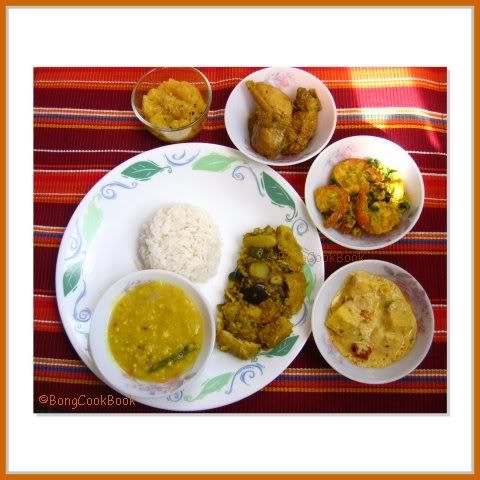 ...
Happy Bengali New Year To Every One
P

oila
Baishakh or the First Day of the Month of Baishakh is the first day of the Bangla Calendar. This is the Bengali New Year and is celebrated amongst Bengalis in a much festive manner. According to the Gregorian calendar it falls on April 14th or April 15th, this year it is April 15th. This is the New Year for both BanglaDesh and West Bengal.
The Bengalis usher in the New Year with a lot of festivities importance being given to cultural functions, and food. The day is started off with visiting the temples to seek blessings for the New Year but this is not a religious festival and Puja is not the mainstay of this day. Though for businesses this is the day to begin their new accounting year and so this group of people offer Puja and seek blessings to begin the year with a new accounting book called
halkhata
. With all the new accounting software I don't know what they do, maybe open a new fresh account or something.
For mere mortals like us it was more about a quick prayer at the temple early morning and then off to school , yes my school did not believe in Bong Calendars. Rushing back home in the afternoon, we would change into new clothes bought for the Day -- and then after devouring the sweets my Ma would have made we would rush off in the evening to attend the cultural program that our town had to offer. That was important for my parents. My Ma in her fresh new
Tanter Shari
with that crisp smell that only such saris can have and my Baba in his starched Pajama and Punjabi would sit there engrossed in the Rabindra Sangeet being sung. I would be thoroughly bored and look around for familiar faces of my friends who would be equally bored.
Often we would be invited by the shops we were loyal customers to and this part was more fun because it involved gorging on great food.
It is not very different here regarding the cultural functions part and I am sure the Bengali Association has things lined up for this day but I have already said about D not very keen on going there. So we usually visit the temple on this day and binge on good food.
Though the New Year is tomorrow we we extended
invitations
and had an early celebration with some of our friends over last weekend for dinner. Though we did not serve a typical Bengali menu this is what we had for the main dinner. The appetizers were assortment of Dhoklas, mini samosas etc.
Plain White Rice
~ like what an average Bong would prefer
Roasted Yellow Moong Dal
~ Split yellow moong dal roasted and then cooked and garnished with grated Coconut
Cat Fish Nugget er Charchari
- Remember in my Charchari post I had said that Charchari might not be vegetarian and we have Fish Charchari too. In absence of the small fish like Mourala etc. we made a Fish Charchari with Cat Fish Nuggets. Tempered with Panch Phoran and with Potatoes and Brinjal to keep the Cat fish company this was the most wanted of all the food items.
Paneer in a gravy of Kaju and Posto
~ Paneer cubes simmered in a light gravy of cashew and khus khus paste
Mashla Chingri or Shrimps in Masala
~ A spicy shrimp dish
Pepper Chicken
~ This I followed Sailaja's Pepper Chicken Recipe and it was a big hit too
Pineapple Chaatni
~ The recipe is
here
For Dessert
Mango Pudding
Pineapple Malpua
However since we cooked for a large crowd neither me nor my Ma took any measurments while cooking so I won't be able to post the recipes until I measure and cook again !!!
To end this post on a Sweet Note I will post the recipe for the desserts soon but you have to wait for the rest :)
Mango Pudding
Pineapple Malpua