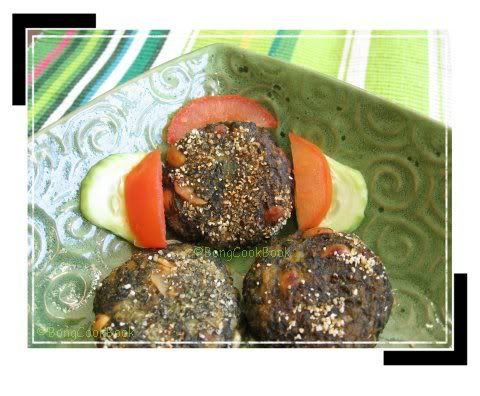 N

o
, it does not mean Chopped Spinach, silly, to find out, go through my rant...
(
Note: A part of this post shared at
Desi Momz Club
)
The Parents left over the weekend after a long stay, leaving both me and S miserable. Don't know about D though. It's amazing how guys never crib about their in-laws and yet lead a peaceful life, thus leaving no opportunity for serials like "Sasur bhi Kabhi Damad Tha"
More than me missing my parents I was worried about S who was extremely attached to them, more with her
dadai
, my Dad. So whole of last week I kept explaining to her that
Dadai
&
Didun
are going back to Kolkata, because they have a house there which is also missing them. She took it nicely after my Mom promised to come back after taking care of the house. At the airport I told little S it's ok to be sad, even I am sad and she said she was "6" sad. Rating sadness on a scale at age 3 is pretty amazing I thought when I cannot even rate my pain in 1 – 10!!!
After coming back from school yesterday, as I slowly unlocked the door and let ourselves in, S asked me in a hushed voice "
Didun ki opore ache
?" ("Is Didun upstairs?" ) and my heart went out to her
On the other hand I am amazed by the tenacity that grandparents seem to garner. The way my Ma would keep little S busy by doing little projects with her, teaching her Bengali Rhymes and Bengali Letters is amazing. I don't think I will ever make a good grandma. I can never do for my grandchild what S's grandparents do for her. When I think of retirement I hardly envision myself sitting and playing with a 2 year old in my daughter's home, no I think of lazing in some private island with some good books in tow!!!
But both my parents and D's parents love spending time with S, maybe because she is their only grandchild till now. They agree though that being close would have helped, then they wouldn't have to stay here for a long stretch and abandon all other aspects of life they have in India. But even then they are ready to pack their bags and come to spend time with her
On a funny note, yesterday during afternoon tea time I was telling D, that tea time was more fun when my Ma was here because it was she who would make it when I would get back from work and we would sit around the table and chat over tea. Hearing this little S went away and came back with one of her cute play tea cups and offered me some wonderfully brewed make believe tea.
Before leaving my Ma who by the way knows about most of you and also the events, helped me make
Palang Saag er Chop
for
JFI-WBB Greens
hosted by the creator herself, lovely Indira of
Mahanadi
. Since this time
Nandita's WBB
is hosted together this is a good dish both with greens and for a leisurely Sunday breakfast.It is like a cutlet made with Spinach and Potato which we call chop in Bengali. It is different from the Alur Chop as it is not dipped in a batter and fried. Friday being a day we eat strictly vegetarian food this chop did not have onion or garlic. Yet it was absolutely yummy.
Read more...




Palang Saag er Chop/Spinach Cutlets



What You Need

Makes about 8-9 Chops

Baby Spinach ~ 1 Bag about 6oz/170gm. There was no need to chop these as they came in a bag and they were baby leaves. If you buy a bunch of spinach, wash and chop them

Potatoes ~ 1 medium sized Idaho Potatoes. They are usually on the large size. It amounted to 1 cup of mashed potatoes

Peanuts ~ 1/3 cup. Roast them in little hot oil and crush them in halves.

Besan ~ little less than ½ cup. Almost 3/8 cup

Bhaja Masala or Dry Roasted Masala ~ 1 tsp heaped
My mother makes this masala and stores it. To make this Dry Roast 1tbsp each of Jeera (Cumin Seeds), Dhania (Corriander seeds), Saunf (Fennel Seeds), 6/7 Laung (cloves) , 6/7 Elaichi (Cardamom), 6/7 TejPata(Bay leaves), an inch & half of cinnamon stick and peppercorns according to desired hotness.Then just dry grind it to a powder.
You can also use your own Garam Masala Powder or any suitable spice mix instead

Amchur ~ 1tsp heaped
Chilli Powder ~ ½ tsp
Salt ~ to taste

Rice Flour ~ to roll the patties in. 2 tbsp should be fine

Oil ~ For shallow frying






How I Did It



B

oil the Potato and mash it up smoothly. We need about 1 cup of mashed potatoes


S

team or cook the spinach in the pressure cooker. Do not add water to the spinach as it releases water. Drain any excess water from the cooked spinach and mash it up smoothly


R

oast the peanuts in a little hot oil. Get rid of their skins and crush them in halves. Roasting makes the skin removal a breeze


M

ix together the mashed potatoes, the cooked & drained spinach and the besan to a smooth dough like texture. The besan is used to hold or tighten the mix so if you think you need a little more of it, fine.


A

dd the peanuts, the Salt, Amchur Powder, Chilli Powder and the Bhaja Masala. Mix well. In absence of the Bhaja Masala you can add freshly made Garam Masala.


S

hape into Patties and refrigerate for half an hour






S

prinkle some Rice Flour and shallow fry in hot oil till both sides are browned


I

t is absolutely necessary that you have them with a tangy Tamarind Chutney or my all time favorite Maggi Hot & Sweet Ketchup. Wash it down with some hot Ginger Chai



Note: Sailaja at Sailus Food has a yummy

Palak Kebab

recipe. I am sure they taste better with all the ginger and onions that go in. I am going to try them next




Trivia: Popeye the Sailor has a strong affinity for spinach, becoming much stronger after consuming it. This is partially due to the iron content being mistakenly reported ten times the actual value, a value that was unchecked during the 1930's (Wiki)