F
orbes published its billionaires list last week. Of the 1011 in the list, 89 are women and a very few of them are self made billionaires. Why do you think
there are so few rich women
as compared to men ? Do women think it is not worthwhile to amass so much money and there are better things to do in life (that I agree to) ? Is it because they get paid less than the men ? Or is it because the Forbes list is stupid ? What do you think ?
While you ponder over that, lets make some
hearty, heart healthy egg muffins
to cheer up a dull Monday.
I have loved
Kalyn's Egg Muffins
from the day I have seen them. Strangely I did not make them until early last week and then once I started I could not stop, for the next 3 days I kept making them. They are
super easy and super delicious
. I used only Egg White and kicked up the spiciness by several notches.
Due to health reasons, we had hugely reduced our egg intake and did not eat more than 1 or 2 a week. D did not like Egg whites enough unless he made a Frittata. So when ever we are on the low carb diet week, breakfast is a challenge or was, because now I have found these egg muffins which I make with only Egg Whites and still they turn out to be incredibly delicious.
And did I say they were super easy. I did ? Ok then go ahead and follow these steps to make them
Read more...






Original Recipe

from Kalyn's Kitchen



Makes about 12 Muffins



Pour out

2 cups of Egg White

in a bowl and spice it up with
Red Chilli Powder,
Black Pepper Powder,
a Little Garam Masala
and salt. Give a good stir or two to blend in the spices.

I used egg whites out of a carton.


If using whole eggs, beat eggs lightly. You will need about

one egg per muffin



Preheat oven to

375F



Grease the silicone cups lightly with oil or non-stick spray.

Kalyn says if using regular muffin pan, use two paper liners in each slot and grease inside of the liner.







Layer the bottom of the muffin cups with

shredded cheese

. I used a pack of shredded Taco cheese. Top it with

chopped green scallion

(this is important). I have also used some carrots but you can use other veggies like red pepper or mushroom. If you like meat add some sausage. To spice it up I add chopped

green chili




Sprinkle some more cheese on top so that almost 1/2 the muffin cup is full.

Kalyn says 3/4th full but I went with 1/2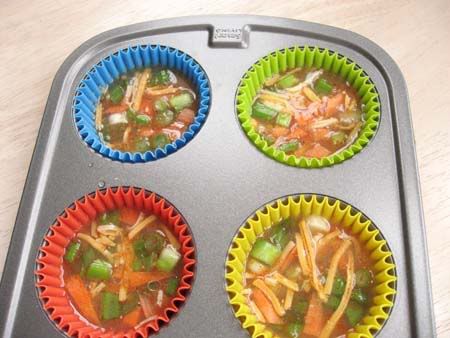 Pour the spiced up egg white so that the muffin cups are now almost 3/4 full and stir gently with a fork . If you have not added green chili add

a drop of hot Tabasco

in each cup.

Bake them for

20-30 minutes

or until the muffins rise like a mushroom cloud. Put in a knife or fork to see if it comes out clean. If yes you are done.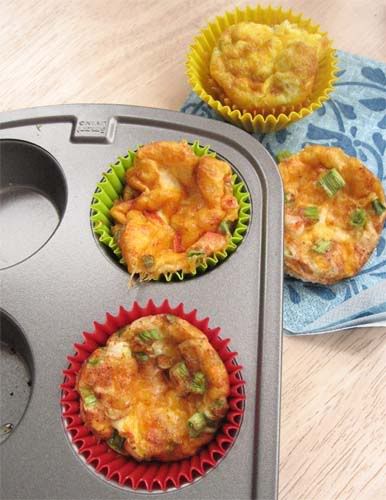 Since I used only egg whites, my muffins went "phichik" and sunk once cooled. At least I think it was the only Egg white formula that did it, Kalyn's muffins did not sink and I think if you are using whole eggs, don't beat all that much and they will not sink.

That didn't really matter, they were very very good to eat.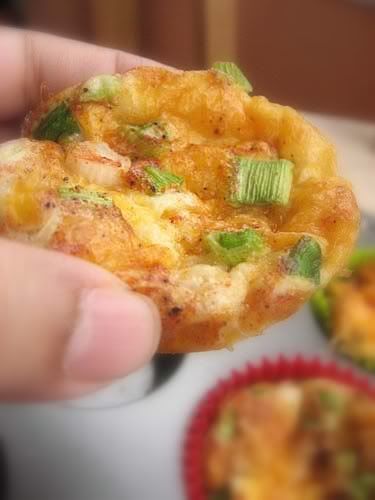 These muffins stay well when frozen. I have refrigerated them for 2 days but have not frozen them yet. But you can put them in Ziploc bags and freeze them too. Warm them up in the Microwave and they are as good as new