M

umbai
holds a special place in my heart, not the hoity-toity, dazzling Mumbai of the rich and famous, but Mumbai of the far flung suburbs. Mumbai was the first place where I got my taste of independence, my first pay check and a place where I had lots of fun.
When I decided to take up the job in Mumbai instead of the one I got in Kolkata after graduating, my Baba was perturbed and very much so. He finally came around because of my Ma but accompanied me to settle me down in the big bad city. Once there, he again got his fits, the PG's weren't good enough, the small one room apartments asked for a huuuuuge deposit, the trains were crowded and he almost put his foot down and wanted me to go back with him. Thankfully my workplace was not in one of the posh areas of Mumbai but was in
Borivali
where it was still possible to rent a one room flat with the meager salary that the company paid me.
So there I was happy with my new found independence, a one room flat shared with a roommate, a cute red clix stove and some friends. Since we were still in the training phase of the job and the work place had a pretty decent roof top cafeteria, a major amount of the day was spent in deciding on the menu, eating and the chatting over tea or coffee with colleagues who were more friends than anything else.
Also since I tend to gravitate towards foodies in general and tend to gel with them better, I found a very good friend in J a girl in my training batch but from a different college. The first thing we would do every morning on reaching work was, go straight to the cafeteria and then intently study the board where the breakfast, lunch and snack menu would have been written down every morning. We would argue over not only what we should eat but also what some of the other friends would eat.
I still remember every Friday would be Biryani for lunch and after having a plate each, me & J would share one more plate of that Biryani. Wednesday it would be fried mackerel or
bangda
. Now I didn't like the smell of mackerel so I would order a veggie plate for myself but would insist K (another good friend from college) to take the fish. Then we would ask him for our share of his fish since a solely veggie dish would be really hard on us.
Once a month we had to travel all the way to
Church Gate
and then on to some place to go to the bank to get our salary cheques. Don't ask me why we never changed our bank account to a place nearby, but we all loved that once a month trip. I remember we would wistfully look at the
Taj
from far and decide to come back for only tea there once we earned enough. We would then satisfy ourselves with
alu
bondas
,
vada-pav
,
singdana
and maybe
Frankies roll at the station
after buying loads of those books sold at a very cheap price just outside ChurchGate.
I have never gone back to Mumbai since and I have never had so much carefree fun ever in life so heres for "Bambai, meri Jaan"...
I have never really tried creating a authentic Marathi dish at home other than the Kolhapuri mutton which my Ma makes and which is awesome. Searching around I saw this recipe for a Dal at
Mumbai Masala called Vatali Dal
. I found it interesting as it used Bengal Gram which we Bengalis use to make Cholar dal and it also satisfied
Nupur's A-Z of Indian Vegetables
– its
V
this week.
Since its Nupur who is hosting both
RCI-Maharashtra
and also A- Z, I thought she would not be offended if I sent her one Marathi dish that served both. RCI was a the brain child of Lakshmi of
Veggie Cuisine
.
Here's my
Vatali Dal
, pretty tasty and different from any Dal I ever had. My version was dry as I was not sure how it should look like. I followed the recipe from Mumbai Masala Magic to the tee. Any Mumbaiyaa comments on the look and feel of the Dal are welcome.
Read more...






What You Need

Split Chana Dal /Bengal Gram ~ 2 cups
Garlic Cloves ~ 2-3 crushed cloves
Green Chilles ~ 2-3
Sugar ~ 1 tsp (optional)
Mustard Seeds ~ 2 tsp
Hing/Asafoetida ~ 1 tsp
Turmeric powder ~ 2 tsp
Salt
Oil ~ 1tbsp
Shredded Coconut ~ lots for garnish
Corriander leaves ~ lots for garnish

How I Did It



W

ash and soak split chana dal in water for 3-4 hours


D

rain and grind along with chillies to make a coarse paste, with very little water.


H

eat Oil in a Kadhai/Frying pan


A

dd mustard seeds. When they start spluttering add asafoetida, turmeric powder and crushed garlic. Tip: Cover pan to prevent mustard seeds from dancing around your kitchen


A

dd the ground dal, salt and sugar


S

tir till the water dries out. Keep stirring, keep a watch that it does not stick to the bottom


C

over and cook.


G

arnish with grated coconut and chopped coriander leaves.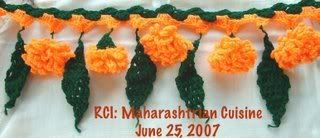 My entry for RCI-Maharashtra


Trivia: Zunka Bhalar Kendras(Centres) were opened across Mumbai by the state government during the 90's to provide employment to youth and provide food at a very minimum rate to poor people. Zunka is a chickpea flour based gravy and bhakar is a roti. I don't think these stalls are functional anymore.