I am tart, sweet, spicy. I was not cooked or prepared by this blog's owner or her family but she and the rest sure enjoyed me.
Who am I ?
Ok, as much as I would have liked to go with "madhuri dixit shrivelled up after dancing in the heat and with a hangover." (courtesy Bee), I have to say I enjoyed these much more than Madhuri Dixit with or without hangover
Indo was correct and Nupur hit the nail right on the head...THWACK !!!
These are indeed
Chile Spiced Mango
from
Trader Joe's
. Now I don't have a Trader Joe's in my vicinity but had heard so much about the store in the blogs I visit, that I simply had to make a stop on our recent DC trip. This is what happens when you Food Blog, you skip the President to meet Trader Joe, good decision any day.
Now I need to venture out to see if I can get them at the Wegman or Whole Foods, near my home and don't have to do the 198 miles each way to procure a packet of these luscious beauties.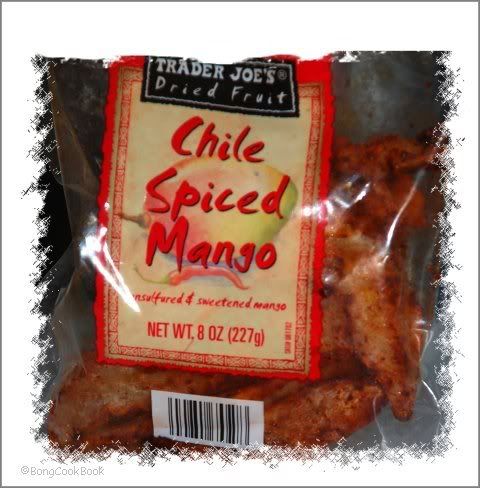 Trivia: Trader Joe's , the chain began in 1958 as a Greater Los Angeles area chain of "Pronto Market" convenience stores.In response to strong competition from 7-Eleven, the chain differentiated its stores' offerings and doubled the floor space in 1967