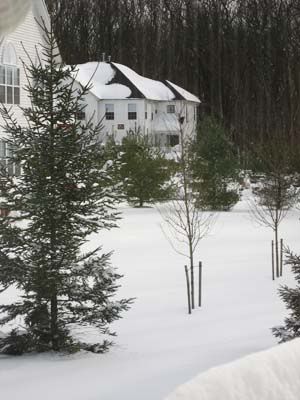 I
thought I was done with pre-holiday posting and could get on with my life with minimal cooking & much entertaining till the next week. Only 2 more days to a 4 day holiday weekend makes you feel like that.
But then there came the snow, and what a snowfall it was. Unlike the
washingtonians
who take their snow seriously and stock themselves up, we are more lackadaisical. We think, what will
12 inches of snow
do to us as so we relax, until we see we are in deep sh** err snow and the pantry lacks bare necessities like
onions
and
Marie Biscuit
. Fortunately there were enough leftovers from the Friday night impromptu party, to tide over two meals. But the soul was still craving deep fried pakodas or something hot in a bowl.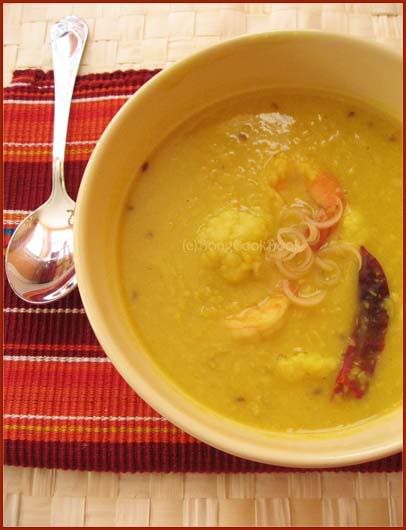 What could a Bong female do in such a situation but make a
bowlful of

Bhaja Moog er Dal

(Roasted Yellow Moong dal).
She went an extra half mile, in her head, not snow and added
cauliflowers
and
shrimp
to it. That made it a bowl of warm, yellow goodness in the midst of a white snowy December.
In other news we have a Christmas tree this time, yeah our first time. The Christmas potluck party has decided to be hosted in our home and since we were asked not to cook anything except, ahem, Rice, the best we could do is bring home Christmas cheer in way of a cheap, $35 plastic tree. Sorry Charlie Brown, couldn't get a wooden Christmas Tree, this time.


Charlie Brown's Christmas on Hulu, free until Jan 1, 2010
And that brings on another question. Since Christmas seems to be all about Giving,
how do you like Giving
? Do you like to Give where you are
recognized as a Giver and can brag about it
with a pink pin, a printed name, a plaque in your name or do you believe in
selfless giving
, where the giver actually keeps a low profile and giving is really about the other person and not you. Do you think 'Selfish' Giving is less moral and ruins the spirit of giving ?
Read more...
Back to the

Bhaja Moog er dal

or the

Dry Roasted Yellow Moong Dal

, which with its nutty roasted aroma claims to be one of those landmark Bengali Dals. This Dal is rich enough to be served on important occasions like pre-wedding lunches etc. and also is served for comforting home lunches. This has a vegetarian version and a fishy version with fish head or a more international Bengali version with shrimp. The one here is a combination of the veggies and fish in form of cauliflower and shrimp.
Get this recipe in my Book coming out soon. Check this blog for further updates.