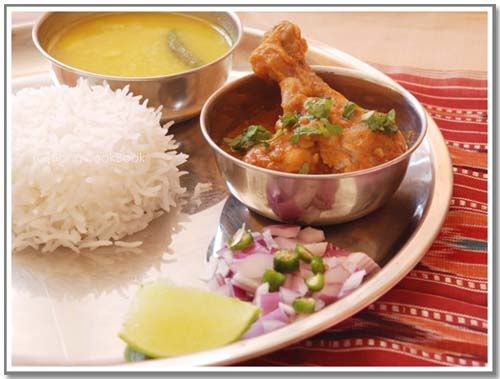 H
as anyone seen
Maya, the Indian Princess
. The cute rounded Indian kid who goes around saying "I am an Indian Princess, in a pr-e-t-t-y sarri", with the right inflection on the t's in pretty. I was thrilled to see her some months ago on Nick Jr.
Yes, I am the bad Mom, who not only has cable but also watches television as in Nick Jr. with her kids. A couple years back, I thought Nickelodeon was the root to all evil, had no cable, only allowed the singleton kiddo to watch PBS kids. Two years and one more kid later, I have changed. I Love Moose A. Moose and wait for their
summer song
.
But the pros and cons of Nick Jr. will be debated later, today it is about Maya. Hers is not a show, hers is just a filler in between the regular shows (a
nd she is been around since 2005, only I didn't know)
. It is about
this little Indian girl who goes around trying to drape a sari and be a princess
until her Mom comes and helps her out. Why does that thrill me so ? Umm, maybe because a brown Indian cartoon girl who looks just like any little non-cartoon girl is on mainstream cartoon TV. Yeah that is how I gauge Equal Opportunity( or is it Affirmative Action) these days, by who is on cartoon TV even if they are sharing the spot with a Moose.

By Kavita Ramchandran
Watch the clip if you haven't already. BS freaks out if I ask her to wear a sari, she will wear a
salwar kamiz
, a
lehenga
but not a sari, but then everyone is not BS.There are kids like Maya who will want to drape everything on them and pretend being a princess or being a teacher like BS's mom used to do eons ago.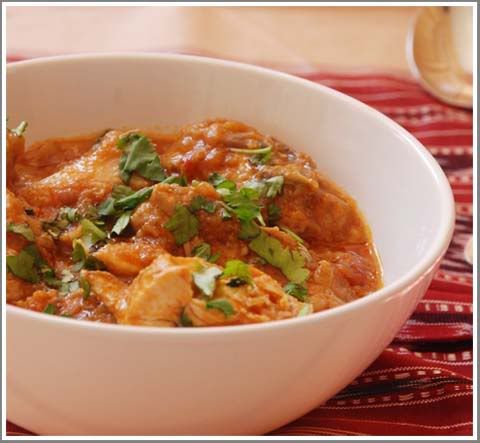 When I saw the
Murghi Ka Salan
at
Mona
's and then
Shayma
's two things happened (1) it made me immensely hungry (2) it very much reminded me of
Murgi'r Jhol
. The
Murgi'r Jhol
was another Sunday lunch thing like the
Patha'r Mangsho
.
As the Bengali got more heart healthy, they gradually moved from their Sunday goat meat lunches to chicken. In those times chicken did not feature prolifically in the Bong menu, non-veg meant more of fish and chicken or mutton was usually once a week affair. The
Sunday

Murgi'r Jhol
was the basic simple
jhol
with onion, ginger, garlic and garam masala. They would not have cashew paste or mint or any such brou-ha-ha. It was a simplistic chicken curry and could be be looking red and rich one day due to use of more oil and red chili powder or pale and yellowy on another Sunday when the frying and
bhuno
-ing was less. Both ways it tasted great. It would be served with white rice, dal, a
bhaja
and a salad of onion-cucumber-tomato.
So I made
Murgi'r Jhol

but adapted all extra things that Murgi ka Salan
required which meant
whole peppercorns and lots of chili powder
. I also fried the onions golden and then made a paste of them as I think that gives a wonderful flavor to the dish. As the chicken cooked on the stove, last Saturday, I could feel the happy smell permeating the walls and spreading through my home. I had a hunch, this would be the chicken curry which makes you want to smell your fingers long after lunch. And when I served this delicious dish as
Murghi ka Salan
, because that sounds oh so much more poetic than
Murgi'r Jhol
, D rolled his eyes(ok not rolled, because he can't do the rolling right), and said "
Eta to amader Murgi'r Jhol
"(This is our Murgi'r Jhol).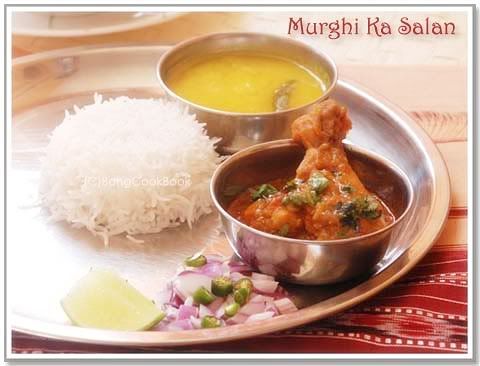 Inspiration:
Murghi ka Salan @Zaiqa
,
Murghi ka Salan @The Spice Spoon
and my Mom
Murghi Ka Salan ~ Murgir Jhol
Serves about 5-6 grown ups
What You Need
Chicken-- skinned and cut into medium size pieces, mine had bones.
About
2&1/2-3lb of chicken
For marinade:
2 tbsp of lime juice,
1 tsp of garlic paste,
1 tsp of ginger paste,
salt,
turmeric powder
Red Onion ~ 3 cups of chopped onion
Garlic ~ 7-8 fat cloves of garlic
Ginger ~ 2" knob of ginger
Tomato ~ 3 peeled and canned tomatoes. Instead use 2-3 juicy tomatoes finely chopped
Elaichi/Cardamom ~ 5
Laung/Cloves ~ 5
Dalchini/Cinnamon ~ 1&1/2" thin stick
Whole Pepercorns ~ 10-15
Roasted Coriander Powder ~ 2 tsp. (Dry roast corriander seeds and grind to a powder. You can store it for later use)
Red Chili Powder ~ 1-1&1/2 tsp
Salt ~ to taste
Water ~ 1-2 cup
Lime zest ~ 1/4 tsp
Corriander Leaves ~ a handful of chopped leaves
Oil ~ for cooking. I use White Oil like Canola for this dish. Do not scrimp on the oil and you will need about 5-6tbsp of it at the least.
Think of this like, you will make this once in two weeks and so it is ok to indulge. Also this 5tbsp will be distributed among 5 adults, so it is only 1tbsp per adult
How I Did It
Prep
Marinade the chicken pieces for an hour with
2 tbsp of lime juice,
1 tsp of garlic paste,
1 tsp of ginger paste,
salt,
1/4 tsp of turmeric powder
Start Cooking
Heat
White Oil
in a deep heavy bottomed pan.
Add
3 cups of roughly chopped red onion
and fry till the onions turn deep maroon & golden with deep brown edges.
Add about
7-8 cloves of chopped garlic
and a
2" knob of ginger peeled and chopped
. Saute for a couple more minutes till they caramelize. Cool and then
grind onion+garlic+ginger to a fine smooth paste
with aid of little water.
Heat some more White oil for cooking in the same pan.
Temper the oil with
5 whole Cardamom
5 Clove
1&1/2"stick of cinnamon
10-15 whole peppercorns
Add the
onion+garlic+ginger paste
from the blender and fry for a minute Add about
3 whole peeled tomatoes
from a can or
2 medium juicy tomatoes
chopped fine. Fry till the tomato is mushed up and you see the oil separating from the edges
Add
2 tsp of Roasted Coriander powder
and
1-2 tsp of Red Chili Powder
. If you want add a pinch of turmeric. Fry the spices with a sprinkle of water for 2-3 minutes.
Note
:
When I am making this, I will add red chili powder only towards the end, after taking out a serving for the 6 year old.
Add the chicken pieces shaking off any excess liquid and fry the chicken pieces till they are well coated with the masala. Let it cook uncovered for the next
15-20 mins
or so, with frequent stirring. This process is actually called "
bhuno
" in Hindi or "
kashano
" in Bengali. At the end of this process you will see the oil separating , that indicates good things are in the making.
When you see the chicken pieces takes on a golden coloring and the oil separating from the masala, add about
1-2 cups of warm water
, mix everything well, add
salt
to taste and cook covered at medium-low heat till chicken is done. You should let the gravy simmer till you see a thin layer of oil floating on the top.
Add about
1/4 tsp of lime zest
or a lime leaf if you have one, couple of minutes before you turn off the heat. This really lends a beautiful flavor to the rich curry. Garnish with loads of
chopped corriander leaves