I
n the age and place I live, people are strange. They do not drink tea. Even if they do, it is the weird stuff, the echinacea tea, the dandelion tea, "please-don't-drink-me" tea but very rarely ever the
simmering on the stove-frothy-milky-sweet-dhaba-style
Indian tea.
I like the last kind. I patiently wait for the milk and water to simmer and froth, to put a teaspoonful of
Lipton Red Label,
to soak an
Earl Grey tea bag
in it, to sweeten it with sugar or Truvia when feeling guilty and then dunking my
Marie Biscuit
in that hot tea before I take a sip.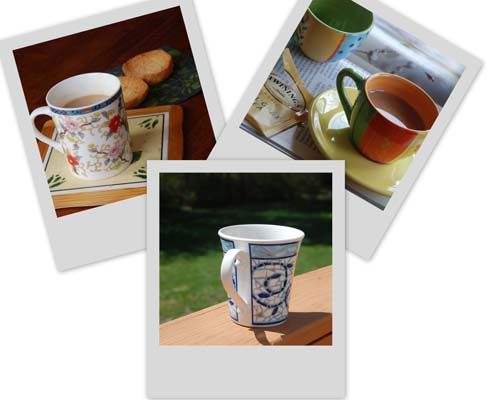 I do that every afternoon disregarding cries from my neglected kids who haven't seen their Mother all day. But I just need my tea exactly so, I need my inner strength to face home after a long day and so I brew my tea. The kids get a Marie Biscuit each, they are allowed to dunk their biscuits in my steaming cup. Their baby hands falter and often a sliver of Marie sinks into my tea, it's lumpy form settling at the bottom of my cup. Some days I don't mind. On rough days I do, I want to sip my tea in peace without a lump of Marie in the dredges.
But I
never
have a
tea party
. I don't call people and invite them to one. Not that anyone would come if I asked. Unless I said I would fry some
pakodis
and promised a dinner after wards. I have great friends that way. People don't have time to sit down and talk over only tea, they would rather grab a coffee and go and call to chat.
People have changed. They don't call out for "
duto half cha
"(two half tea) to justify their sitting and smoking all day on the rickety bench by Montuda's canteen. They don't acknowledge your hard work. No one
thinks twice
about passing your Mom's recipe as their own.They don't give you credit if it was actually you who inspired them. Being polite is no longer the norm.
So I
drink my
tea
all by myself. I like it that way better. Even with the sunken Marie.
These
Raspberry Cup Cakes
are from Madhuram's
Vegan Strawberry Cup Cakes
. It was
HC's
raspberry cup cakes which had actually pushed me towards baking some. But I wanted an eggless version, and I wanted raspberry. Madhuram's strawberry cup cakes came to the rescue. They have vinegar. Can you believe...VINEGAR ? I was so awed by vinegar in the cake thing that I simply had to do it. And it is amazing, those cakes actually rise and are so moist inside without the buttery richness.
Since I used raspberry and not strawberry the measures were a little off for me. I added almost 3/4 th cup of milk and 2 tbsp of oil extra because my batter had become very thick. But those cakes were awesome. While serving I slathered some raspberry jelly on top and made a butter cream frosting like
Happy Cook
does. Only mine weren't as pretty as hers. Thanks
Madhuram
and
Happy Cook
.
I don't have any measurements so the recipe I have here is exactly like the original . But I did have to make some adjustments and I will add that as a Note.
Cup Hanger from Mother's Day
And yes I did have them with my tea, only I had my tea in under 6 minutes and that cup that you see in the first pic does not have tea. It is so pretty, a friend got me a pair from Italy and I don't drink from it. I just stare at it while I drink from my regular cup, that one I got from the job fair, the job fair which never resulted in a job...ok whatever.
Does this make this post good enough for a
Tea Party at Anita's
? If yes, over there it goes.
Read more...




Original Recipe



Raspberry Cup Cakes



Preheat Oven to

350F



In a saucepan put

about 20 raspberries

, sprinkle with

2tbsp sugar

, a little

lime juice

and let it sit for 30 mins. Then make a raspberry filling like this, only I didn't make mine very thick. Or else just puree the raspberrys.


In a mixing bowl combine together


1 & 3/4 cup flour,




1 tsp baking soda and




1 cup sugar.



In another bowl, mix


1/2 cup oil,




1 tbsp white vinegar/apple cider vinegar and




1 tsp vanilla extract



Add the raspberry filling that you made to above and mix. It won't mix well but try.

Create a well in the center of the dry ingredients and add the wet ingredients. Stir together but do not over stir.


Note

: At this point my batter was very thick. So I added almost 3/4 cup of Milk and 1-2 tbsp of oil. I did this gradually starting with little milk so that I did not add excess milk.

Grease

12 muffin cups

or cup cake liners. Pour the batter in them

Bake for about

22-24 minutes

or until a toothpick inserted into the center comes out clean.

Remove from the oven and place on a wire rack to cool. When cool, slather the cupcakes with

raspberry preserve

,

butter cream

and top each with a

whole raspberry

.