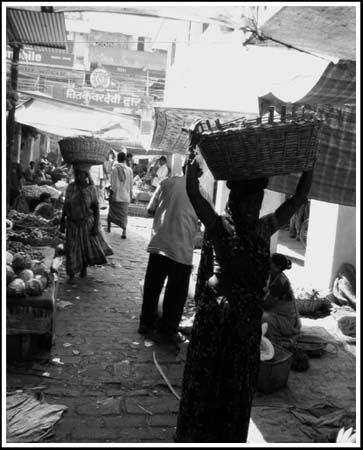 T
he early morning ritual on most days were very similar for middle class Bengali Men in the late 70's and 80's. A cup of tea, a quick browse through crackling pages of the Statesman or the limp ones of AnandaBazar and then a stroll to the nearby
bajar
for the fresh vegetables and fish of the day. Since we were not in Bengal at that time, it was a little different in our home. If I rewind to a morning back long long back, I see my
Baba
or
Kaku
or my Grandpa walking us to the school bus stop and then strolling on to the
haat

,
see I said

haat

and not

bajar

,
with two cloth bags and a reusable plastic bag for fish.
Read more...



The

haat

, if defined in words, is

a weekly marketplace

where producers and vendors bring in their produce or products, either directly or through intermediaries to sell to the customers. But that is just words. That is fancy enough to describe Dilli Haat. But there was a much more intense social aspect to

haat

which can not be defined and you need to go to one of the smaller towns and scour around for a real

haat

to understand.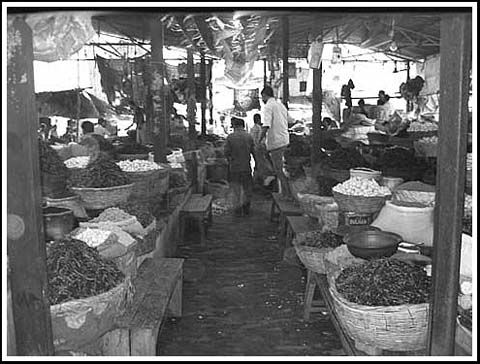 Garlic and Dry Red Chili



The

haat

in my home town was not a weekly thing, it was an every day semi permanent affair. Most of the fish, fresh fruit and vegetable vendors would wrap up and go home when the sun went higher up and the customers were few. The more permanent ones like the potato seller or the one with garlic and mounds of dry red chilis lingered on till the late afternoon. They would take a quick nap on a jute bag laid out on concrete, play a round of cards if the heat hung heavy and humid for sleep, chat and wait, wait for people to come by.


Dusty Potatoes



My Baba would occasionally take me to the

haat

, on weekends. I wouldn't say I enjoyed it a lot, it wasn't an open air haat and it was a bit dingy. Smells hung in cloisters. The

sharp acidic smell of green lemon, the raw smell of squished tomatoes, smoky musty smell of dried turmeric and dry red chili

mingled with the sweat and dust. It wasn't very clean either, with rotting leaves under the feet and squashed tomatoes on the pathway, you had to be careful about your step.


Brinjal Corner



Baba had his own choice set of sellers and he would proceed towards them, neglecting the cries of others, touting better cheaper produce. He had a relation set up with his potato seller and he wouldn't break the tie for such trifles.


Green Lemon



The

haat was zona

l, divided into zones according to the produce. The fresh vegetables were on the fringes, the fish sellers were all together, the dusty potatoes and onions were towards the center. It was hard competition since you were selling lemons as green and juicy as your rival sitting right there at your elbow. I still do not know how they survived and maintained a friendly relationship sitting close together and selling exactly similar products.




As we went around picking things, talking, discussing the days news with the sellers, the cloth bags would get fuller. Depending on the season, there would be tender drumsticks peeping out or fresh bunches of coriander. And then we would go home, not worrying about whether the vegetables had pesticide or their genes were modified by science but whether Ma would appreciate the days pick or scorn at our choices.

If you have a local Food Market, a bazaar or a haat near where you live, send me a pic or post on your own blog and leave a comment.




Pic Courtesy my Dad from the haat of my childhood hometown. All theses photos were taken by him