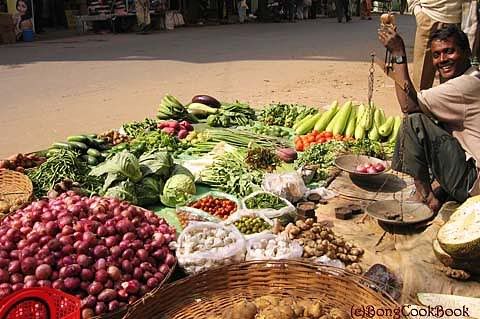 The Smiling Vegetable Seller
A
s we moved places the character of the
haat
changed, some places they were more sunny and open air, at others they were very clean and neat but their very basic underlying characteristics remained same. They also gave way to more
local bazars
,
vegetable sellers sitting at residential road corners
with their vegetables was a common sight.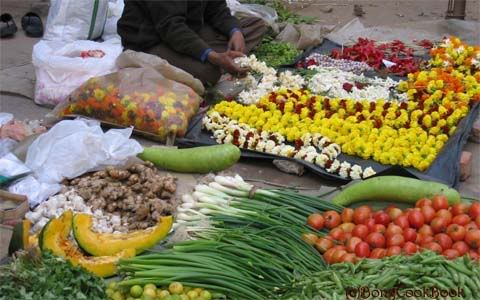 Flowers for Prayer share a spot with Vegetables for Mankind
My Baba now preferred them than going to the
haat
. He would get everything he wanted right around the street corner. These small vendors did not have a complex supply chain system. The
farmers in the nearby villages and suburbs
took the early morning local train and brought their produce to a nearby train station. The
neighborhood vegetable sellers sourced the produce directly from these farmers
and sold it to the customers.
Read more...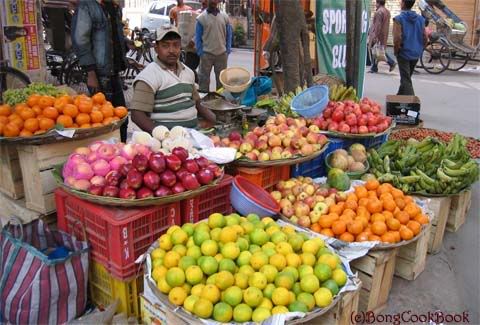 The Not too Happy Fruit Seller



With the IT boom pushing middle class Indians towards more prosperity, the

retail industry in India

slowly started changing. Organized retailing, though late has started encroaching the Indian market and more and more air conditioned super markets selling grocery and vegetables are sprouting in the metros. Interestingly

Nilgiri's Super Markets are the oldest retail chain

in India, going back as far as 1904.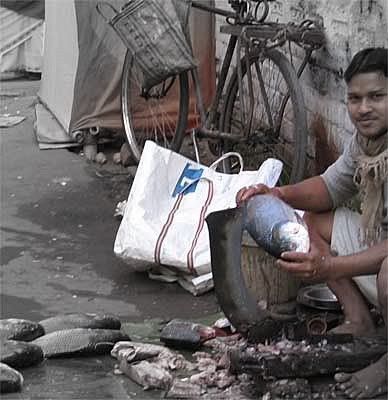 The Fish Guy by the Road



I myself hadn't seen an air conditioned grocery market until I moved to B'lore in the late nineties. I was so taken by them that I would go to

Nilgiris

or

Food World

just to pick up some small stuff. Vegetables there were too expensive by my standard but I loved their ambiance as did many of my generation. For the freshest of veggies we would make once a week trip to the

Madiwala Bajar

on weekends which had the same character and earthiness as the

haat

of my childhood but only in Kannada.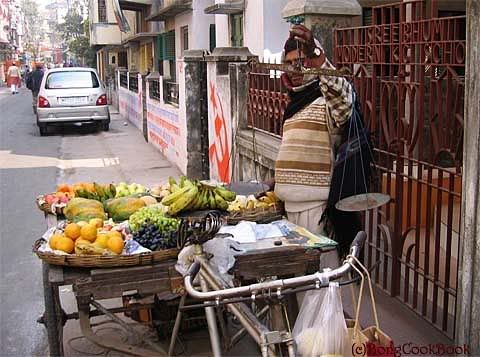 The Push Cart Vegetable Vendor or the Thela



Convenience shopping in the form of Supermarkets must surely be a boon for a lot of the urban Indian population who want to shop in luxury and comfort. They might not be the best thing for the small farmers, the

kirana

stores(local grocers) and the fruit & vegetable seller at the corner though. With big names coming in to the retail grocery chains they are able to support a more elaborate supply chain management system which pushes the customers still further away from the producer.

Following are some pics of a wholesale bazaar that

Sra

of When My Soup Came Alive sent me. Most of the vegetables sold here come from a 100km radius, she says.


Birds Eye View of the Market




In spite of the big names of the retail chains, my Dad and most of his generation will still think twice before paying for a bunch of Asparagus at Reliance fresh. He prefers the vegetable seller round the corner as do 60% of the Indian population living in suburbs and villages.

What do you prefer ?

Further Read on Organized Retailing in India



Photos courtesy of my Dad from India. I guess these are his favorite sellers.