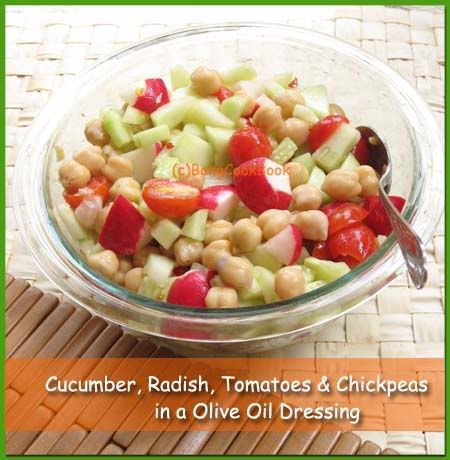 Today was ok. I definitely craved all kinds of grains from Biryani to fish and rice but that was all in my mind.
I sacrificed my morning tea too and still I was ok. I am not a coffee drinker so no problem there.
Lunch was pretty satisfying but I need larger portions tomorrow. After 3pm I wasn't feeling that good though. For some reason I have a pounding headache.
I couldn't do the Fatoush as I didn't have zatar or feta at hand. So my
salad
was this:
In a bowl add chopped

cucumber

, chopped

red radish

, halved

grape tomatoes

and

chickpeas

. In a separate bowl make a dressing of

Olive Oil + Lime Juice + Minced Garlic + Red Chili Flakes

. Toss the salad with this dressing.
I have this dressing saved for the other salads too.
The

Keema Chickpea

was damn good. I kind of followed the Rajma Keema recipe but did not marinade the keema(minced meat) or anything. I also did not use Whole Garam Masala or my favorite Maggi Ketchup to make it tangier. Added the canned chickpeas after washing thoroughly towards the end of the cooking and mixed well
The
Hot & Sour Soup
went like this
In a deep bottomed soup pot add very little olive oil. Flavor the oil with minced garlic, ginger and green chillies. Add chopped mushroom(I added carrots).Add vegetable stock, soy sauce, white vinegar, little salt and bring to boil. I did not add the cornstarch which goes in mixed with little water. When the soup comes to a boil add some shrimp. Add lime zest and garnish with chopped scallion. I omitted adding an egg to make the string thingy
Thanks for all your ideas. Cheela wins hands down for weekend menu. I have not had pesarattu so don't know how it will be.
Besan or Gram Flour is flour made from chickpea, a legume. I guess if that is processed even cooking oil is. However Besan contains high proportion of carbohydrate but no gluten. The higher carb is ok or not ?