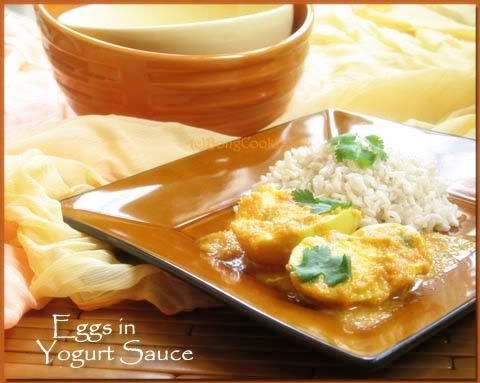 "In the attitude of silence the soul finds the path in a clearer light, and what is elusive and deceptive resolves itself into crystal clearness. Our life is a long and arduous quest after Truth.
"
Mahatma Gandhi (1869 - 1948)
Today is a rare day. I don't feel like writing anything except the recipe
So enjoy the silence and
Doi Dim
aka
Eggs in a Yogurt Sauce
. This is almost like the
doi maach
recipe and when my Ma made this last year we all loved it.
Doi Dim ~ Eggs in a yogurt sauce




Prep:



Cook

6 eggs

so that they are

hard-boiled

. Then peel them.

Score the tip of the eggs

and

rub them with a little turmeric and salt






Make

a paste

of about

1 cup of chopped red onion.

If your onion paste tends to get bitter fry the onion in a tsp of oil till soft and then make a paste.



Start Cooking:



Heat

oil

in a Kadhai/Frying Pan

Add the

eggs

and fry them till they are a

nice orange-yellow color

. I don't fry them too much because I don't like the skin all crinkled but I do love the gorgeous yellow color the eggs take with all that light frying with turmeric

Take the

eggs

out with a slotted spoon and keep aside



Season

or

temper

the same hot oil with

2 Green Cardamom/Elaichi

,

2 Clove/Laung

,

1/2" or less thin stick of cinnamon

,

a small Bay leaf/tej patta

(this is actually whole Garam Masala)

When the spice pops add

the Onion paste



Fry with

1/2 tsp of sugar

till the onion turns a shade of pinkish brown and you see the oil separating. Remember the onion paste should not burn but should turn a nice shade of lighter brown with tinges of pink. If you are using fried onion paste, this step will be faster. Approx. 5-6 mins.

Meanwhile in a bowl add

1/2 cup of plain thick yogurt

,

1 tsp of Ginger paste, 1 tsp of Red chilli powder

(adjust according to your taste),

pinch of Maida/AP Flour, little Turmeric powder

and beat well till the mix is smooth.

Note

: I feel this dish requires a little heat from the chilli so if you are not using Red chilli powder compensate with hot Indian Green Chilli



Take the Kadhai/Frying pan off the heat and add the beaten yogurt slowly

. Mix with the onion paste and return to heat after 30 secs or a minute.

At low heat cook the sauce for 3-4 minutes.

Note: If you add the yogurt directly when the utensil is on heat the curd may curdle so you need to do this

Add

1/2 - 1 cup

of water

Add

salt

and

4 slit green chillies(hot Indian green chilli)



At

low-medium heat

let the gravy simmer till it comes to a boil. Let the gravy thicken to your desired consistency

Add the

eggs,

raise the heat and cook for a couple more minutes

Add sufficient

chopped coriander

and you are done. While serving you can slice the eggs in halves or let them remain whole




Related egg dishes in my blog



Dim er Dhoka

Spicy Egg Bake