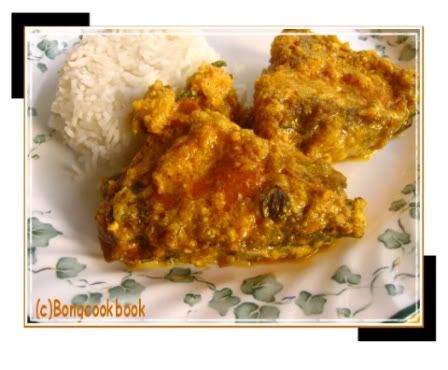 Jump To recipe
The
title might sound ludicrous but I couldn't just get it out of my head. Since the last couple of days this is the line that hums in my mind. You know how it happens, when a particular phrase gets into your system and you just can't flush it out. The same thing happened when I read Seemas post on "
Tindora in Coconut Gravy
" aka "Huli Menasina Kodilu". I loved that name. It kept on reminding me of movies like "Hassena Maan Jayegi" or "Hum apke Hain Kaun" and though I don't know ABC of Kannada I kept on humming that name to myself.
On another note, I went and watched "Casino Royale" at the theatres with D last night. Yeah went and watched it with D my legally wedded husband so what is so surprising that I have to write it in my blog. That's because this is the first movie we watched in the theatres all by our self (barring the numerous other people in the same theatre watching the same movie) sans my little daughter. A big step for parent kind, so I better chronicle it.
Doi Maach (ch as in chair)or Fish in Yogurt Sauce
is a typical Bengali dish which is light, easy to prepare and yet is a favorite as a dish you would serve your guests on those special occasions. I made this with
Rohu
(a fresh water fish from the carp family) or Rui Mach , which I procured from my Bangladeshi Fish seller. You can also try with other fish like carp, buffalo carp, fresh water bass. Salmon should also be a good bet.If the fish is very fresh and firm as in back home, my Ma or Ma-in law does this without frying the fish. I however always lightly fry the fish and I am presenting here that version
Get this recipe in my Book coming out soon. Check this blog for further updates.