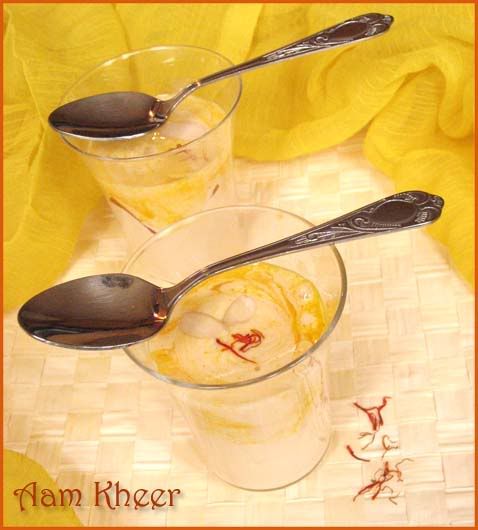 S
ee how pretty it looks.
Warm, sunny happy that is what you would say looking at this delicious
Aam Kheer
or
Mango Kheer
and there is no two thoughts about it. It is magnificently delicious, if there was a phrase like that.
But warm, sunny, happy was not how my mood was when I was making it. Not the dish's fault really but mine.
My Ma used to make kheers like this very often, in winter she would add
kamla lebu
(oranges) to make the sweet, luscious
kamola kheer
, in other times she would add rasgulla to this kheer to make rosogolla'r payesh and during summer it would be mangoes to make
aam kheer
. Ok, actually aam kheer was rare, mangoes were much enjoyed as is.
The casual air with which she made it, made the whole process seem extremely easy and quick. You were lulled into the false belief that saying "Abra Cadabra" reduces whole 1 liter of milk to a quarter in a jiffy. And she even smiled at the end of that process, a smile of content.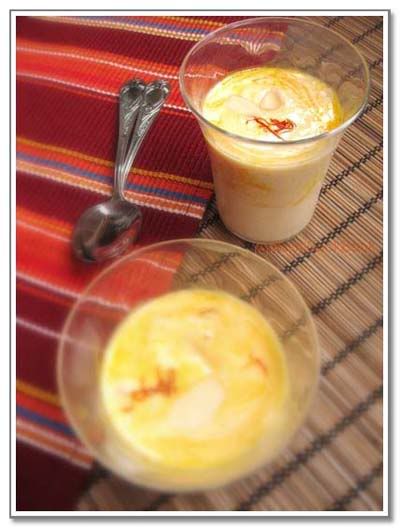 Me, I have many virtues(ahem!!), sadly
patience
does not top that list. So Last Thursday when I started the process of
reducing a mere
1 liter of milk around 10 at night
, my mood had turned severely sour after the first 45 minutes. The
milk was stubborn
, needed to be
babysat
and craved much more
mollycoddling
than Baby A. The fact that I had had a long day and needed to be up by 6 next morning made me more edgy and I was throwing around angry looks and angrier words by 11.
D meanwhile was standing by the sink and calmly licking the lid and bottom of the condensed milk can in a manner which called for severe caustic remarks. A guy who doesn't have any respect for rules in the kitchen and that includes,
the kheer maker gets to lick the condensed milk can
, is a threat to the kitchen environment and needs to be dealt by K(Kitchen)PA if not EPA.
Finally around 20 past 11 the milk had reduced to half of its original, my Ma insists on reducing a little bit more, but I had reached my limits.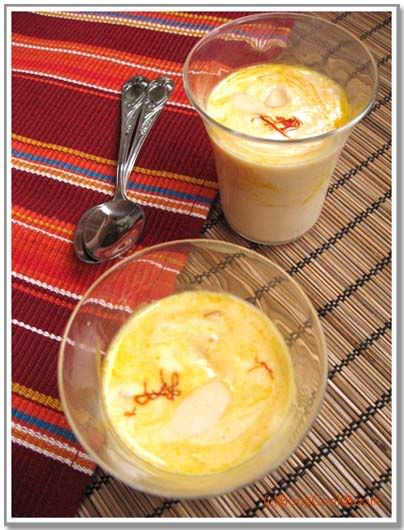 After a night in the refrigerator, the
kheer
had thickened a little more and it was just perfect the next day. This time I served a little differently by
layering and mixing mango pulp only for the second layer
(
as in Serving Suggestion 2 in the recipe
). It helped that I had only few guests so I could prepare a serving for each beforehand and then chill in the refrigerator. This
aam kheer
(
mango kheer
) was a major hit, it was such a creamy mango delight that people just loved it.
This is actually a very easy dessert, the only thing to keep in mind is not trying to start the process when time is a constraint or one is tired. This works very well made ahead though. So you can make the plain kheer a couple of days ahead when you have time and just serve it on the day of the party.
Read more...







Aam Kheer/Mango Kheer






What You Need



Whole Milk ~ 1 litre

Sweetened Condensed Milk ~ 1 can

Sugar ~ 1/3 cup or less

Mango Pulp ~ 1 cup. Either use fresh mangoes to make the pulp or use a canned one

Fruits ~ Small pieces of cubed mangoes if they are in season else a can of Dole Tropical fruits cut up in bite size pieces

Few strands of saffron

Blanched slivered almonds or Pistachios for garnish



How I Did It



In a heavy bottomed deep pan

heat the milk



Bring the milk to boil and then stir it intermittently

Add

a can of condensed milk

and continue the process of stirring

When the milk has reduced a little add the sugar.

Note

: If you don't like too sweet avoid the sugar

Keep on stirring continuously at medium heat till the milk has reduces to almost half the initial volume. By this time the color of the milk would take on a creamy hue and it would have thickened. Continuous stirring is necessary else the milk may stick to the bottom and burn. This process of reducing the milk will take a little more than an hour at medium heat.

Add a

few strands of saffron

when the milk has almost reduced to the desired consistency

The consistency is now like smooth kheer

Pour in a serving bowl and put in the refrigerator.

Now

to serve I do it two

ways



Serving Suggestion 1:

Once the

kheer

has cooled down, add

1 cup of mango pulp

and mix well. While serving

serve with cubes of fresh mangoes

or if mangoes are not in season serve with any other tropical fruit. I have used Dole canned tropical fruits for this purpose. Garnish with blanched slivered almonds or pistachios and serve chilled. This is how it is done in Indrani's Aam Kheer



Serving Suggestion 2:

Once the

kheer

has cooled down, divide in two portions.
To one half add 1/2 cup of mango pulp and swirl. The other half remains plain.

In a parfait glass or wine glass or a dessert bowl add a layer of the Plain kheer(the portion without mango). Add cubes of fresh mangoes or if mangoes are not in season any other tropical fruit. I have used Dole canned tropical fruits for this purpose.

Top this with a layer of the kheer with mango pulp

Garnish with blanched slivered almonds or pistachios




Similar Recipes:



Orange Kheer or Kamola Kheer

Easy Mango Dessert -- done in minutes

Paayesh -- the traditional rice kheer