P
relude
I am the kind of consumer who is
pro organic
because my
primary concern is safety in food
. Though due to cost and restricted availability I do not buy everything organic.
I did not rely much on "local food" because I do not have access to good locally grown produce. The nearby Farmers market that I go to have lovely produce, very good price but produce is never ever seasonal. If I compare their produce to this
Harvest Dates for Jersey
, it can only mean
produce there is NOT local
. Neither is the produce there certified organic. I am confused.
During summer the only local vegetables that I have seen in limited quantity(as sold in Wegmans or Whole Foods) is Yellow Squash, Zucchini, Tomatoes and Corn.
So if I want to eat Local I have a choice of very few vegetables and that too only during 5-6 months of the year. Not practical.
After I expressed my own doubts about Local Food on reading
Indosungod's very informative post
, I read the comments and felt I needed to know more and re-evaluate my decision . I then ventured into a little more research.
Disclaimer
:
The following is information that I have gathered over the internet and then my interpretation
.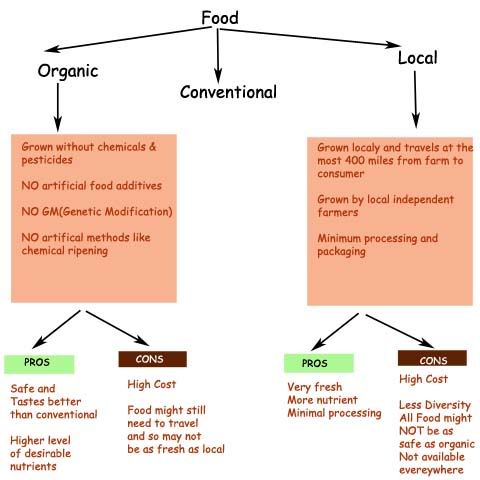 Why we should buy Local
Local is really important as a deep investment into your local economy and developing a relationship with the person who produces your food. Local food is also fresher and more richer in nutrients. Proponents of Local Food say "Local" is the new "Organic". In an ideal world f
ood would have been "Local and Organic
". There would be no other kind and no discussion.
Is Local Sustainable ?
While dreams of our future food system may rely on the romantic image of local farmers, the reality is:
this model(Local or Organic or both) can't do what we need it to do, that is, feed billions of people
. From
TreeHugger
. But really is there an alternative, organic farming method that is sustainable ?
But Is Local always Safe and Organic ?
This largely
depends on where you are and also on the trust relationship
you have with the grower. If I don't know the farmer or am not sure if there is a vigilant body checking the farmer's activity, I cannot be sure of his method of growing food. The CSAs or the CoOps are more trustworthy.(
Read Times Article)
The trust and the local farming practice also also depends on the country where you are. We tend to think of only the Western World when discussing such stuff.
Local Farming and Environment
It is
not necessarily true that Local Food has a lower carbon footprint
. More than transport, methods of growing impacts "food miles". It is likely to be more environmentally friendly for tomatoes to be grown in Spain and transported to the UK than for the same tomatoes to be grown in greenhouses in the UK requiring electricity to light and heat them.(Read
more
)
Local Farming and Third World Countries
If people in developed nations are convinced to eat only locally grown food what happens to the
farmer in the third world country whose income is from exporting his produce
.
Afghanistan produces some of the world's tastiest fruits and nuts. If these do not reach the world market how does that country better its economy ?
Also take an ordinary farmer in India. The prices of locally produced food is usually higher because they are not subsidized. Because of WTO's free trade policies it will be very hard for a poor farmer in India to compete his local grown produce with imported ones. So then is local food only a privilege of people in wealthier nations ?
I don't have much knowledge on this and really would love to know more about how local farming works in developing nations
How does Local fare in a Global Flat world
Local had always been how produce was grown when I was a kid. Food was seasonal and my Mother did without tomatoes and cauliflower in summer and didn't make mango chutney in winter. We waited for the fruit and vegetable of the season and accepted nature's way. Now with
world going flat food is not only non-seasonal, it has also gone global
. So even if you have moved countries and shifted loyalties you can still eat your jackfruit curry for lunch and suck on an alphonso mango after dinner. How do you put a stop to that craving and go local ?
Conclusion
as a Consumer
"If the average meat eater gave up meat once a week that would be the equivalent of eating all of your food local."
—James McWilliams, author of Just Food: Where Locavores Get it Wrong and How We Can Truly Eat Responsibly. From The TakeAway.
Eat Organic and Local as and when you can but they truly might not be the answer to building a sustainable food system.
For each of us eating local or organic may mean different thing and I think it is largely a personal choice
.
I was reading a book by Bourdain and there he talked about a sushi place in New York, the most expensive restaurant where they fly in fish from Japan every single day. If patrons of this sushi place, the rich & the famous of NYC, drive a 3 hrs distance from the city to a farm to get their local produce because buying local makes them feel warm and fuzzy and "in with the crowd", I will think the idea is somewhere defeated.
References from
Wiki
-- Local Food
Wiki -- Organic Food
Eating Better than Organic -- Times
TreeHugger
Food That Travels Well - NY Times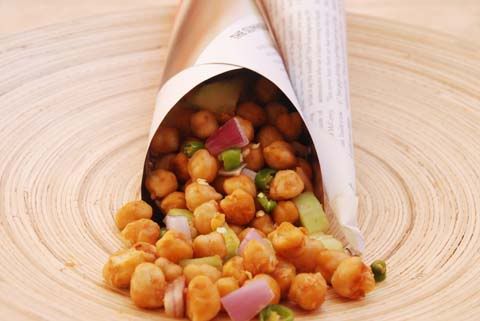 Now back to these lovely
dry roasted chickpeas spiced with Indian spices
. They are great as a snack and also makes for a very healthy and satisfying meal. That they look pretty is an added bonus.
Read more...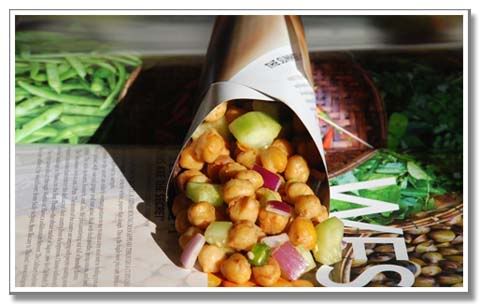 Inspired by Kalyn's Roasted Chickpeas with Moroccan Spice.



Dry Roasted Spicy Chickpea Salad



Wash canned chickpeas in several changes of water. I used a 29oz can of Goya Garbanzo

In a bowl toss garbanzo beans with
1 & 1/2 - 2 tsp Dry Mango Powder,
1/2 - 1 tsp Red Chili Powder,
1/2 - 1 tsp fresh Coriander powder(grind coriander seeds in your spice grinder),
little

Kitchen King Masala(optional)

,
salt and
1 tsp Olive Oil

Heat oven to

350F



Put the

chickpeas in a single layer on a tray and bake for 30-40 mins

or so.

To eat as a salad,

toss together the roasted chickpeas with some peeled and chopped cucumber,chopped red onions

and

finely chopped green chili

. Drizzle

1 tsp

olive oil

and combine. Add

salt

and

pepper

if needed

This made for a very filling and also satisfying packed lunch for work. Though I suggest that it tastes better when had fresh off the oven and tossed as a salad.