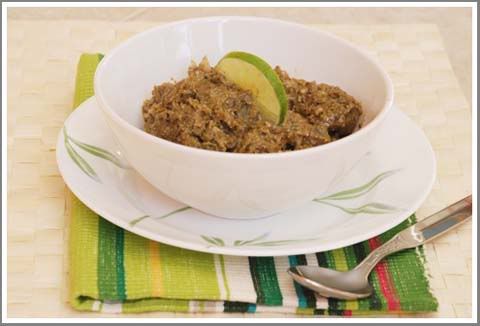 S
ometimes readers will leave a comment asking "How much salt?". A weighted question with no answer that I know of. Honestly, I don't know how much salt. My salt adding tactics while cooking is start with less salt --> taste --> add a little more --> taste again -->...repeat steps till equilibrium is reached.... Yes do that and do not dip the same spoon again and again without rinsing and same goes about your finger, ok not the finger maybe.
Talking about salt did you know that every winter the
salt dumped on US roadways
is 13 times more than that used by the Food Processing Industry. Yes, the salt that prevents your car from skidding is actually seeping into groundwater supplies and into lakes and streams thus disrupting aquatic plants and animals. So is there an alternative that is as cheap ? Not really unless you accept more judicious use of the salt like salting only the main roads and highways and using sand on the inner roads. Or salting just before the storm hits rather than later. Or just staying indoors until the snow melts and it is Spring.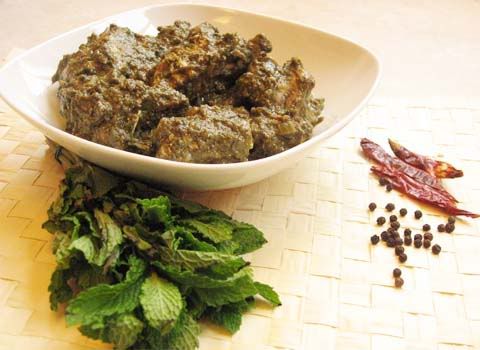 Now to the chicken which is a direct influence of the
Chicken Hariyali Kabab
recipes from
Aayi's Recipes
That recipes is perfect and any normal person would not have messed with it.
Me, I am "Cuckoo", as Big Sis S says. I wanted to make a
Chicken with Mint and Corriander
, wanted
a gravy based dish
and
loved the Hariyali Kabab
recipe. So then this followed. The chicken is first cooked exactly as in Hariyali Kabab and then the gravy follows. If you don't want the gravy stop when the chicken is done, eat them all up, lick your fingers and then lament the loss of the gravy.
If you want a minty gravy, go ahead and make the gravy. Depending on your taste, increase or decrease the amount of mint and corriander in the gravy. In lack of a better name I just call it
Pudina Dhaniya

Chicken
or
Chicken in Mint & Corriander Sauce
.
Read more...




Influenced by this Chicken Hariyali Kabab Recipe



Pudina Dhaniya Chicken/Chicken in Mint & Coriander Sauce





What You Need




Chicken ~ 2 lb skinned and cut in small pieces

To make a

Masala for Marinade



Chopped Corriander Leaves ~ 1 cup
Chopped Mint Leaves ~ 1/2 cup
Green Chili ~ 4 (add more depending on your heat level)
Ginger ~ 1" peeled and chopped
Garlic ~ 4 fat cloves

Clove ~ 4
Cinnamon ~ 2" stick
Black Pepper Powder ~ 1 tsp

Thick Yogurt ~ 1/2 cup
Salt ~ to taste



For Gravy



Onion ~ 1 cup of finely chopped red onion
Garlic Paste ~ 1 heaped tsp

Kasoori Methi ~ 1 tsp crushed between your palm
Red Chili Powder ~ 1/2 tsp
Salt ~ to taste

Oil ~ for cooking

To make into a

Masala Paste for Gravy



Chopped Corriander leaves ~ 1/4 cup
Chopped Mint leaves ~ 1/2 cup
Poppy Seeds ~ 1 tbsp
Cashew ~ 2 tbsp
Little water




How I Did It





Cooking the Chicken



Make a

thick Paste

with all ingredients listed under

Masala For Marinade

. Marinate the washed and cleaned chicken pieces with this

spice paste for 2-4 hrs. or even overnight

. The least I have done is 1 hr.

Remove the chicken pieces from the marinade, shake off any excess and arrange the pieces on a baking tray. I drizzle a little oil on the pieces before they go into the oven.

Preheat Oven to

350F.

Bake the chicken for

20-25 minutes

. If you DO NOT want to proceed to gravy then cook till chicken is done.

Note

: These are my Toaster Oven settings



Making the Gravy



While the chicken is in the oven, make a wet spice paste with all ingredients listed under

Masala Paste for Gravy

.We will add this masala paste to the gravy later.

Heat

Oil

in a saute Pan

Add the

chopped onion

and fry till onion is soft and translucent

Add

1 tsp of garlic paste

and saute till fragrant.

Add the

masala paste

(that you made) and saute for couple of minutes. Add the remaining marinade(from the chicken) if any and cook the masala till you see oil seeping out from the edges

Crush the

Kasoori Methi

between your palms and add it to above. Saute for a minute. Add

1/2 tsp of Red Chili Powder.

Adjust Chili Powder according to taste.



The chicken is done by now so

add the chicken pieces to the pan

and mix in with the spices. If there is liquid drippings in the baking tray do not add all the liquid now.

Cook the

chicken with masala

for a minute or two and

then add the liquid drippings

from the bake tray. Add little water as needed for gravy. Adjust for salt and seasoning and cook till the gravy thickens and is just enough to coat the chicken.

Once the chicken is done

sprinkle some black pepper powder

to give a nice heat effect.