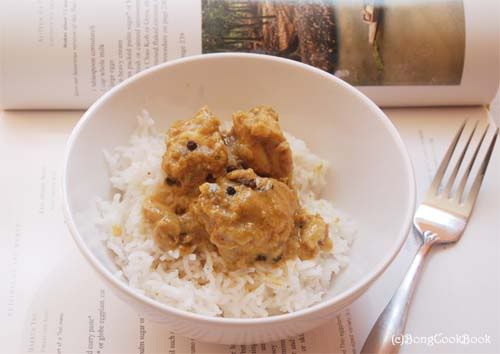 S
he wanted to make
Dahi Murg
today. From that Madhur Jaffrey book sitting on her dresser. The one she had checked out from the local library three months back and never renewed or returned.
The book was a treasure of good life made better with excellent food. She wished she had that kind of life, the kind spiced up with green mangoes sprinkled with red chili powder, the one rich and sensuous like the Chicken korma on Page 123, the flirty kind with a dance or two and spicy
bazaar wale aloo
on the side.
But no, here she was doing her second laundry of the day, while folding the first neatly. Then she had to clean the kitchen, the breakfast mess from morning and vacuum the family room. By 9 she had to be out to her job where all she did was sit in a small cubicle and enter data on a dumb screen. 8 hours of that sterile environment and her was numb by the time the clock said 5:30.
The only interesting part of the day was the half hour lunch break when she could sample Cathy's ravioli, Sujata's rawa idli and discuss Ingrid's non-existent love life. The days the girls praised her
aloo-paratha
or drooled over her butter chicken life seemed a lot better though. Her kohl bereft eyes shone as they praised her cooking prowess.
They would ask her the recipe in details. How many onion, chopped or sliced, paste or not, red or white... so many questions. She would preen secretly and patiently answer. Her voice glided from dull to sensuous while explaining the onion's color and shape. With a sparkle in her eye, she could go into details about how exactly the oil separating from the
masala
should look and what it meant to beat an egg white to stiffness.
Today though nothing like that happened. No one said a word about her
aloo-gobi
. Instead they praised the Swiss chocolates Ingrid's boyfriend had got. She finished her lunch in a short fifteen minute span and went back to sit in front of her screen. "No point talking to these girls and wasting time", she thought to herself . She would rather go home 15 minute early and start on that
Dahi Murg
.
It was almost dark by the time she returned home. After school, she had to take Nutan for karate and Rakesh for his ballet lessons. Everyday there was some chore or other to be done after work and finally when she could plonk herself on the couch with a cup of tea she would be totally out. Today she sat at her exact spot, her back resting against the arm rest, her feet stretched out, her fingers flipping through Jaffrey's "Climbing the Mango Trees". Yes, there was
Dahi Murg
, Chicken in a Yogurt Sauce on Page 134. She read and re-read the one page recipe, raising a eyebrow there, furrowing a forehead here.
"10 cloves of Garlic. Ahhh, now that sure is much. What was Madame Jaffrey thinking ?", she called out loud. The children used to such ramblings didn't turn a head and continued their work.
"Some Kasoori Methi would deepen the flavor in this dish, I am sure. And cashew paste, yes that would be perfect. I will see how Sujata will ignore my
Dahi Murg
tomorrow", she said with a steely determination in her voice.
She then flipped her phone and pulled up the Address Book.
D -- for Desi Khana...naah they don't do non-veg.
G -- Ghar ka Khana ...their aloo-gobi today was a total failure.
H -- Hardeb Home Delivery...now this was a guy who could deliver. His
Shahi Egg Masala
on Tuesday was so delicious that Cathy had asked in an incredulous voice " How can you cook such difficult dishes after a long day ?". She had smiled and doled out Cathy some more of the Masala.
She quickly pressed Hardeb's number. Hardeb on the other side was clearly pleased to hear his regular and connoisseur customer's voice.
"
Dahi Murg
? Sure Madam. Tomorrow
by 8 we will deliver
at your home", Hardeb's greasy voice said. "Yes, yes, Kasoori Methi and Cashew paste Madam. No, no
Kari Patta
.Sure Ma'm. Thank You Ma'm"
She took a deep breath. She could smell the slender sticks of cinnamon and the dark, rough, tiny peppercorns dancing in the hot oil. The
Dahi Murg
was going to be lovely. Hardeb had never failed her.
Tomorrow she would explain to Sujata what exactly needs to be done so that the
Dahi
, the Yogurt does not break in the gravy.
****************
This is my entry for
Of Chalks and Chopsticks
hosted by
Jaya @ Desi Soccer Mom
and started by
Aqua
.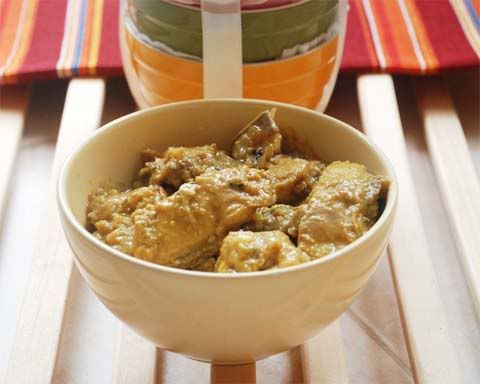 My Ma used to make a
Doi Murgi
-- a Chicken in yogurt sauce, long time back. Her recipe was based on the
Doi Maach
. I somehow never made it. Many years later I saw a
Dahi Murg
in Jaffrey's book which reminded me of my Ma's Doi Murgi. In between these episodes,
Bong Working Mom
had mentioned a Doi Murgi/Doi Chicken in her comments which I vaguely remembered.This recipe is an amalgamation of all the above recipes. I loved the addition of Kasoori Methi that BWM introduced and I really think it adds a wonderful flavor to this dish. You can skip Kasoori Methi and Cashew for Madhur Jaffrey's version.
Read more...
Doi Murgi -- Chicken in Yogurt Sauce




What You Need



Chicken ~ 2lb--3 lb. I buy a whole small chicken which is almost 3lb, after removing skin etc. the weight would be around 2-2&1/2 lb I think.



I have given a range for the garlic, ginger etc. because I think it depends on individual taste. The original recipe suggests about 20 clove of garlic. Now my garlic cloves are much fatter than the ones I have seen in India so I think 4 fat ones is fine for me in this dish which has little gravy and in which I didn't feel the need of too much garlic. You are free to improvise.





For marinade



Ginger paste ~ 1 tbsp
Garlic paste ~ 1tsp
Corriander powder ~ 1 tsp
Cumin Powder ~ 1 tsp
Garam masala ~ 1/2 tsp
Turmeric Powder ~ 1/2 tsp
Yogurt ~ 1 tbsp
Salt to taste



For Gravy



Onion ~ 1&1/2 -- 2 cup of chopped red onion OR 1 large US size red onion
Garlic ~ 4-5 fat ones
Ginger ~ 1 heaped tbsp of chopped Ginger

Yogurt ~ 1 cup
Cashew ~ 1 tbsp

Kasoori Methi ~ 1/2-1 tbsp
Kashmiri Mirch ~ 1/4-1/2 tsp (depending on taste)
Red Chili Powder ~ depending on taste



For tempering



Cinnamon ~ 2" long & thin stick
Clove ~ 5
Cardamom ~ 5
Whole Black Peppercorn ~ 8-10



How I Did It



Marinate the chicken for 30mins to an hour with

all ingredients

listed under marinade.

Heat about

3 tbsp of Oil

in a heavy bottomed pan or kadhai. Temper the Oil with


2" thin stick of Cinnamon,




5 Clove/Laung




5 Green Cardamom/Elaichi




8-10 Whole black Peppercorn



Add about

1&1/2 -- 2 cup of chopped red onion

and fry the onion with

1/2 tsp of sugar

till onion is soft and browned on the edges.

Make a paste of


4-5 fat cloves of garlic

1 heaped tbsp of fresh chopped & peeled ginger

2-3 green chili(optional)

very little water



Add this paste to the pan and saute for 2 minutes, sprinkling water if necessary.

Add the chicken pieces shaking off any excess liquid and fry the chicken pieces till they are lightly browned. Let it cook uncovered at medium heat for the next

10 mins

or so, with frequent stirring. You might need to add

a tbsp of oil

at this stage. This process of stirring and cooking is actually called "

bhuno

" in Hindi or "

kashano

" in Bengali. At the end of this process you will see the oil separating , that indicates good things are in the making.

Now add


1/2-1 tbsp of Kasoori Methi crushed between your palm




1/2 - 1 tsp of Kashmiri Mirch(or Red Chili Powder)


Saute for 1 more minute

Take the pan off heat and wait for a minute. Meanwhile prepare a

smooth paste

of

1 tbsp of cashew and 1 cup of thick Yogurt

. If you are afraid of Yogurt tending to break,

wait for the pan to cool a little before adding the yogurt

. You can also add

a pinch of flour

to the yogurt.
Add this to the pan and mix with the chicken pieces so that all the pieces are uniformly coated.
Wait for maybe 1 more minute, to err on the side of caution, and then put the pan back on low heat.

Let it cook at low heat for 2 minutes. Now add about

1 cup of water

,

salt to taste

, mix everything and let it come to a simmer at medium heat. Cover and cook till chicken is done.

Taste and adjust for seasonings. The gravy should not be too much but clinging to the chicken pieces. If you see gravy is watery reduce the gravy by removing cover and letting it simmer.
Serve with Rice or Roti.