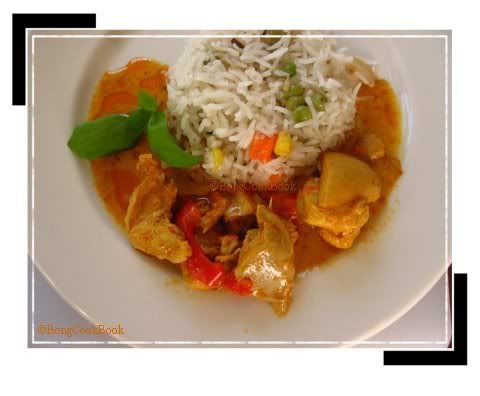 T

his

Thai Red Curry is for

GBP

and also my dear friend N who has no clue that this blog exists.

N is the first Bong friend I had made after coming to US and when I think of it now, I cringe thinking of the way I befriended her

It had been more than two months that we had arrived and I was yet to meet a single Bengali soul, not considering the hubby of course. How I pined to gossip in Bengali, to chat with someone about Kolkata, to ask someone the best place to buy Hilsa. But there was none.

Of course there were the Bong organizations like all other cultural desi organizations beckoning to you with a smile in return for the yearly membership fee. But no, D would not be a part of them, he flatly refused to be part of the Bengali milieu that spoke and talked about a Bengal they had left some thirty odd years back. Though D is a Bengali and has grown up in Bengal unlike me who stayed outside Bengal for a considerable time, he lacks the full dosage of

Bangaliana

(the Bengaliness) a true blood Bengali has and was as happy in absence of the above.

Ok but this about N and not D so let's not deviate

In my then state of frustration I was walking the aisles of K-Mart in lack of better things to do, when I hear fragments of Bengali being spoken in the neighboring aisle. I peered and I see this young couple, the girl in a Salwar-Kameez talking animatedly to her husband about some mundane K-Martish stuff.

I felt an immense urge to butt in and join in their discussion, voicing my opinion too in Bengali and then maybe inviting them over. But I restrained, I was frustrated yes, but still short of being labeled a lunatic.

Back at the Parking Lot while I was getting into my car, they were there too, lugging something into their trunk. I felt the urge again and this time asked D. D being the non-passionate Bong refused to play a role but gave me leeway to do things I wanted. The couple in the mean time were closing the trunk and revving the car. In a sheer state of desperation I bolted toward their car, said "Hi" muttered something about me being Bengali and it would be nice if we could meet etc. and scribbled my number on one of D's business cards and ran. Yeah I just ran back while they stood there patiently, quizzically…

Thankfully none of us knew anything about

Quixtar

aka Amway

Then one day she called and I called and as they say – Rest is History

N has since grown to be my best friend. Though she is younger to me and is a English major, she was kind and patient enough to let me explain my tacky tech assignments to her while I attended grad school. She still listens to all my woes, gives me all her support and occasionally chats up my 3 yr old too. She is an awesome human being and a great friend and a foodie at heart and yesterday was her twins – 2 cute boys first birthday. Lots of happiness to them and their Mom & Dad
Recently N & her family were on house hunt and almost every weekend they would be out with the twins. If they were in my 15 mile radius I would ask them to drop by for lunch. Since N loves Thai food I made
Thai Red Curry with Chicken
for her on the weekend they finally decided on a house they liked. I served it with a Fried Rice, but its best with White Jasmine Rice. Just like N we love Thai Food too and this curry came out perfect. I often use shrimp instead of Chicken in this recipe and that comes out better.
I mostly frameworked my recipe from here -
this site
. I did throw in my own steps but the whole thing is pretty easy and quick and you can mould it around your comfort level. I did not use Fish Sauce as I had none. The recipe says chicken stock and cornstarch, but I don't think you need these. I also do not exactly remember the measures as I did this a month back, so give me some leeway there too
Read more...


What You need

Chicken ~ 1 and ½ lb approx. I used skinless Chicken Thighs cut in small pieces(this is approximate measurment)
Onion ~ 1 large grind to a paste
Red Bell Peppers ~ 3 cut into thin slices
Garlic ~ 2 cloves minced


Coconut Milk ~ 1 can
Red Curry Paste ~ a 4 oz can of Maesri Brand Red Curry paste . This is pretty hot. So you could add less of this

Sweet Basil Leaves ~ 7-8
Lime Zest ~ from half of a medium sized green lime
Kafir Lime leaves ~ 2-3 if you can get hold of them . I never found them

For Marinade (if you are doing it)
Ginger paste ~ 1 tsp
Garlic Paste ~ 1 tsp
White Vinegar ~ 1 tbsp

Salt

How I Did It


M

arinade the chicken pieces with 1 tbsp of vinegar, salt and 1 tsp each of ginger paste and garlic paste. I did this because I cannot have chicken when it has not been marinaded, I get a smell !!!


H

eat Oil in a Wok/Frying Pan


A

dd 1 clove of minced garlic and 4 Basil leaves(no need to chop them)


W

hen you get the fragrance of Basil and Garlic, remove the garlic and the basil leaves from the hot oil. Now you get a beautifully flavored oil which you use for rest of the recipe


N

ow to this oil add the chicken pieces, lightly brown them and remove and keep aside


A

dd Onion paste and fry till it turns pink


A

dd 1 clove of minced garlic


S

auté and add the red bell pepper


W

hen the Pepper turns soft add the Red Curry Paste. I added the entire content of the can. It was fiery spicy but I liked it. You may like to reduce the level if you wish


C

ook for couple of minutes and then add the Coconut Milk. You may need to add ½ or more cups of water at this point.


L

et it come to a boil and add the remaining Basil Leaves


A

dd the chicken pieces and let it simmer at medium heat


A

dd salt and 1 tsp sugar and cook to desired consistency


A

dd the Lime Zest or Kafir Lime Leaves


Trivia: The word basil comes from the
Greek
βασιλευς (basileus), meaning "king", as it is believed to have grown above the spot where St. Constantine and Helen discovered the Holy Cross (Source: Wiki)