S
aturday Mornings are a time of great trepidation for me. Here there are whole 48 hours given to me by God or the Government or whoever, to be used as I wish and that puts a lot of pressure on me. I mean if it was only "I" or even the husband and I, I wouldn't have any fears, I would have just slept and read and done nothing in those 48 hours.
But it is not that, there are important little people in the family, towards whom I feel I have a responsibility, to give them the best Saturdays & Sundays of their life every week, to make up for the time somewhat lost during the week. I think they should have what olde English books claimed to be "
a jolly good time
", though they might not really care for it.
With such lofty ideas in mind I go to bed late on Friday. Long after the kids have slept, I just while away browsing the TV or laptop, justifying the "me time". Naturally I am not shining bright and happy when Saturday dawns.
I get up late and then I hyperventilate. I
draw up lists, in my generosity I draw one for the hub too
, dividing up the chores to be finished so that we can
finally have the "jolly good time"
which eventually means I can take a nap. Depending on whether I am having PMS or BMW, my list includes stuff like "Take a long shower" while his says "Feed the kids". He doesn't like his list and a lot of time is spent arguing over & rewriting them.
By the time the little one is fed breakfast, entertained and we have had tea, it is 10 and nothing has been accomplished. No breakfast has been made, the older one has been fed only milk and crackers and the house looks like a scene of volcanic eruption. In between all arguments BS has switched on the TV and trying to watch something, she wouldn't be usually allowed to. I am thinking, maybe she is having a "jolly good time".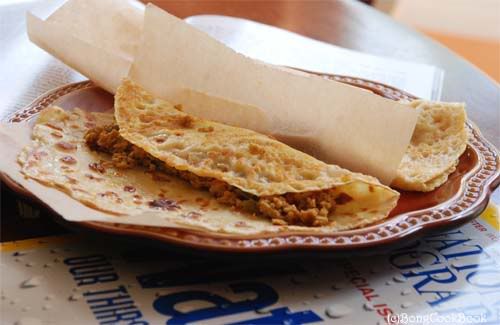 Breakfast is out of picture now,
my dream to serve a nice breakfast of pancakes, bacon and omlette to rosy cheeked children and a smiling husband is up in the air
like ashes from the volcano. Ok, who am I kidding, that wasn't even my dream, but anyway if you noticed me mentioning volcanic eruptions very frequently, ignore it.
Brunch might be a good idea I am thinking. I am trying to think, something that might please the kids and the adults alike and will not take up whole of my remaining Saturday, leaving time for park, grocery and everything else.
I think
Dim er Parota
, Egg Paratha, savory crepes if you prefer English
. But that alone might not suffice to describe "jolly good time", BS might not look back at a Saturday of her childhood and say happily "
Oh, my Saturdays were so good, We had brunch of Egg paratha
while people all over the world were stranded in airports with nothing but a dry bagel due to a volcano erupting in Iceland
".
What if I throw in a
Keema Matar
? That kicks up the happiness by several notches for sure. "
Oh, my kiddie Saturdays were so good, we would have brunch of Egg paratha stuffed with Keema matar
", definitely sounds like
weekends of "jolly good time"
.
And then she might add, "
On many a such Saturdays, after such yummy brunch, my Mom would take us to New York and show us how to do cartwheels, right there at Times Square. She was so cool. We had a jolly good time
". Ok, now for sure I am kidding :-)
What is your Saturday Story ?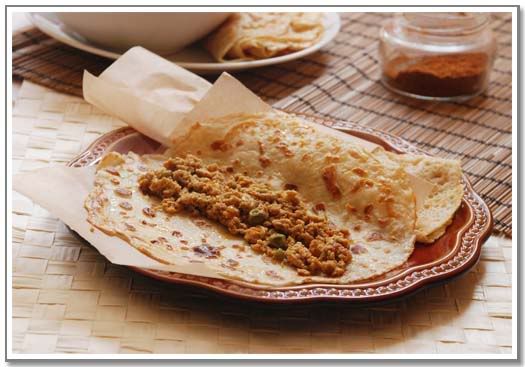 Dim er Parota
or
Egg Paratha
is nothing but savory crepes which I had blogged about
earlier
. They are really delicious on their own and do not need anything else. But a stuffing just makes it better.
Keema Koraishuti
or
Ground Meat with Peas
is nothing but the very popular
Keema Matar
. Only my Mom would say
Keema Koraishuti
and it was such a regular at our home, that I thought it was as Bengali as Macher Jhol. Apparently it is not.
The recipe here is from Madhur Jaffrey's book
Climbing the Mango Trees
. Incidentally this is exactly how my Ma used to make it and I made it all these years, only thing is Jaffrey has a measurement which we never cared to take. I have increases the spice levels by a few notches from her original recipe and made some alterations as I will note here.
Read more...
Keema Matar/Keema Koraishuti


Serves about 4-5 adults. I had

2 lb

of ground chicken. Ground lamb is a tastier option.

I would also suggest that instead of getting the supermarket version of ground chicken get it from your local butcher, that tastes way better.



Put

1/2 cup of thick yogurt

in a bowl and whisk until thick and creamy.

To it add


2 tsp of Roasted Coriander Powder




1 tsp of Roasted Cumin Powder




1 tsp of Paprika or Kashmiri Mirch




5 fat cloves of garlic minced




2 green chilies chopped




salt


Mix until well blended.

Note

:

Instead of Kashmiri Mirch add about 2 tsp of Red chili Powder if you want hot. I add Red chili powder only towards the end after saving a non-spicy portion for my daughter.



Put about

2lb of ground chicken/lamb

in a big bowl. Add the yogurt mix to it and mix thoroughly with hand or if you prefer a spatula. Set aside for 30 mins.

Heat

Oil

in a deep saute pan.

Temper the Oil with

4 Cardamom/Elaichi, 1 Bay Leaf/TejPatta, 1" stick of cinnamon,



Add

1 big onion finely chopped

and fry the onion till it turns golden brown.
Add
4 Cloves of garlic mince
$ Green Chilies
2" ginger julienne

Add

1/2 cup of Tomato Puree

. I add

half of canned tomato along with 3-4 tbsp of their juice

. Also add 1 tbsp of tomato ketchup. Fry till you see oil separating from the masala and the tomatoes are nicely mushed up.

Add about

1/2 cup of fresh or frozen peas

and fry for 2-3 minutes. I added frozen peas and carrots.

Add the meat to above. Stir to break any lumps and cook till the meat is not raw. The ground meat will release some water and you have to keep stirring till the water has totally dried up. If you are cooking goat meat keema, there will be lot of fat and oil released from the meat, you can discard that if you wish.

Ground chicken will be lean and there will be almost no fat, so add a little oil once the water has all dried up

.



Next sprinkle 1 tsp Turmeric powder and mix. Add about 1/2 cup of warm water, salt and sugar to taste and let it come to a boil.
If I am cooking goat meat keema, I do it in the pressure cooker and at this point I will

close

the pressure cooker lid and cook for about 4-5 minutes at full pressure.

Once the keema is cooked we will do this step. If you have

not added Red Chili Powder before add about 2 tsp

now. Add about 2 tsp of Biryani Masala or Garam Masala, adjust for seasonings and cook the meat for about 5 more minutes drying off excess water. That indicates the dish is now done.

Garnish with

fresh chopped corriander and little lime juice

. You can serve this the traditional way with Roti or Rice. Instead stuff the

Dim er Parota

or Egg Paratha we will make next, with this. Also use this stuffing for sandwiches.
Egg Paratha/Dim er Parota




Makes about 15 crepes



Mix together


1&1/2 cups of All Purpose Flour/Maida,




2/3 eggs




3 cups of 1%Milk


to make a batter. You might need to

add 1 cup of water gradually

to get the right consistency batter.
Stir till smooth. The thickness of the batter should be same as that needed for a pancake or say to make utthapam.

Add

finely chopped onions and chillies

, and

salt

to this batter and mix well.

Grease your frying pan with Olive Oil.

Pour a scoop of this batter in the frying pan and spread it out (same as for cooking pancake)

Cook until golden in color and then flip and cook till golden on the other side too.

You can go ahead and eat it at this point, it's yummy. Else stuff with the yummy keema matar.

Vegetarians do not despair. Substitute Soy granules for the ground meat or make a

soy stuffing like here

.