B
engali Garam Masala is actually a very simple mix of 4 spices:
Cloves
,
Cardamom
,
Cinnamon
and
Tej Patta
. The Tej Patta as I have seen is abandoned many times in favor of the others. My Ma however loved it and used it whenever the recipe called for
garam mashla
as
phoron
(i.e. tempering the food by spicing the oil)
She would sun the above spices and in our stainless steel jarred Bajaj Mixer make a dry powder of them and store it as a
guro
Garam Mashla
or as we say in English
Garam Masala powder
I take a step ahead and put more stuff in my Garam Masala powder. I also dry roast the spices instead of just sunning them which is the norm.
My version is NOT the standard bengali version. The Bengali version usually does not have Red Chilli or Mace
Dry Roast

20 Green Cardamom/Elaichi

,

10 Clove/Laung

, a

2" stick of cinnamon

,

3-4 Dry Red Chilli

for the slightest heat,

2-3 small barks of mace/javetri

and a small

Tej-Patta

.

Note

:

What I have here is a Bay Leaf but a small Tej Patta(Indian Bay Leaf) works better.

Also you can substitute red chili with black peppercorns

. You can dry roast either on the stove top or pop them in the oven at 250F for 5-8 minutes. The roasting is done only to warm the spices which have been lying around for a while. Instead you can sun them and then grind.



Grind

to a

fine powder

in your

coffee grinder

.

Store in an

air-tight container

for future use
Lately I have been a sucker for home made spices. I cleared the pantry of all Shan masalas and barring the Kitchen King, Kasoori Methi and Amchoor I have no other store bought spice powder. Oh, wait I have a packet of Deggi Mirch which is used sparingly by us and and indulged on by the nanny.
So anyway without all the Shaan masala I was kind of stranded in no-spice land when I wanted to make a Kofta Pualo some time back. Luckily I remembered the
Biryani Masala
at
Mallugirl's
. I love that masala and use it for not only making Biryanis but in various other dishes.
Here is how I make
Biryani Masala
based on
this recipe
. I reduce the carraways seeds and increase the fennel as I like the sweetness of fennel and find cararway seeds too spicy. Also I forgo the star anise and add nutmeg powder instead of the whole.
Dry Roast

8-10 Green Cardamom/Elaichi, 8-10 Cloves/Laung, 2" stick of cinnamon

,

1 small Bay leaf, 5-6 small bark of mace/javethri, 2 tsp of Fennel seeds, 1 tsp of Carraway seeds/Shah Jeera



Put all of the above in a

coffee grinder jar

along with

1 tsp of nutmeg powder





Grind

to a

smooth powder

and store in an

air tight jar
Use this masala for loads of stuff from adding a pinch to your pualo to spicing up the marinade for fish, from adding to biryani to your chicken curry. I use this masala alternately with Garam Masala but when using this, use a smaller quantity.
And then there is the
Bhaja Mashla(Roasted Masala)
my Ma makes for sprinkling over most chutneys and also in vegetable chops. I had blogged about it
here
in my Baked Beet Roll recipe. The
Bhaja Masala
is called so because the spices here are dry roasted and then ground. This spice mix has been blogged about in detail in my later post
Bhaja Masla.
To make this Dry Roast

1 tbsp

each of

Jeera

(Cumin Seeds),

Dhania

(Corriander seeds),

Saunf

(Fennel Seeds),

6/7 Laung

(cloves) ,

6/7 Elaichi

(Cardamom),

3/4 TejPata

(Bay leaves), an

inch & half of cinnamon stick

and

peppercorns

according to desired hotness.Then just dry grind it to a powder.

Note

:

This was last made by my Ma and so measures are approximate
Punjabi Garam Masala
The recipe of Punjabi Garam Masala is from Anita of Mad Tea Party. Original recipe is here. I think her recipe asks for more of the black cardamom but I used about 15. Also I used the seeds and discarded the skin

I did it this way. To make this sun or gently warm on tawa 1 tbsp Cumin seeds, 1/2 tbsp Clove, 1/2 tbsp Peppercorn, a 1" stick of cinnamon, 1 tejpatta and around 15 black cardamom. Dry grind to a powder.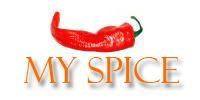 Check out other spices in this series in the left hand column
This weekend our kitchen floor is getting a makeover and so the kitchen will be closed for weekend. I am shacking up at a friend's place, kids in tow and the friend has promised to make a Patha'r Mangsho'r jhol for lunch tomorrow. She cooks delicious food and you know what I am looking forward to.
Wishing all Moms a
Very Happy Mothers Day
. There is a
Mother Day event
going on at
Desi Momz Club
. All moms, member or not please feel free to contribute.