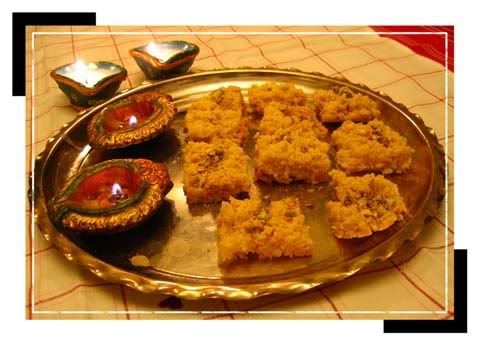 Happy
Deepavali to everyone. This is my Diwali dessert and also my entry for the
JFI Diwali event
. JFI is a very unique community cooking event started by Indira of
Mahanadi
fame. Mahanadi is an amazing food blog and an inspiration to many. This time Vee of
Past, Present & Me
another beautiful food blog is the graceful host of this event. So there's going to be a big Diwali party at her place.
Vee wanted to see a Bong take on Diwali. But my entry is more of a busy-Indian-Mom-Take-on-Diwali. But then, Diwali is much much more Indian than Bengal or any other region and I am a busy Mom, so it fits I guess...
Kalakand is a sweet I loved since my childhood. When I first left the Indian shores for USA, among all of my cherished possessions were at least two packets of Kalakand from Haldiram loaded in my carry bag. It was only last year that my friend R~ showed me to how to make this very easy Kalakand in my microwave and I was hooked. Of course R's Kalakand always turns out perfect, so thanks to her and again to some unknown brilliant person who adapted this recipe and made it beautifully simple.
What You Need
Sweetened Condensed Milk ~ 1 can
Whole Milk Ricotta Cheese ~ 1 15oz tub
Green Elaichis ~ 8 to 10
Some Pistachios
How I Do It
G
rease a flat bottomed microwaveable bowl with little ghee
P
our 1 whole can of condensed milk in the bowl
S
tuff the condensed Milk can with Ricotta cheese, the essence is to get 1:1 by volume and add this amount of Ricotta cheese to the bowl. Mix well.
Note
:
For a softer and less sweet version use Condensed Milk and Ricotta in 1:1.5 ratio.
D
ry grind the elaichi pods to get elaichi powder, add that to the above mixture.
M
ix well and put it in the microwave. Now comes the fun part.
M
icrowave on HIGH (mine said POWER-100) for 5 minutes. Keep an eye on the mixture so it does not boil over.
S
tir the mixture very well and microwave again for 5 minutes. These 5 minutes are pretty crucial as you need to keep peering into your microwave and at any signs of the mixture spilling over,
stop – stir – start
again. If your microwave is on the counter top good for you, if above your stove, bring out the high heels, it's party time.
A
t the end of this you stir again, by this time the liquid would have thickened.
T
he next 5/6/7 minutes are more important. So what I do is, Microwave for 1 minute, stir, check the consistency and start again. At the end of all stirring and microwaving the consistemcy should be thick & slightly grainy, not totally dry and hard.
W
hen the consistency becomes grainy (should normally happen by end of 15 or 17 minutes) , the mixture has taken on a very very light brown hue and there is still some moisture left, take it out and let it sit just like that .
A
fter about an hour, cut it up into pieces (it might stick a little, don't worry, shape it with hand if needed) and decorate with pistachios.
I think the timing gets better with trials. The end result is always edible, so even if you don't get it right the first time, give it a second chance.
Since Bongs love their sweet and eat it too, this version is much liked by my family& friends and non-Bong friends too.Many of you might have slightly varying versions of this recipe, let me know your versions too. And for those who are new into cooking, try this out and have a great mithai for Diwali.
Trivia:The name "ricotta" means "cooked twice" in Italian, referring to the second processing of the liquid to produce the cheese