Paayesh | Khejur Gur er Payesh| Bengali Rice Pudding
Payesh is a rice and milk based dessert, unique to Bengal, very similar to Kheer in the Indian subcontinent. It is usually made by boiling and thickening milk, sugar or jaggery, and rice. During the winter months, the Paayesh is sweetened with fragrant Khejur Gur - Date palm Jaggery, and takes on a very special taste.
Jump to Recipe
Kabir
the great poet saint had said about this tree
"Bara hua to kya hua, jaisa per khajur,
panthi ko chaya nahin, fal lage ati dur".
Whoever had Hindi as their second language in school in India must be familiar with Kabir's
dohas
or couplets. They were short and so profound I used to love them and still remember some.
The above doha or couplet means "Even though the Palm tree is big, it's bigness is of no use, as it does not provide cool shade to weary travelers and it's fruits are too high to be picked up", the essence being your greatness lies not in your stature but in how you serve others.
However Kabir had missed a point, he had underestimated our endeavor for good food, to get the
Khajur
and
Khajur ka Ras
(the sweet sap from the Date Palm Tree) we can climb all the way up. I have never had
Khejur Ras
but the
Khejur Gur
, mmmmmmmm, not enough words to describe it. It has much more flavor and tastes way better than cane jaggery.
Khejur Gur
(liquid date palm jaggery -- made from boiling the sap from date palms) is very popular in Bengal during the winter months. It is also commonly called "
Notun Gur
" ( literally, "new jaggery") or "
Nolen Gur
". I think the sap of the date palms is best during the winter months and that is the reason we get this
gur
or jaggery around this time. Also during the summer, night temperatures are high and sap harvested ferments by morning, rendering the product fit only as an alcoholic drink.
The liquid
Khejur Gur
is delicious, tastes better than Maple Syrup and we used to have it poured on our
Luchi
(Puri) or Roti for dinner or breakfast. It is also used to make a variety of sweets in Bengal.
This article explains the process of making Khejur-Gur
here
. Khejur Gur in solid form is sold in the shape of oval discs and is also known as "
Patali Gur
"
But I have never mustered the courage to smuggle liquid
Khejur Gur
(liquid Palm Date Jaggery) to the US, though I do carry the the solid
khejur gur
which is also called "
Patali Gur
" in Bengali, from Kolkata, if I am visiting during winter.
But I have to ration my
khejur gur
as I have only one
patali
to last a year or more and I use it only for special occasions to make
Paayesh or paramanna
during my husband D's and my daughter's B'Day, as Bengalis consider having
payesh
on one's Birthday as auspicious.
Paayesh
can also be made with sugar but
Khejur Gur
er
paayesh
is just heavenly.
This is how my Ma makes Payesh and she makes the best payesh in the world. Only recently I have learned to make
Khejur Gur-er Payesh
from her and so here is my attempt. I made this for D's B'day earlier this month but am posting it now in time for JFI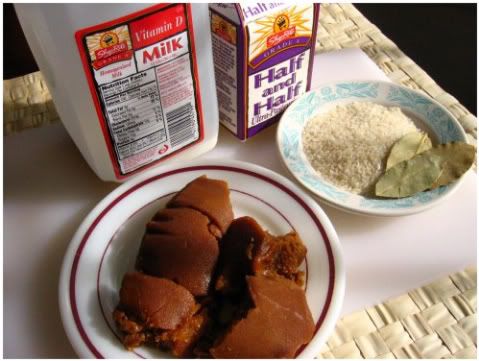 What You need
Whole Milk ~1 and ½ liter
Half & Half Milk ~ ½ liter
Note:
My Ma uses 2 liter of Whole Milk only. I use the Half & Half as it reduces my effort to thicken the Milk
GobindoBhog Rice or KalaJeera Rice ~ a little less than 2/3 of a cup
Ghee
~ enough to smear the rice with, maybe 1/2 tsp
Raisins ~ a fistful soaked in water
TejPata
or BayLeaves ~ 3 or 4
Sugar ~ 1 cup
Khejur Gur
or Palm Date jaggery ~ I added depending on my sweetness level
Note
: The
Sugar + Khejur Gur
amounts to almost 2 cups. This is sweet enough for me, not enough for my Dad and just right for my hubby, friends, Mom etc. Between the sugar & gur you can increase one and decrease the other, but the gur has to be added only after the paayesh is taken off the heat as mentioned in the recipe
How I Do It
W
ash the rice, drain the water and then smear the rice with a little ghee
P
our Milk in a boiling pan, usually a deep heavy bottomed pan. I use a deep non-stick one.
A
dd 3 or 4 Bay leaves
W
hen the Milk come to a boil add the rice. Be careful so that milk does not boil over.
S
tir well
S
tir intermittently and check if the rice is done. You kind of have to keep stirring frequently else the milk might scald the bottom of the pan as it thickens.
W
hen the rice is cooked add sugar.
Tip:
Adding sugar before the rice has boiled hinders it getting cooked properly
N
ow stir the milk continuously so that the milk does not burn or scald the bottom of the container and the rice does not stick.
W
hen the Milk has thickened to the right consistency, to check this take a spoonful of liquid and pour it on a flat plate, the viscosity of the milk should be such that it does not flow. By this time the milk would have also reduced from it's original volume. Approx. time to reach this stage is almost an hour or so at a medium flame setting on my gas range.
T
ake the Paayesh off heat and add the
Khejur Gur
after 5 mins and stir well. Add Gur depending on your desired sweetness level. Tip: If your
gur
or jagery has been refrigerated put it in the microwave til it turns soft.
S
avor the sweet smell of
khejur gur,
pure bliss
A
dd
Kishmis
or Raisins.
S
erve hot or cold, I like cold better
This is my entry for December
JFI
hosted by
Kay
.
Congaratulations to the new Mom and kudos to her for hosting this inspite of her new motherhood.
You can get Palm Date Jaggery from Indian store. So check your local Bangladeshi or Indian store for this jaggery, my neighbourhood Indian store doesn't carry the Khejur Gur I crave for and I haven't tried any Khejur Gur outside Bengal yet.
I just saw from Mandira's & Asha's blog (I get to know all about events from this wonderful blogger friends) that there is a festive fair at
Anna's of Morsels & Musings
. Since Paayesh is a "special occasion" recipe I am sending this out to her too.
Get this recipe in my Book coming out soon. Check this blog for further updates.
Trivia: Muzaffarnagar District in Uttar Pradesh has the largest Jaggery Market in India followed by Anakapalli of Visakhapatnam District in Andhra Pradesh. Both are termed to be the biggest and second biggest in the entire world.