Jump to Recipe
Kabir
the great poet saint had said about this tree
"Bara hua to kya hua, jaisa per khajur,
panthi ko chaya nahin, fal lage ati dur".
Whoever had Hindi as their second language in school in India must be familiar with Kabir's
dohas
or couplets. They were short and so profound I used to love them and still remember some.
The above doha or couplet means "Even though the Palm tree is big, it's bigness is of no use, as it does not provide cool shade to weary travelers and it's fruits are too high to be picked up", the essence being your greatness lies not in your stature but in how you serve others.
However Kabir had missed a point, he had underestimated our endeavor for good food, to get the
Khajur
and
Khajur ka Ras
(the sweet sap from the Date Palm Tree) we can climb all the way up. I have never had
Khejur Ras
but the
Khejur Gur
, mmmmmmmm, not enough words to describe it. It has much more flavor and tastes way better than cane jaggery.
Khejur Gur
(liquid date palm jaggery -- made from boiling the sap from date palms) is very popular in Bengal during the winter months. It is also commonly called "
Notun Gur
" ( literally, "new jaggery") or "
Nolen Gur
". I think the sap of the date palms is best during the winter months and that is the reason we get this
gur
or jaggery around this time. Also during the summer, night temperatures are high and sap harvested ferments by morning, rendering the product fit only as an alcoholic drink.
The liquid
Khejur Gur
is delicious, tastes better than Maple Syrup and we used to have it poured on our
Luchi
(Puri) or Roti for dinner or breakfast. It is also used to make a variety of sweets in Bengal.
This article explains the process of making Khejur-Gur
here
. Khejur Gur in solid form is sold in the shape of oval discs and is also known as "
Patali Gur
"
But I have never mustered the courage to smuggle liquid
Khejur Gur
(liquid Palm Date Jaggery) to the US, though I do carry the the solid
khejur gur
which is also called "
Patali Gur
" in Bengali, from Kolkata, if I am visiting during winter.
But I have to ration my
khejur gur
as I have only one
patali
to last a year or more and I use it only for special occasions to make
Paayesh or paramanna
during my husband D's and my daughter's B'Day, as Bengalis consider having
payesh
on one's Birthday as auspicious.
Paayesh
can also be made with sugar but
Khejur Gur
er
paayesh
is just heavenly.
This is how my Ma makes Payesh and she makes the best payesh in the world. Only recently I have learned to make
Khejur Gur-er Payesh
from her and so here is my attempt. I made this for D's B'day earlier this month but am posting it now in time for JFI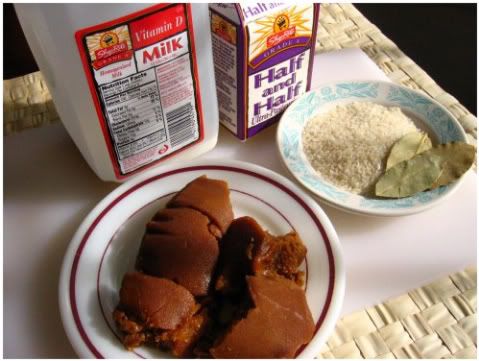 Get this recipe in my Book coming out soon. Check this blog for further updates.
Trivia: Muzaffarnagar District in Uttar Pradesh has the largest Jaggery Market in India followed by Anakapalli of Visakhapatnam District in Andhra Pradesh. Both are termed to be the biggest and second biggest in the entire world.