Jump to Recipe
When
I and many others at that time were growing up (as in the late 80's when I was in school) life in India was much simple, informal, relaxed and also slow. At least that is how it was in our sleepy little township. The IT outsourcing had not overtaken India and call centers were not heard of. Devoid of malls and multiplex theaters our weekends were spent watching "Mahabharat" on Sunday Mornings followed by "Spiderman" on the "Uptron", "EC" or some such TV. Even now I can still faintly hear the Rasna jingle before "Spiderman".
Those days wireless was unheard of and Telephones were rare. Though we did have a black phone with a rotary dial in our home but in our township all calls had to go through this archaic Exchange where the operators manually connected our calls to the requested so-and-so and also entertained themselves listening to us. So people hardly called and if neighbors wanted to drop in they simply knocked or rang the bell.
At least that is how it was in our sleepy little township...
Those impromptu visits by neighborhood aunties were much awaited as you got to hear the local gossip and also because my Ma maintaining the age old tradition of "
Atithi Devo Bhava
" (Visitors are God so they should be treated with respect) always entertained them with Hot Tea and some quick delicious snacks. She would make things of whatever she had as the visits were unplanned and bread being omnipresent
Bread Roll
was one of the things often made.
Lots of different stuffing was used for this roll but the stuffing with
Beet
also known as
BeetRoot
was a winter special. The sweetness and redness of the beet made the roll delicious as well as pretty. This beet stuffing was also used as a stuffing for a Bengali Specialty called "
Chop
" which is like a fritter made of mashed potatoes with stuffing.
Though the roll is ideally fried I baked it to add a healthy touch. Baking cooked the beet a little more and brought out the flavor pretty well.
What you Need
Red Beet - 1 and 1/2 of the medium sized ones. Chopped into small pieces and put in the blender to chop finely
Green Coriander Leaves ~ a quarter of a bunch chopped
Green Chillies ~ 4/5 chopped fine (optional)
Raisins or
Kishmis
~ a fistful (about 20) soaked in water
Cashew or
Kaju
~ 20 crushed
Salt
Bhaja Masala
or Dry Roasted Masala ~ 2 tsp heaped
My mother makes this masala and stores it. To make this Dry Roast 1tbsp each of
Jeera
(Cumin Seeds),
Dhania
(Corriander seeds),
Saunf
(Fennel Seeds), 6/7
Laung
(cloves) , 6/7
Elaichi
(Cardamom), 6/7
TejPata
(Bay leaves), an inch & half of cinnamon stick and peppercorns according to desired hotness.Then just dry grind it to a powder.
You can also use your own Garam Masala Powder or any suitable spice mix instead
For the Roll

Bread ~ a slice for each roll. I made 12.
Butter ~ 1 tbsp melted
Egg ~ 1 beaten
How I Did It
C
hop the beet into small pieces and put them in the blender. Process them till they are chopped real fine, beet being solid you will not get a fine paste (you don't want that) but it will be granular, something like the above pic.
H
eat oil. Use Olive Oil if you want
A
dd the chopped green chillies, the chopped beet, and sauté.
A
dd the chopped coriander leaves, the raisins, the crushed cashew
A
dd salt & the Dry roasted Masala
S
auté and cook covered for about 10 minutes till the beet is cooked. It will be lightly crunchy but totally dry
For Roll

T
ake a slice of Bread. It is better to use Wheat Bread my Ma says, but I only had White Bread at home.
R
emove the sides.
N
ow comes a slightly difficult part. To make the bread pliable you have to sprinkle water on it and then press it between your palms to drain the water out. If you have already done this before it is easy, else it will take one or two attempts to get this right
M
ake a round from the stuffing and put it at the centre of the bread. Now mould the bread around the stuffing to make a roll or a round as in the above pic.
B
rush the rolls with little butter and the beaten egg. Use a brush lightly to do this
Y
ou can fry it at this point if you want. If you are frying no need to brush with butter.
To Bake

R
efrigerate for about an hour
T
ake the roll out of the refrigerator and lightly brown them on both sides on a griddle or tawa as in the pic
H
eat oven to 400F
S
prinkle corn meal (I used semolina/
sooji
) on the baking pan which has been lined with aluminum foil.
Tip
: I always line my baking pan with aluminum foil, as that makes cleaning the baking pan easy
P
lace the rolls on the baking pan and bake for approximately 45 minutes
T
he baking time might vary, so check and bake till the roll is evenly browned
S
erve with hot Tea or Chai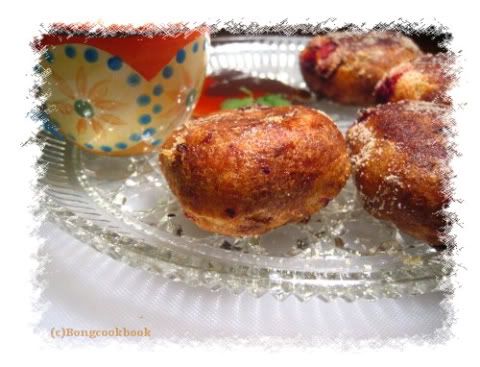 This roll can be made and kept in the refrigerator prior to baking. You can Bake it next day
Todays post of
Beet Bread Roll
& Chai is for
Cutting The Chai
a delightful Blog by Soumyadip. Check it out for it's delightful posts and wonderful archive of Indian Ads. If you loved Indian Ads as I still do, it's a ride down memory lane.
Why Beet is Good for You

The various table beets contain significant amounts of vitamin C in the roots, and the tops are an excellent source of vitamin A. They are also high in folate, as well as soluble and insoluble dietary fiber and several antioxidants. From
Wiki
Trivia: The sugar beet song, sung nearly weekly on Sesame Street in the early 1980's had only two words: Sugar Beet. How did I miss this, I watch Elmo almost every day, not that I want but I have to