L

ong

back Indosungod had asked "Whats a typical Bengali Breakfast ?". As I munched on my Seven Whole Grain

Kashi Bar

reflecting on what good the fiber and the flax seeds were doing to me, I tried to give her question a thought. I thought of the times at home when my Ma would cook up amazing breakfasts not only on weekends but also on busy weekday mornings. When I thought such breakfasts were the norm rather than a luxury and turned up my nose at everything that I didn't like, yes I even had a choice!!!

My Ma was pretty cosmopolitan when it came to breakfast. So even though it would be

Macher Jhol

and

Bhaat

(aka Fish Curry and Rice) for lunch, we would have everything from Alu Paratha (North Indian), Uttapam(South Indian), French Toast(Continental), Noodles(Oriental),

Chirer Pulao

(Bengali version of Poha),

Parota-Tarkari

(Bengali), Kochuri(Bengali) to

Luchi ar Alur Dom

(Bengali) for breakfast. Of this Luchi Alur Dom was quintessential Bengali and the one I liked the least for some obscure reason. Things have changed, I crave for some perfectly puffed up pristine white luchis now and spicy alur dom to go with it.

Luchi

(

ch

pronounced as in

ch

air) is a deep-fried

flatbread

made of bleached wheat flour or maida that is typical of

Bengali

and

Oriya cuisines

. It is almost like Puri, but while Puri is usually brown, Luchi is always white.

In order to make luchis, a dough is prepared by mixing fine

maida flour

with water and a spoonful of

ghee

, which is then divided into small balls. These balls are flattened using a

rolling-pin

and individually deep-fried in

cooking oil

or

ghee

. A typical luchi will measure 4-5 inches in diameter. (Straight from the

Wiki

)

Hot puffed up luchis are served with a myriad of dishes according to ones liking and also the time of the day. Luchi with Begun Bhaja(fried eggplant slices), Luchi with Aloo Bhaja(thin strips of potato fried), Luchi with Cholar Dal, Luchi with

Payesh

, and of course

Luchi with Alur Dom

are all time favorites. Luchi with

Kosha Mangsho

(a spicy mutton curry)and at times even Luchi with Aloor Dom is a dinner favorite and served as a dinner menu on special occasions.

So if you have something to celebrate be it a person or an event, a Bengali family will serve you hot luchi with mangsho or aloor dom for dinner accompanied by several other things. They would serve you perfectly puffed up luchis one after the other straight from the fire, while you sit devouring them, losing track of the numbers. The patriarch sitting by your side would show you how to tap the proud puffed up luchi and thus release its latent heat and then wrap it around a piece of mutton or potato and put it to in your mouth in one go. The teenager on your other side might roll up his luchi with sugar preferring it to the mangsho while his Mom might be dipping hers in some sweet brown liquid nolen gur. Do not get distracted, and do not count your phulko luchis, they are more than a blessing, so just enjoy them.

Now me and flour are not the best of friends, but I do give in to luchi cravings now and then and take out my chaki-belun (rolling pin and the flat surface you roll the dough on). My now 3 and ½ year old is pretty fond of luchis and I think for her sake I should brush up my act and roll out this pretty white beauties more often.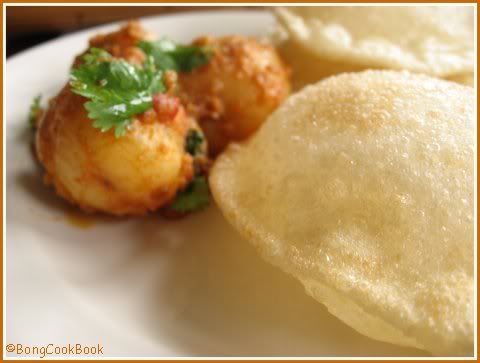 Get this much loved recipe in my Book coming out soon. Check this blog for further updates.
To relive a typical Bengali Jolkhabar, I made
Luchi and Aloor Dom
(Luchi with a Spicy Potato preparation, the
D
in
D
om pronounced as
Th
in
Th
at) for breakfast over the weekend.For us it went on to be a big brunch though, something that made everyone happy.
Edited on August 22nd, 2016:
Inspired by Sawan Dutta's Maachher Jhol videos, the girls were inspired to sing a Luchi song. They also roped in Didun(my Ma) and interviewed her on the luchi making process. It was a fun morning, very amateur, but fun. Years later when they look back on this, they will either cherish it or die of embarrassment. Already they have warned me , not to divulge, who in the family sang the song as it could jeopardize their future singing career !!!
Please do listen and hope it will inspire you to roll and fry more luchis. The recipe is added at the end of the video. For more details on what exactly is luchi and the recipe in details please follow this recipe.
Read more...




What You Need
All Purpose Flour/Maida ~ 3 cups (Though Bengali luchis are made of only maida, I prefer a dough made with 2.5 Cups of Maida and 1/2 Cup of Whole wheat flour. This helps me roll the luchi easier)

Salt ~ a pinch to add to the flour

Oil (for shortening) ~ 2.5 tbsp added to flour as a shortening. Update on Aug 17th: General idea is about 3/4th tbsp oil for 1 Cup of flour

Water ~ to make the dough. I use warm water.

Vegetable/Sunflower Oil ~ for frying

How I made Luchi



I

n a bowl where it is easy to knead the dough I added 3 cups of All Purpose Flour.


I

made a small well at the center of the flour mound and to it added the oil for shortening


S

prinkled a little salt and then added water gradually, while I mixed the flour with my hand.




Be careful with the water, you don't want your dough to be soggy. Work on the dough till it does not stick to your fingers and comes out clean. You will get a smooth soft round which is lightly spongy (poke your fingers to see) as seen in the above pic.If you want to save the dough for later use, be sure to cover with a lightly damp cloth or even a lightly damp kitchen tissue


M

ake small round balls with the dough







R

oll out the balls to make flat circles 4-5 inches in diameter. Use little oil to roll out the balls and not flour as you would for a chapati. If you have difficulty making the perfect rounds, roll out to any shape you desire and then cut out the circular shape with a katori or any cutter


T

he luchi is deep fried, so heat enough oil in a Kadhai. Wait for the oil to be piping hot. It should not be smoking though.


D

ip a corner of a rolled out luchi in the hot oil to see how the oil reacts, if you see the bubbles you know the time is right. This test is important as the heat of the oil is an important factor for luchi to puff up.


R

elease the luchi gently in the oil and press the sides with a flat spatula. The right heat of the oil and the pressing makes the luchi puff up just so.


A

s soon as it puffs up, flip it on the other side and then take it out with a slotted spatula/chalni which has holes in it.






Alur Dom




What You Need
Potatoes/Aloo ~ 12-14 small round ones. I used the tiny baby red ones. For larger potatoes you need to increase the spices.

For Tempering
Bay leaves/ Tej Pata ~ 2
Asafoetida/Hing ~ ¼ tsp

For the Masala
Onion Paste ~ 1 tbsp heaped
Tomatoes ~ 1 smallish finely choped or blanched
Jeera Powder/Cumin powder ~ 1 tsp
Garam Masala Powder ~ ½ tsp loosely packed
Ginger paste ~ 1 tsp heaped
Red Chilli Powder ~ ½ tsp
Yogurt ~ 2 tsp
Ghee ~ 1 tsp or less(optional but does lend a good flavor)
Salt
Sugar ~ 1 tsp or less loosely packed .Update on Aug20th: I think all my non-bong readers should go less on the sugar :). Also increase the Red Chilli powder depending on your spice level
Oil

For garnishing
Corriander leaves ~ fresh and chopped

How I Did It



I

n a boiling pot or pan, bring water to a boil with little salt


A

dd the potatoes to it. Since we are using small round potatoes, we are not chopping them. It is not necessary to peel the skins either, as it is easier to peel after the potatoes are boiled


O

nce the potatoes are done, put them under cold running water and peel them. The jacket is out in a jiffy.


H

eat Oil in a Frying pan/Kadhai


A

dd Bay Leaves and Asafoetida


A

dd the Onion paste and fry with a tsp of sugar till the onion turns a pinkish brown.


A

dd the tomato and sauté till the tomato is nicely mushed up and well integrated with the onion. Add the Ginger Paste.


M

ix the Cumin Powder, Garam masala Powder, Red Chilli Powder with 2 tsp of yogurt and add to the Frying Pan. At this moment remove the Pan from heat for a couple of minutes.


S

auté the masala till you see the oil separate from the masala.


I

f you are adding ghee, do so at this point


A

dd the potatoes and mix well with masala.


S

auté till the potatoes take a light golden colour.


A

dd very little water and salt and cook till the water almost dries up to give way to a moist but dry gravy. There won't really be any gravy as such and the masala will nicely coat the potatoes.

Note: If you do not want to use onions, for tempering use a couple of elaichi/cardamom and a small stick of dalchini/cinnamon along with the stuff mentioned here

Some other variations of Aloo Dom can be found here.



If you are a Bong or tuned to Bengali food, can you please tell me what is your idea of a Bengali Breakfast ?
Trivia:Though I have highlighted Luchi as a breakfast menu here, ideally for a Bengali Luchi is something that can be served for breakfast, lunch or dinner. It holds a highly esteemed position in a wedding feast and also is offered to the Gods as a Bhog during Pujas.