L

ong

back Indosungod had asked "Whats a typical Bengali Breakfast ?". As I munched on my Seven Whole Grain

Kashi Bar

reflecting on what good the fiber and the flax seeds were doing to me, I tried to give her question a thought. I thought of the times at home when my Ma would cook up amazing breakfasts not only on weekends but also on busy weekday mornings. When I thought such breakfasts were the norm rather than a luxury and turned up my nose at everything that I didn't like, yes I even had a choice!!!

My Ma was pretty cosmopolitan when it came to breakfast. So even though it would be

Macher Jhol

and

Bhaat

(aka Fish Curry and Rice) for lunch, we would have everything from Alu Paratha (North Indian), Uttapam(South Indian), French Toast(Continental), Noodles(Oriental),

Chirer Pulao

(Bengali version of Poha),

Parota-Tarkari

(Bengali), Kochuri(Bengali) to

Luchi ar Alur Dom

(Bengali) for breakfast. Of this Luchi Alur Dom was quintessential Bengali and the one I liked the least for some obscure reason. Things have changed, I crave for some perfectly puffed up pristine white luchis now and spicy alur dom to go with it.

Luchi

(

ch

pronounced as in

ch

air) is a deep-fried

flatbread

made of bleached wheat flour or maida that is typical of

Bengali

and

Oriya cuisines

. It is almost like Puri, but while Puri is usually brown, Luchi is always white.

In order to make luchis, a dough is prepared by mixing fine

maida flour

with water and a spoonful of

ghee

, which is then divided into small balls. These balls are flattened using a

rolling-pin

and individually deep-fried in

cooking oil

or

ghee

. A typical luchi will measure 4-5 inches in diameter. (Straight from the

Wiki

)

Hot puffed up luchis are served with a myriad of dishes according to ones liking and also the time of the day. Luchi with Begun Bhaja(fried eggplant slices), Luchi with Aloo Bhaja(thin strips of potato fried), Luchi with Cholar Dal, Luchi with

Payesh

, and of course

Luchi with Alur Dom

are all time favorites. Luchi with

Kosha Mangsho

(a spicy mutton curry)and at times even Luchi with Aloor Dom is a dinner favorite and served as a dinner menu on special occasions.

So if you have something to celebrate be it a person or an event, a Bengali family will serve you hot luchi with mangsho or al00r dom for dinner accompanied by several other things. They would serve you perfectly puffed up luchis one after the other straight from the fire, while you sit devouring them, losing track of the numbers. The patriarch sitting by your side would show you how to tap the proud puffed up luchi and thus release its latent heat and then wrap it around a piece of mutton or potato and put it to in your mouth in one go. The teenager on your other side might roll up his luchi with sugar preferring it to the mangsho while his Mom might be dipping hers in some sweet brown liquid nolen gur. Do not get distracted, and do not count your phulko luchis, they are more than a blessing, so just enjoy them.

Now me and flour are not the best of friends, but I do give in to luchi cravings now and then and take out my chaki-belun (rolling pin and the flat surface you roll the dough on). My now 3 and ½ year old is pretty fond of luchis and I think for her sake I should brush up my act and roll out this pretty white beauties more often.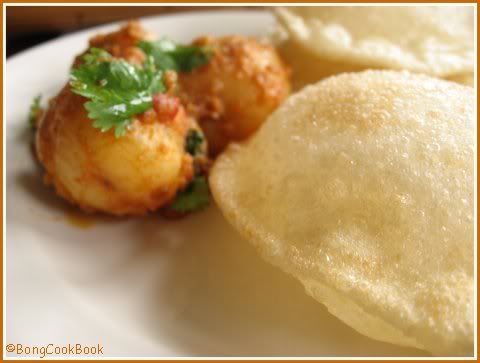 Get this much loved recipe in my Book coming out soon. Check this blog for further updates.
Trivia:Though I have highlighted Luchi as a breakfast menu here, ideally for a Bengali Luchi is something that can be served for breakfast, lunch or dinner. It holds a highly esteemed position in a wedding feast and also is offered to the Gods as a Bhog during Pujas.