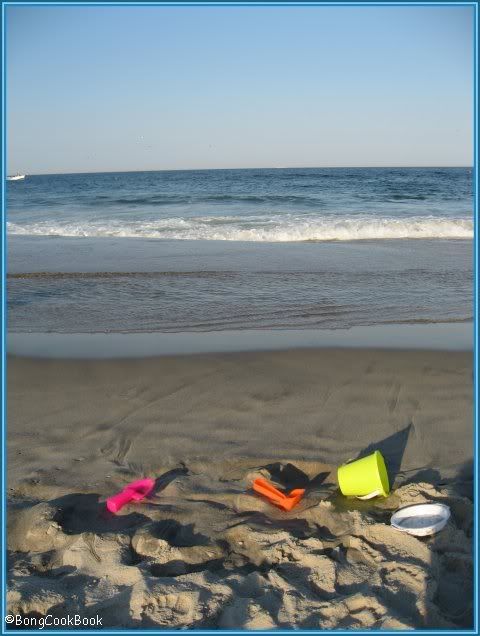 Where the mind is without fear and the head is held highWhere knowledge is free
Where the world has not been broken up into fragments by domestic wallsWhere words come out from the depth of truth
Where tireless striving stretches its arms towards perfectionWhere the clear stream of reason has not lost its way into the dreary desert sand of dead habit
Where the mind is led forward by thee into ever-widening thought and action
--Into that heaven of freedom, my father, let my country awake.

--
Rabindranath Tagore
, Gitanjali
Update: Photos taken by me at the beach at Spring Lake, NJ. My camera Canon SD750 Digital Elph. And yes that is indeed lil' S :)

And now comes the award, no not the
Bharat Ratna
Award silly, the Rocking Award.
Sra
passed me this and I first thought may be she meant my blog had hit rock bottom and so she wanted to throw rocks at me. But the logo looked nice in pink & had a star, now anything in pink can't be bad, can it ? Also Sra is one of the few early bloggers whom I bonded with over comment space and I have seen her go from greenish-yellow to pristine white, I know "When" her soup came alive, I know that she is a conscious and innovative foodie and that she rocks, if she is passing on something it's got to be good.
Thanks to her and passing this on to some of the more rocking bloggers who haven't been rocked yet (or have they ? and is there a rule of passing ?)
Anh of
Food Lovers Journey
Indosungod of
DailyMusings
Inji of
Ginger & Mango
Jyothsna of
Currybazaar
Mystic of
ChatpatFood
Mandira of
Ahaar
Padma of
Padma's Kitchen
Pragyan of
Cooking at Pragyan's
SJ of
A Pinch Of Spice
Seema of
Recipe Junction
Sher of
What Did You Eat
Shilpa of
Aayis Recipes
Vani of
Mysoorean
Swapna of
Tastes from My Kitchen
Susan of
The Well Seasoned Cook
and two non-foodie rocking girls
Anamika of
Thinking Cramps
Moi of
Not By a Long Shot
There are more but I am not sure if I am allowed to tag the entire blogosphere, so I better stop