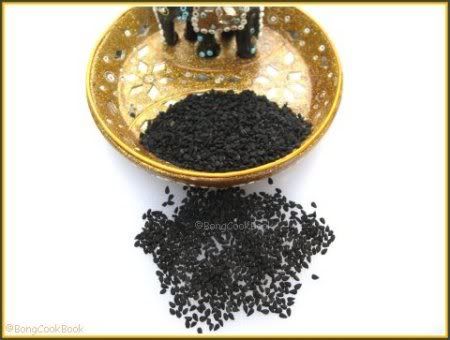 Kalonji
in my glass spice bottles, jet black, like the hair I always wanted before the era of streaks and highlights.
Kalonji
in my hand, tiny, coarse to the touch, crowding and jostling, waiting to flavor my food.
Kalonji
in hot oil, tempering, dancing around merrily, haunting me with the aromatic flavor, I cannot put a word to. I see it described as acrid, smoky....but I am not sure.
Kalonji
...
Kalo Jeera
...
Nigella Seeds
...a part of my cuisine
Nigella seeds are small, matte-black grains with a rough surface and an oily white interior. They are seeds of a plant Nigella Sativa, of the buttercup family and are often confused with Onion seeds. Nigella probably originated in western Asia but today is cultivated from Egypt to India.
Cultivation of these black seeds has been traced back more than 3,000 years to the kingdom of the Assyrians and ancient Egyptians. A bottle of black cumin oil was found in the tomb of King Tutankhamun, perhaps to protect the ruler in the afterlife.
Known as
Kalonji
in Hindi and
Kalo jeera
in Bengali, Nigella is used in India and the Middle East as a spice and condiment and occasionally in Europe as both a pepper substitute and a spice. It is widely used in Indian cuisines for its smoky, pungent aroma.
In
Bengali cuisine
it is almost as popular as
Paanch Phoron
and used for tempering, vegetable dishes, Dals, fish curries and some chutneys. It is one of the five ingredients of Paanch Phoron. It is also added to the dough while making Nimki a savoury fried dough. The flavor within the seed is enhances after it is baked, toasted or fried in a small amount of oil or juices of foods.
The seeds are always used whole, never as a powder and very rarely as a part of a paste
Nigella is used in Indian medicine as a carminative and stimulant and is used against indigestion and bowel complaints. In India it is used to induce post-natal uterine contraction and promote lactation. The seed yields a volatile oil containing melanthin, nigilline, damascene and tannin. Melanthin is toxic in large dosages and Niugelline is paralytic, so this spice must be used in moderation.( Source:
here
)
In
Islam
, it is regarded as one of the greatest forms of healing medicine available.
Muhammad
once stated that the black seed can heal every disease – except death.
Black cumin and its oil have also been used to purge parasites and worms, detoxify.
A very simple recipe with Nigella seeds is the
Alu-Charchari
, a quick stir fry of potatoes.
Some of the recipes I have blogged where Kalonji is used for tempering are:
Shorshe Dharosh or Okra in Mustard Sauce
Doi-Ilish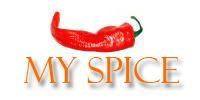 Check out other spices in this series in the left hand column

Trivia: The many uses of nigella has earned for this ancient herb the Arabic approbation 'Habbatul barakah' meaning the seed of blessing.