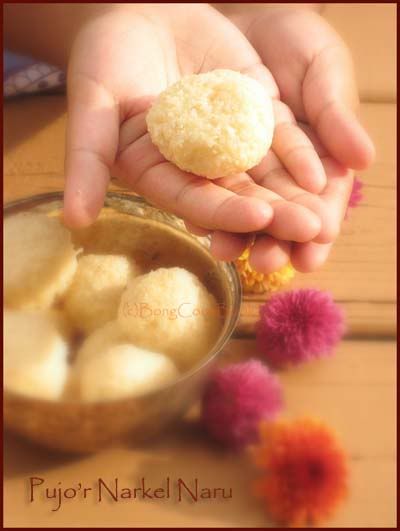 A
aj
Shoshthi
. The
Sixth day of Navratri
and the beginning of
Durga Puja
. Strangely this Pujo, I do not miss home much. And I should have.
Even
AnandaMela
or
Desh
does not excite me much this year. I did not even book an online copy. Anyway it is only "
Sirshendu
" and "
Bani Basu
" that is worth a read, maybe I will borrow later I say to myself.
Instead I pine for a lost childhood, a childhood resplendent with glamor, light, excitement and happiness of Pujo. I miss the fervor, the excitement which would begin early with the colorful print ad of the annual
Pujo Shankhya AnandoMela
and would go on late after Lakshmi Pujo lingering on till Diwali. I miss the last minute packing, the new clothes, the bite of my new black ballerina, the jostling crowd, the blaring sounds, the
pujo-pujo gondho
... Or maybe I don't.I sometimes think I have just glamorized the whole thing and put layers of brighter colors over a faded sepia print. But I cannot deny the excitement, the wait, waiting for Pujo.
I try to enjoy
Pujo
here, for sake of myself, for my daughters. To let them know where their parents came from,
where their roots lie
. I buy them new clothes, I save clothes bought at "Back to school" sale to be worn during Pujo. It doesn't really matter much, clothes and shoes are necessities bought year round, new clothes for them does not herald Pujo.
We try go to the
mandap(the place where Durga Pujo is being held)
almost every day, back from work we deck up in finest silks and chiffon and are at the
mandap
late for the
anjali
but in time for dinner. The
dhup-dhuno
, the flowers, the Mother's glistening face enchants the little ones, they play round the
mandap
with their friends like we did.
If it is an extremely busy day like today we visit the Krishna Temple nearby instead. There
Navratri
celebrations are at a crescendo and in midst of
Lalita Sahasranama
chants I feel contented. Back home we string up twinkling Christmas lights on the porch, pick flowers to offer to the tiny idols sitting on my Puja shelf and light a lamp.
I cannot pass on to my daughters the
pleasure of waiting
for all those months for
Durga Pujo
, they will not know the excitement that Pujo can bring but I can
redefine Pujo for them
and that is what I do.
Maybe
in the process I also redefine home
. Maybe I am home this pujo.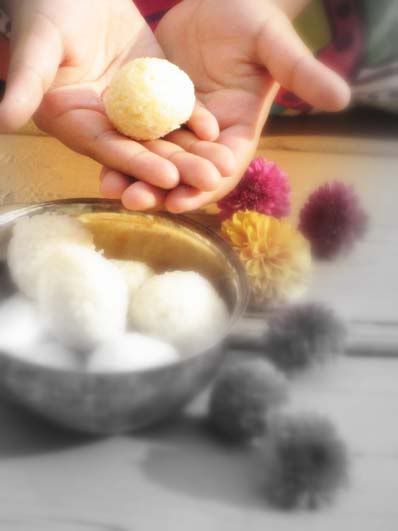 And in my own way I make some sweets for
Shoshthi
. These were sweets which were actually made at
Dashami
, after the immersion, to sweeten lives and memories. These were
Narkel Narus
, two kinds.
Gure'r Naru
,
the ones made with jaggery, deep brown in shade and
Chini'r Naru
,
the pristine white ones made of sugar. I never like the gur'er naru much, with a little incompetence on the cook's side, these would be as hard as marbles. I preferred the white chini'r naru and this is what I make, late in the night after everyone goes to bed.
I cannot afford to grate a coconut, I have no time and the frozen MTR brand works just as fine for me. Unlike my Ma who uses whole milk and reduces it painstakingly, I use condensed milk and evaporated milk, cuts my cooking time by half.
Rituals need not be so hard
that we loathe & forget them, it is better to find
easier means to enjoy them
instead.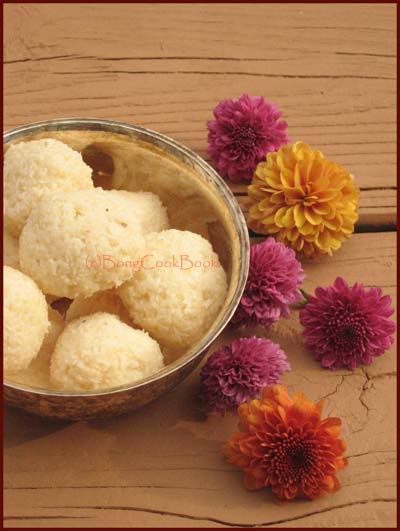 I am done in time for bed and an early start tomorrow. And yet I have a batch of
narus
which I will take as offerings to the goddess tomorrow.
Narus
, sweet, decadent and delicious, the
perfect beginning
to 5 days of
Durga Pujo
.
Edited to Add: And though it took me more than 30 mins to make these, it shouldn't have. I am slow and I kept the heat at low-medium, which stupid cook keeps heat at low to medium when they are cooking for a party. The better ones can do this under 30 and so these
Narkel Narus
join the
Express Indian Party @ Anita's.
I am also sending the first pic to
Heirloom:CLICK
. The recipe is age old, the shortcuts are not.
Happy Durga Pujo
Get this recipe in my Book coming out soon. Check this blog for further updates.
Read more...
Narkel Naru/ Coconut Laddoo




You Need





Shredded Coconut -- slightly more than 3 cups

.

I have used the frozen MTR brand, you can grate and use fresh coconut. When using frozen thaw before use





Sugar -- 1 cup





Evaporated Milk -- approx. 2 cups

.

If using Whole Milk, you need to reduce 4 cups of milk to 2 cups





Condensed Milk -- 1/4 cup

.

You can skip this and increase sugar but I prefer this

How I Do It



In a heavy bottomed deep pan

mix the shredded coconut and sugar with hand

thoroughly

Put the pan on

low heat and then stir for 4-5 minutes

. The sugar will melt and mix with coconut and the coconut will be lightly roasted

Add

about 2 cups of evaporated milk and 1/4 cup of Condensed Milk

to the above. Add some cardamom seeds.

Note

:

If you need more or less sweet, taste and adjust accordingly



Mix it all together and at low to medium heat cook with frequent stirring till the coconut is cooked. Keep stirring till the milk almost dries up and the coconut mix comes out clean from the sides. You will know by the slight change in color and the fact that the mix will no longer stick to the pan. Don't dry it too much, else you cannot make the balls.

Note

:

When you think it is almost done, test it out by trying to make a ball that stays

.

Approx time to reach this stage - 30-40 mins at medium heat



Take the pan off the heat and cool slightly. When mix is still warm to touch, make balls by rolling between your palms

Store in an air tight container. I usually refrigerate but my Ma used to keep it out.
Similar Reads:
My '07 Pujo Post
More on Pujo and Pujo Shankhya