Bijoya Greetings to all my Readers
Durga Pujo in our area
S
o there
Durga Pujo
is over and this is how we wish each other on
Bijoya Dashami
, the tenth day of Durga Pujo, the day the Goddess supposedly returns to her abode in Kailash. To accommodate the laid back Bongs, Bijoya is not restricted to one day alone. You get time till Kali Puja to wish your fellow bongs "
Shubho Bijoya
".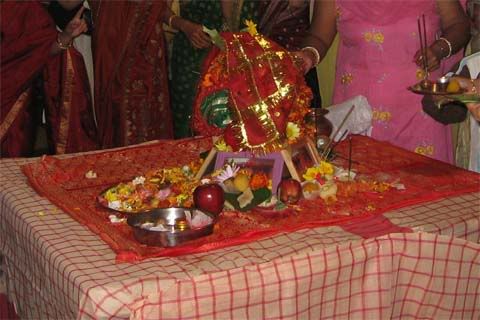 In the US, Ma Durga does not go home, she just goes back to the basement until next year. So we are not allowed to put sindoor on her, instead there is an alias, the Ghot
The day of
Bijoya Dashami
, you bid adieu to Ma Durga, offering her
sweets and sindoor
after the symbolic
Bisarjan
is over. The mere mortals, mostly women, are allowed to touch the Goddess's idol on this day to shower their love & respect and they do so with full enthusiasm. Married
women smear sindoor on Ma Durga's forehead as well as on each other's
and it becomes a mini Holi with only red color.
Strangely though our highest respect is for the female power,
Shakti
, women play only menial roles during the actual 5 days of Pujo. I have never seen a female priestess doing arati or the actual puja ceremony, women are mostly on the periphery. The only day they are allowed to touch the Goddess is after the
Bisarjan
on Dashami.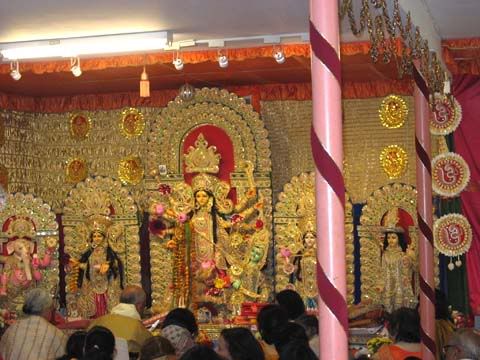 No pandal hopping, one is enough
Back home from the
mandap
you touch your elder's feet, embrace your peers, bless the little ones and then do what Bengalis love most.
Eat
. You eat sweets and
nimkis
and
naru
's, you eat more to forget the sorrow of Durga's as well as your vacation being over. But then you can't just restrict it to one day, can you ? No. So you apply for a few more days of leave and then each of those days morning and evening you set out to pay respect to all your elderly relatives in town. Maybe you have no contact with them throughout the year but You must do
Bijoya
so you hail a taxi and go. But before that you make a chart maybe be an excel sheet, you order relatives by their cooking skills and start by visiting the ones whose naru's have achieved world fame, saving the ones with hard naru's and watery ghugni's for the last.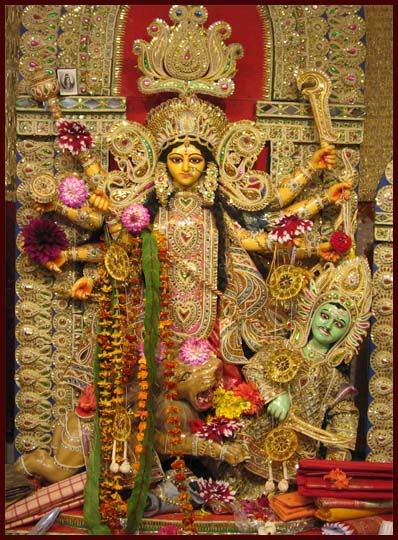 Ma Durga, we had a lovely Pujo. Big Sis S thoroughly enjoyed herself. Baby A was not at her best but that's ok. The bhog was good, the weather on Nabami bad.The red in my hair from sindoor khela is still there, I need to shampoo better. Come back next year, till then have a blast.
By the time your palate abhors any more Naru or nimki it is almost Kali Pujo, officially Bijoya is over, the last relative in your list may as well throw the hardened naru to hit you hard.Now is the time to bit adieu, to wrap up all your festive spirit and revel in the luxury that at last Pujo is over. But wait, isn't Pujo coming again, yeah next year,
asche bochor abar hobey
.
More Pujo Reads:
Narkel Naru for Durga Pujo
2007 Durga Pujo
2007 Shubho Bijoya