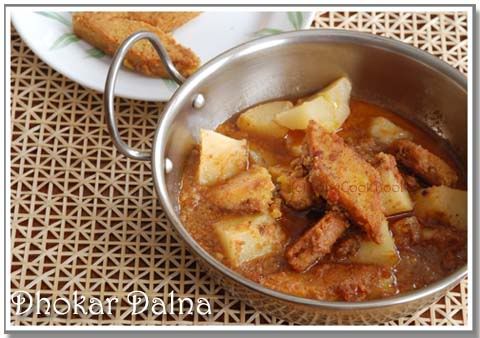 Spiced Lentil Cakes in a gravy
I
am a lot like Big Sis S(BSS) or is it the other way round ? Whatever it is we both try to avoid things that are hard. Force us in a difficult situation and we will be fine coping with it and coming out stronger but given a choice we will try to avoid the difficult route.
Take BSS. She started Piano lessons some time last year. She loved it, practiced with diligence, sailed through her lessons as if she was a musical genius and played at the drop of a hat. Things started changing couple of weeks back. She started giving excuses around practice time, musical enthusiasm hit all time low and a marked drop in excitement on lesson days was noticed. A talk with her Piano teacher revealed what I already knew. Lessons had gotten harder and as Little Miss BSS was not able to sail through them as easily as on a cloud, she was no longer as enthusiastic about them.
We had a little talk, that kind of thing comes easy to me, I love it when I am at the giving end of such talks. Things seems to be better now, it is not that hard to motivate a 6 year old after all.
Take Me next.
Dhokar Dalna
, the master piece of Bengali Cuisine has eluded me all these years. I love
Dhokar Dalna
, to eat that is, to cook, I always dismissed it as "too difficult". Ok, I think I did it just once but that just reinforced my belief that it took too much time and oil to be deemed worth repeatable in my kitchen. However BSS's example triggered me. If that little girl could go back and do her "Lets Rock" or whatever sheet music several times over, I could at least try
Dhokar Dalna
once more.
So I made it today, I wouldn't say total success, there are these small nuances that need to be taken care of next time. I am yet to get the right texture for the lentil paste to make the cakes and some of my
dhokas
or lentil cakes were cracking which shouldn't happen. But I think I did conquer my fear. After all my three decades and more of existence has taught me that "
Done is better than perfect"(quoted from Scott Allen)
, at least some times.
Dhokar Dalna
, is one of the pillars of
Niramish
(Vegetarian)
Bengali Cuisine
, just like
Shukto
. The
lightly spiced lentil cakes or

dhoka
are fried and then simmered in a gravy made with tomatoes and ginger, spiced with cumin and coriander. This dish traditionally is a purely
satvik
dish, sans any onion or garlic like most Bengali Niramish(vegetarian) dishes. Bengali widows were not allowed to eat onion or garlic and the Bengali vegetarian cuisine is mostly their contribution, that explains why it is satvik.
The dhokas are such a delight and the gravy is so fragrant that you wouldn't even miss onion or garlic in here. Enjoyed best with plain white rice, the
dhoka
sure brings joy, though it actually means "to cheat".
Get this recipe in my Book coming out soon. Check this blog for further updates.