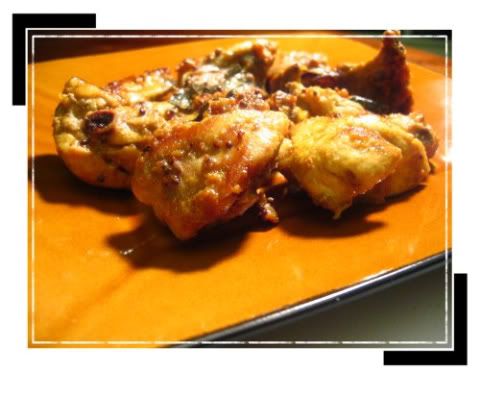 It
might seem that all I cook and eat is typically Bong Food and all others Cuisines are Greek & Latin to me, actually I like Greek and Latin Ameriacn food too and I like all other non Greek food too. Truth is I simply love to eat and try out different restaurants and eat outs.
We also cook a lot of non Bong food, of course the easy ones, but I never chronicle them because there are a lot of source out there on blogs and non blogs from where I and millions other get the recipe. However on many of these occasions I throw in some of my ideas (rotten though they may be) and the result turns out to be something which the originator might not have had in mind. Me on the other hand is unable to re-create the recipe when the need arises as I suffer from mild amnesia.
I don't know if it is with other people too but I have had a loss of memory after my pregnancy, though my husband claims it's just old age, I feel it's the hormones. I can well remember random stuff like my neighbour's daughter's third cousins dog's name but I have to scratch and stress my poor brain to remember the first
Ash
starrer, ok it might be because it's better if Ash starrers are forgotten but come on I do need that extra RAM.
So not relying too much on my memory I thought to borrow some server space with Blogger and upload the recipes that might not be Bengali but are eaten and liked at our home.
So here goes
Chicken 65
from the great blogs like
MyDhaba
and
PastPresent&Me.

This is a dish we liked during our stay down south in Bangalore where we were very surprised to find curry leaves in our chicken on our first day of restaurant hopping, but later got used to it :) Do not read further and Go to the above sites to find the authenticate versions.
On my part I liked both their recipes and merged them. A quick recap for myself
How I Did It

M
arinade the chicken pieces in vinegar, 2 tsp garlic paste, salt, little turmeric powder, little red chilli powder, 1 tsp soya sauce, a sprinkle of corn flour and a dash of sambhar powder (this is what Vee said and boy did I like it) for a couple of hours
H
eat Oil
A
dd Mustard seeds, Curry Leaves and finely chopped Garlic
I
deally it's good to add chopped green chillies, but I went light on it
W
hen the spices sputter, add the chicken pieces (pick them up from the marinade and add)
F
ry till they are browned
C
heck to see if they are done, else cover and cook in low heat, no water added
G
reat Chicken65 ready in a jiffy
E
at and thank
VKN
and
Vee
and other bloggers who have contributed this recipe.

Other Chicken65 Recipes on the same line

Shaheen of Malabar Spices -- Chicken 65

Trivia: Theory no.1:The story goes that an English traveller visiting Kerala in 1965 asked a chef to make this dish. The traveller expressed his contentment at the result and left, whereupon the bar staff tried the remainders, having never seen anything like it before. The result certainly was good and Chicken 65 was born, there being no other name for it.
Theory no.2:As legend has it, in all the country liquor bars, the favourite 'food fight' is: who can eat the maximum number of chillies? It is a symbol of machismo to be able to eat the most chilies. An enterprising hotelier capitalised on this and cooked up the dish Chicken 65, denoting that 65 chillies were used for every kilogram of chicken. Some chefs believe it is called so because of the 65 ingredients used in making it.
Theory no.3:It was the 65th. item on the menu of a restaurant at Palghat
Source:
The India Tree