"What is my color, Mummy", she said, among all the prattling from the backseat.
The only things I love listening to while driving is NPR, Kishore, Rafi, Asha, Indranil and myself. But as fate has it, as soon as S is strapped into her car seat, she demands NPR to be switched off and the stereo volume cranked up blaring "
Malish…tel malish…"
or "
baranday roddur
…" at my eardrums.
On top of this she prattles, stating her opinion about life in general and throws questions at me now & then. I usually get by saying that I need to pay attention to my driving else I may bang onto someone and given my bang-bang history she leaves me alone and continues with her opinions.
This unassuming question caught me unprepared though. I was almost about to bump into the Ford Focus in front as words like racism, apartheid, mutiny, dowry deaths and what not crossed my mind. You know how I over react.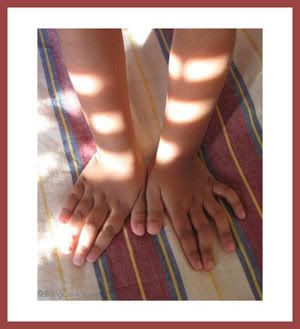 She was not white and no it definitely didn't look brown.
Was it India, I like my Ma would have steadfastly stuck to fair while the neighbours, the milkman, the
bai
and everyone else insisted on medium or even dark. Now those are not colors, and I was a dumb child.
Given the L'Oreal swatches and half an hour I could maybe figure out that she might be dangling between Nude Beige and Sand Beige, but of course I couldn't say that. Whoever says "Please my colour is Nude Beige….arrrrrgh"
And then she wanted a color that was in her Crayola box of twelve's and not a shade in Benjamin Moore color palette. So I was at a loss and said what a clever, articulate, smart, loving, domestic diva and non-domestic smartass Mommy would do.
I said "What do you think?"
She said "Umm… orange"
Very carefully with fear in my heart I asked "And me…what is my color?"
She said " You are orange too… baba is orange,
thammi (paternal grandma)
is orange"
Huh,
United Colors Of Benetton
, please take note while I have some nicely browned
Fish Chops
.
These
fish chops
were baked instead of frying.
Fish Chop
or
Macher Chop
is something which every Bengali household holds a patent on. They are traditionally deep fried and also the actual macher chop has a spicy mashed potato casing stuffed with spicy fish stuffing.
I did not want to use to much potato so did not make the version with the casing this time. The fried ones taste better and if you want to you can deep fry them. I wanted to bake and not deep fry so I tried out the baked version over the weekend.
Read more...




Made 15 of them. sizes were on the smaller side though

What You Need

Onion Paste ~ 8 tbsp
Ginger & Garlic paste ~ 2 tbsp

Tuna ~ 2 cans of Light Tuna in Water. My Ma who does not get tuna uses fish filet , cooks them and mashes them to a kind of a paste !!!
Mashed Potato ~ 1 cup (I cooked 2 large size potatoes and mashed them up.)

Tomato Ketchup ~ 1 -2 tbsp. I used Maggi Hot & Sweet which is a spicy yet sweet tomato sauce
Red Chilli Powder ~ 1 tsp or more depending on your spice level
Bhaja Masala or Garam masala ~ 1 tsp loosely packed
Raisins ~ 1/3 cup


Green Chillies ~ 6-7 or less
Fresh Green Corriander ~ finely chopped about a handful

Sugar ~ 1/2 tsp heaped
Salt
Oil ~ 3 tbsp for making the stuffing + 1 tsp for greasing the tawa/griddle

How I Did It

Making of Mashed Potato (Yeah, as if you needed to know that)

Boil 2 Potatoes large sized. I used my Pressure Cooker. You can also microwave if you know how
Got rid of the skin
Mashed them with the back of a flat spatula till there were no more lumps and added a little salt and red chilli powder. Smooth it was. Used 1 cup of this. Leftovers if any, were had with rice with and a dash of mustard oil and green chillies

Prep

Make the Onion Paste
Make the fresh Ginger-Garlic Paste. You can always do this beforehand as I do. You can also use straight out of the jar.
Open the can of tuna and drain all the water . Best to dump it on a sieve and drain the last drop of water out.

Method



Heat

Oil in a Kadhai/Frying Pan


Add

the Onion Paste and about 1/2 tsp of sugar and fry till they turn pinkish brown


Add

the Ginger-Garlic paste and the chopped Green Chillies and sauté till the masala looks done


Add

the drained tuna and cook mixing the masala well with the tuna till fish is cooked


Add

1 tbsp of my all time favorite Magii Hot&Sweet. Go with your favorite if you have any


Add

the 1 cup of mashed potato


Add

Red chilli powder and salt


Fry

till the masala mixes well with the whole stuff.


Sprinkle

a little of the Dry Roasted Masala


Add

about 1/2 cup of chopped corriander to get that fresh dhaniya smell


Add

the raisins


Cool

and keep aside



Make

small flat round balls of this mixture. Not very flat they should have a 3rd dimension.


Dip

in a batter of egg wash, roll in bread crumbs and refrigerate for half an hour or more



In

a flat non-stick Tawa or griddle smear about 1 tsp of oil or grease with Pam spray.


Brown

the fish balls on both sides.


Sprinkle

semolina/sooji on a baking tray and arrange the browned flat balls on it. Alternately you can lightly grease the bake tray and put the balls on it.


Heat

oven to 400F.


Bake

for 30-40 minutes (this time may vary). They would be nicely browned by this time.


Enjoy

with some home made chutney or my favorite Maggi Hot & Sweet


But seriously what do you say when your kid asks such questions, whatever part of the world you are from ? Do we just let them figure it out or do we really need to find the right color

?

Edited to Add: First of all maybe I should make it clear, S asked this question out of pure interest, more I think because she was wondering what she would paint her paper figurine ( a life size paper cut out of herself) with.
I don't think there were discussions as such in her school, those discussions will surely come later.




Trivia:Fresh tuna is an oily fish, high in fatty acids. But when it's canned, these fatty acids are reduced to levels similar to white fish. So, although canned tuna is a healthy choice for most people, it doesn't count as oily fish.