BottleGourd with Bori and BottleGourd with Shrimp...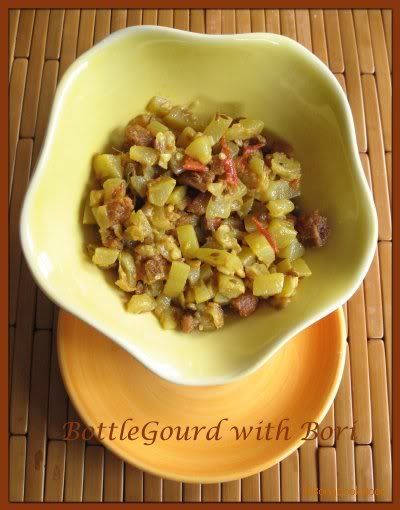 I
have been eating real simple these days, simple food not laced with too many rich spices or garlic and onion seems to have become my favorite. It is still spring here but my food cravings are like those served in my home during the hot summer months.
Summer veggies like
Lau
(Bengali)/
Lauki
(Hindi)/B
ottle gourd
, Parwal, Green mangoes have caught my fancy. These veggies prepared with simple spices and no onion or garlic and a light fish curry is what is staple food, in most Bengali homes in the Gangetic Plains where summer is hot and humid.
Is it the green all around that makes me long for these veggies ? Before the days of air conditioned grocery stores and easy availability of exotic veggies, vegetables in the local markets were seasonal in India. So while winter was colored with deep red beet-root, orange carrots and rich red tomatoes, summer was green with deep green striped parwal, mellowed green bottle gourd, vivid rich green of cucumber and smooth green of raw mangoes.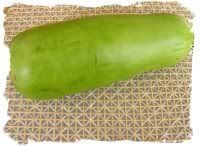 The tender lau or bottle gourd with its soothing green skin soothes the eyes in harsh summer and because of its high water content has a cooling effect and so is one of the preferred veggies in the summer months.
According to ayurveda, the cooked bottlegourd is cooling, diuretic, sedative and anti­bilious(corrects secretion of bile). It gives a feeling of relaxation after eating it. It is rich in essential minerals and fibre.
I am sharing this veggie and the dish with Laurie from
Mediterranean Cooking in Alaska
who is hosting
WHB
, originated by Kalyn, this week
The bottle gourd was used in several different kinds of dishes in my home ranging from the
dal
, the
lau-ghonto
which I think was made with milk and usually white in color, another
lau-ghonto
with fish head, the
lau-bori
where the dish was garnished with fried moong dal vadis, the
lau-chingri
where the shrimp was mixed with the dish to dress up the simple homely dish.
The recipe of
Lau Bori
and
Lau Chingri
here is as my Ma made it.
Lau Bori'r Torkari


What You Need
Lauki/Bottlegourd ~ 3 cups. Peeled and chopped in small pieces. You need to cut the bottlegourd in really small & thin pieces, large chunks are a NO No. The cut should ideally be thinner than mine.
Tomato ~1/2 of a medium finely chopped in small pieces
Green Chilli ~ 3-4 slit through the middle. I use hot Indian Geen Chillies
Ginger ~ ½" grated fresh

For tempering

Bay Leaves ~ 2 small
Cinnamon Stick ~ 1" stick
Whole Jeera/Cumin seeds ~ ½ tsp

The Masala/Dry Spice powders

Jeera/Cumin Powder ~ ½ tsp
Red Chilli Powder ~ ¼ tsp or according to your spice level. I go with the green hot chillies and do not use any chilli powder.
Turmeric Powder ~ about 1/4 tsp

Sugar ~ ¼ tsp or none if you don't like it sweet
Salt ~ to taste
Oil

For garnish
Bori ~ ½ cup of Moong Dal Bori fried and crumbled. If you do not have any Bori, you might skip it. The Bengali Vadis are known as Boris and are small sun dried cones of lentil paste, the shapes are like Hershey's Kisses. Here is a recipe of boris made of Urad Dal. These boris are fried and then added to the dish.

Corriander Leaves ~ a fistful finely chopped

How I Did It


Heat

Oil in a Kadhai/Frying Pan.



Fry

the Bori till it is a nice warm rich brown. Remove and keep aside



Temper

the oil with Bay leaf, Cinnamon Stick and Whole Cumin seed



When

the cumin starts sputtering add the finely chopped tomato and green chillies.
Sauté till the tomatoes are soft and mushy with no raw smell.



Add

the chopped bottle gourd and sauté for 2 minutes.



Add

the grated ginger, the cumin powder and red chilli powder(optional)



Add

a little turmeric, add salt and mix well



Sauté

for 2-3 minutes and cover and cook. Intermittently remove the cover and give it a good stir. You don't need to add water as bottle gourd releases water on cooking. If the bottlegourd is dried up or not that fresh you may need to add little water while cooking.



When

the bottlegourd is cooked add sugar and cook for a minute. The water should have dried up by now and the result would be a dish with no gravy but moist.



Now

crumble the fried bori on top



Garnish

with fresh coriander leaves





Lau Chingri aka Bottle Gourd with Shrimp



Everything is same as the Lau-Bori recipe. Except for the Bori you need about ½ cup of shrimp. Wash the shrimp and mix with a little turmeric and salt and let it marinade for 30 minutes. Fry them to a light yellow and remove and keep aside. Cook Bottlegourd exactly as above. Instead of the bori, mix the shrimp with the bottlegourd at the second last step. Sauté for a minute and you are done.

Other recipes of similar Bengali Lau er Tarkari:

Lau Tarkari from Ahaar

Lau Gnoto with Fish head from Spice and Curry

Other recipes with Lau/Bottle Gourd in my Blog:

Tetor Dal with BitterGourd and BottleGourd



Trivia: Ektara the most ancient form of string instrument found in the Eastern parts of India, is constructed out of a half of a dried gourd shell serving as the sound-box, with a metal string running right through the middle of the shell. The Ektara was used by the Bauls of Bengal for their folk singing