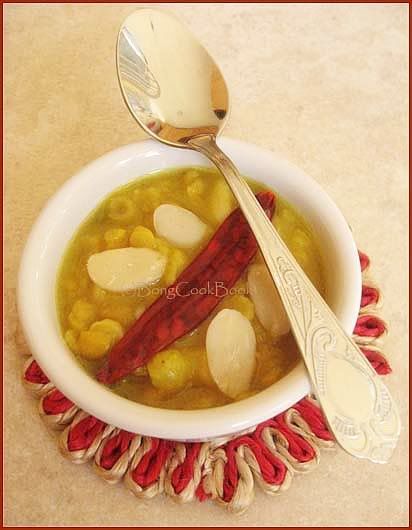 I
have no time today, really none, nada, no time at all. And yet I need to post this, which I cooked for no reason, really none but for Sra who is hosting
MLLA -- 17
. You can never imagine things you would do for a blog friendship and that includes sneaking upstairs to a darkened room to make a call to one's favorite blogger while real life friends and family banter down.
Cholar Dal
is the dal with uber arrogance. It is a bit of a snob, not the kind you would like to come home to every day but the kind you would like to glamorize your dining table with when you have company. Standing alone, presumptuous, it might not seem to be the best thing to befriend. But when it has company with
Kachuri
or
Luchi
or even a
Pulao
it will dazzle you.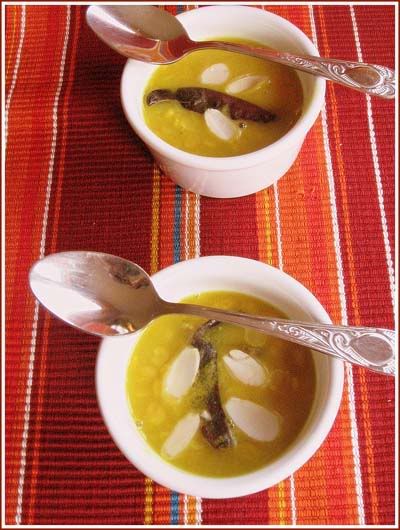 Cholar Dal narkel diye
or
cholar dal with coconut
is a very popular bengali dish and is a fixed item on the menu on wedding feasts or during Durga puja bhog. It is mostly cooked on special occasions and that could be the only-son's-getting-the-visa-day to the only-son's-homecoming-day. Usually it is not an everyday dal though you could have it everyday and there is no one stopping you.
When I made it last week, I did not have coconut and so skipped it, instead I adorned the dal with almonds. It was delicious and all I wanted with it was some Kachuri. Maybe another day, another time.
This Dal goes to
Sra
for
MLLA --17
, brainchild of
Susan
of
The Well Seasoned Cook

Read more...






Pressure Cook

1 cup

of

Chana Dal/Cholar Dal

with
almost

2 & 1/2 cups of water




1 green cardamom,




1 clove,




1/4 tsp of turmeric


and

little salt


for

6 minutes after steam has built up in the cooker

or say about

10-12 mins on the whole.

The lentils should be soft and cooked by this time, if not you need to cook more.

Note

: Once cooked, you may fish out the whole cardamom and whole clove from the dal. I will sometimes skip the whole garam masalas while pressure cooking and add only later.

Heat

1 tbsp of Oil (or Ghee)

in a Kadhai or in a soup pot.

Note

: Ghee works best for this dal, if you don't want to use ghee as the cooking medium, add half a tsp towards the end for flavor.

Temper the oil with


1 small bay leaf,


2-3 green cardamom/

elaichi

,
2-3 clove/laung,


1" thin stick of cinnamon




and 2 dry red chili



Add a pinch of

asafoetidia

/

hing

to the oil

When you get the aroma of the spices

add the cooked dal to the pot

and saute. Do not add the dal water at this point. Reserve the dal water for later use.

Add a

fistful of golden raisins

,

salt to taste

,

a pinch or two of turmeric

and mix well. You can add a little grated ginger, I don't necessarily do it always.

Add about

1/2 - 1 cup of water

and let the dal simmer till it comes to a boil. This dal will be on the thicker side and not very liquid, so simmer till it reaches a thick consistency.

Just before taking off the heat add

1/2 tsp of suga

r and mix. Add 1/2 tsp of ghee if you have not used ghee for cooking. Taste and adjust for seasonings.

Tip

:

If you are not used to whole garam masalas in your dal, fish out the cardamom, clove, bay leaf and cinnamon from the dal at this point.



Garnish with

fried pieces of coconut

. Since I didn't have coconut

I garnished with blanched slivered almonds

. You can also add a little grated coconut as the garnish.



Tip

:

A friend suggested adding a little Kasoori Methi to the dal at the very end for non-Bong touch. Have never tried that myself but she said it lends a nice flavor.