D
riving back home yesterday, I switched from my favorite Public Radio to a CD on the Player.A CD containing literally 100's of songs, Hindi Movie Songs from the late 80's and 90's compiled by someone for someone else. At a moment's whim I had copied them all and there it was playing on my car stereo while I maneuvered traffic on the highway.
While I listened mindlessly to most,
this one
(
Aaye ho Mere Zindagi mein
) caught my attention. I couldn't remember the movie or the actors playing out (and thank God for that) but I could faintly recall the song. I could hear it over the air waves,
blaring from the loud speaker
, seeping through the brick and cement walls and lashing over unsuspecting home stayers. These were days where the mornings started with potential signs that the day was going to be different. The loudspeaker, starting off with a crackling "Hello...Mike testing.. hello..1..2..3" just confirmed it.
It could be anything,
religious festival
ranging from ShivRatri to DurgaPujo, cultural ones like
Rabindra Jayanti
to
Poila Baishakh
or neighbor hood Chintu's Birthday if Chintu's bro or dad indirectly influenced the loudspeaker. The neighborhood youth, self appointed custodians of our cultural enrichment, pounced upon any opportunity to tie up a loudspeaker to the nearest tree and crank up the stereo, deluging the community with their choice of current hit Hindi(Bollywood) Songs and some Bengali ones.
My Dad not being a proponent of any Hindi Movie or it's song that had a release date in the 80's or 90's, the Hindi Songs busting the charts usually eluded us. The
loudspeakers on festival days
compensated for our lack of knowledge. As did
Chitrahar
on Wednesday evenings and
Rangoli
on Sunday mornings.
And then today
this blog
reminded me of
Binaca Geetmala
, what a coincidence, to be reminded of songs like "
Dekha Hai Pehli Baar
" and "
Shayad Meri Shaadi ka Khayal
", the kinds I would have never wanted to hear unless for the loudspeakers and yet whose beats reverberate deep somewhere.
I don't remember anything being played on Holi though or was it "
Rang Barse
" played whole day ? Did you have the neighborhood loudspeaker blaring on special days ?
Since I didn't consciously celebrate Holi this time, I forgot to wish anyone around here too. I am like 3 days late but so what, "
Happy Holi
"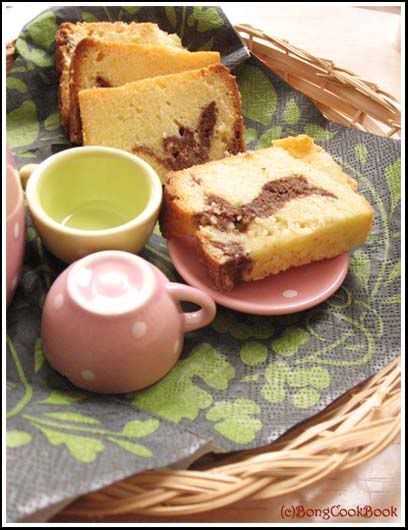 Instead of the traditional Holi Sweets, I made this
Condensed Milk Pound Cake
from Nags last week. Her step-by-step recipes really helps me visualize what I am baking. The chocolate marbling idea is from
here
for a similar pound cake.
Everything was good about this cake
except the timing
which was way off for me & my oven. Since 180C does not convert to 325F I was a bit confused and I checked few more Condensed Milk Pound Cake recipe. Everyone said
something
different
and I went with 325F. Forty minutes later, the cake top was turning golden but the inside was still very soft. So I raised to temp to 375, then 20 mins later the outside was getting very dark brown and inside was just a teeny soft. So I took it out and let it cool.
The cake turned out to be pretty good though and BSS enjoyed it the most. In fact she liked it enough to share her pretty tea set for my blog pictures. I should give this a try again but with that kind of butter and sugar I will wait a while.
Read more...






Condensed Milk Pound Cake





What you Need



All purpose flour ~ 1&1/3 cups
Sweetened condensed milk ~ 1 cup
Sugar ~ 3/4 cup
Unsalted butter at room temperature ~ 1 cup
Eggs ~ 2
Baking powder ~ 3/4 tsp
Vanilla essence ~ 1 tsp
Salt ~ 1/2 tsp

For Chocolate swirls:

Cocoa powder ~ 2tbsp



How I Made It



Sieve the flour, salt and baking powder until well combined.

Cream butter and sugar together until soft and fluffy with an electric mixer.

Add the eggs one at a time and beat until smooth.

Then add the condensed milk and vanilla essence and repeat for the same time, until well combined.

Add the flour to the wet mixture gradually (in 2 or 3 additions) and mix until batter is smooth.

For the chocolate swirl, take 4 tablespoon of the batter and mix it with 2 tbsp of dark coco powder. Pour half white batter in a greased cake tin or loaf pan. Top with the chocolate batter and finish with remaining white batter. Take a knife and make a few swirls to the batter.

Bake in a pre-heated oven at 180C/325F for 50-60 mins. Insert a toothpick at the center to test if the cake is done.

Note

: Nags says 30-35 mins but that didn't work for my oven so be sure to check at half an hour and prolong only if needed.

Cool and serve