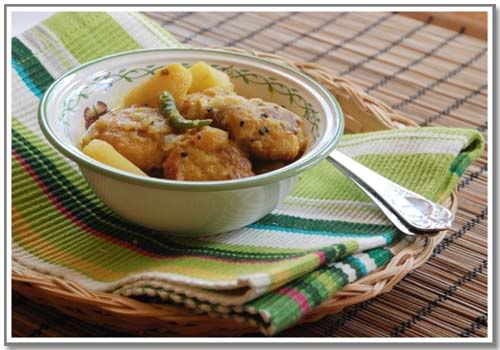 S
o here is the answer to the big question "What I did with the Daler Bora"
A couple weeks back my Ma made a
borar jhol
which was just too good. It was so good that I could not stop eating it. When Ma is here, I don't ask for recipes and then lament loss of those recipes only when she leaves. So any way this
bora'r jhol
that she made was
a light soupy gravy with potatoes and brinjal
and the recipe sounded like
this Macher Jhol
except of course this had no Fish but Lentil Fritters.
Did I say it tasted awesome ? I did ?
Ok, so is that how I made this dish ? No. Of course not.I have ADD, I cannot follow instructions.
Last weekend morning the entire family was out on errands and me & BS were the only one home. Not because we have the laziest bones in the whole family but because I had to take BS for her swim class later in the day. Having some time to myself I experimented with the Appe Pan and made
those
daler bora
. Yeah , there are full grown adults(like the husband) in my house who interfere with sagely advices when I cook so I need to save all experimentation for such times.
After I made those tiny
boras
, I decided to make a
Bora'r Jhaal
, the stress is on the word
Jhaal
here as
Jhaal

is different from

Jhol
.
I had no idea about making a
jhaal
. Does that deter me ? No. Of course not. I have a hypothetical confidence in my abilities syndrome.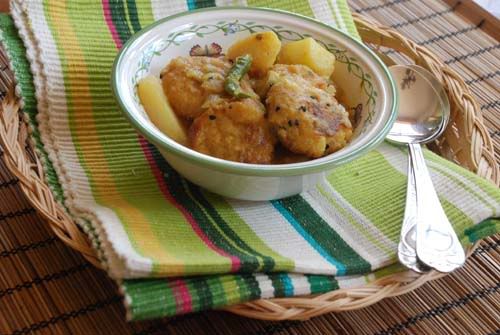 So I heated up some Oil. Once the oil was hot and fiery, added

a tsp of Nigella Seeds/Kalonji and 3-4 slit green chili

.
The spices started popping and I added

quarter of a red onion chopped fine

.
When the onions started browning, in went half of a red juicy medium sized tomato chopped fine.
A

tsp of ginger

paste followed suit
The tomato was stirred and cooked till it was mush. Satisfied by the tomato's final looks, I threw in

a potato chopped longitudinally

. Don't know why I say "longitudinally", actually chopped in quarters would do just fine. A pinch of turmeric and frying the potatoes for 2-3 minutes till they were golden ensued.
Now the spices went in,

a tsp of Corriander Powder, 1/2 tsp of Cumin powder and 1/2 tsp of red chili Powder

was all that I added.
Everything mixed together with a sprinkle of water and sauted for the next 2-3 minutes till the masala seems you know cooked.
Add about

1 cup of water, salt to taste

and cover and cook till potatoes are done.
Once the potatoes are cooked add the bora/lentil fritters, about 12-14 of them and let them simmer in the gravy for 3-4 minutes.
The fritters will soak up the gravy fast and become plump, so you might want to remove them from the gravy and add back only at time of serving.
So this is how I made the
borar jhaal
, put it in the serving dish, making a mental note that I should increase the gravy a little since the
boras
had soaked up most of the liquid and took BS out for her class. Before leaving I told Ma, who had just come in that I had made a
Borar Jhaal
for lunch.
An hour and half later, sitting down for lunch, the dish that I had cooked that very morning,
my

borar jhaal

looked very different from what I had last seen of it
. Not only did it look different, it also tasted very different from the dish that I had cooked. It tasted very very good, but different, different from my vision of
borar jhaal
.
"Did you do something to this dish?", I asked my Mom
"
Hyaan, tui to bolli jhaal, oita jhaal hoini, ami sorshe bata diye ar ek bar photalam
" (You said it was a
jhaal
, that was no
jhaal
,
jhaal
has to have mustard paste so I added mustard paste and gave it a good simmer)
she said, nonchalantly
.
"But I wanted to put it in the blog, how much mustard paste did you add", I wailed.
"
Ta jani na, oi ek chamoch hobey
"(I am not sure, maybe one spoon),
my Ma replied
"What spoon, teaspoon or tablespoon?", I continued grilling, trying to think what my blog readers with their critique remarks would say to that.
"
Kichu ekta likhe de to, blog, blog korish na
"(Write something, anything and don't nag me about your stupid blog),
she was now visibly irritated at the offspring's ignorance and did not encourage any further questions
. Ok, she did not say "stupid" either but you could sense it.
So for a
jhaal
you need to add mustard paste, maybe a tsp of mustard paste would suffice for this quantity. I honestly do not know. My Mom might have put in other things too. If you don't know my Mom, go ahead skip the mustard, but never ever tell her that.
Daler Bora
-- Lentil fritters