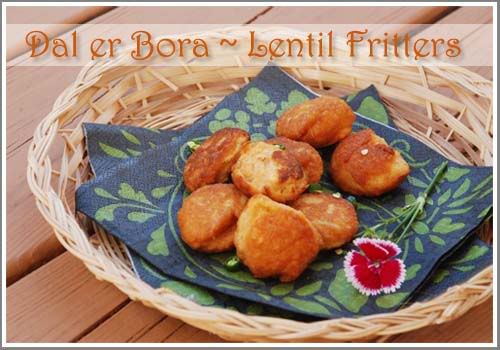 H
as anyone been following "
Along the Grand Trunk Road
" on NPR ? It was last week that I heard first of the series when Philip Reeves started out on his journey from Calcutta and spent a good few hours searching for the start of the road, with a banter typical of Calcutta on the background.
For a route of such enormous historical stature, the

Grand Trunk Road

makes a surprisingly modest start to its journey across the breadth of northern India, through Pakistan to the Hindu Kush.

Maps suggest that the road sprouts out of the heart of India's great eastern city, Calcutta (also known as Kolkata), not far from the banks of the mighty Hooghly River, a distributary of the Ganges.

But if you go there -- as NPR did, at the outset of our trip along this ancient highway -- the starting point is not particularly easy to find.

Residents of Calcutta love nothing better than a good debate; the city's famous for its militant left-wing political activism.

Stop in the street and ask local residents where the road begins, and they will happily launch into a lengthy argument on the subject.

We were finally directed to a large banyan tree, beside a railway crossing, where a small throng of truck drivers were sitting in the shade, drinking tea out of clay cups, and playing cards. There was a consensus among the drivers that we had found the right place -- the spot where the Grand Trunk Road began during British colonial rule when Calcutta was the imperial capital.
I couldn't follow the series on the air waves thereafter but I am reading it on their site.
On May 14, NPR was at the city of Aligarh along the G.T Road and they threw a very pertinent question.
In India, Can Schools offer a path out of Poverty
? Millions of Indians definitely think so and education is highly rated amongst the mass but the Government obviously thinks otherwise and very little thought is given to public education.
India has some stellar educational institutions. The government-supported Indian Institutes of Technology churn out thousands of world-class engineers every year.

The fields of medicine and business have similar elite colleges. Hundreds of thousands more young men and women graduate from colleges and universities just a rung or two below in terms of excellence.

Yet as students toil in classrooms and coaching centers, desperate to get into these elite institutes, even larger numbers of Indian youths barely get a start. Last year,

UNICEF estimated that about 8 million Indian children between the ages of 6 and 14 were not in school

.

And those that do attend are educated at government-run primary schools like the one in Nandpur Pala, a village just outside the city of Aligarh on the Grand Trunk Road. We visited the school as part of NPR's series of stories on the lives of people living along the route that crosses India and Pakistan
Isn't that so true ? In a country where education holds such high esteem, it seems abstruse that literacy rate is so low . And even getting a primary education when you can modestly afford it, is not easy either.
The other day someone in the family who lives in the technology hub in the southern part of India was discussing the lengths they had to go to get their two year old admitted to a reputed school. The reputed school is one of the few which do not demand huge sums of donation and so has a stringent entry policy. The two year old was interviewed by a posse of 4 teachers to be admitted into what but a 2 hours play class.
I am sure my kids would be illiterate if they were in present day India.No way would I allow 2 year olds be asked questions on color, creed, alphabet or animals. Yeah, I might grill them on such things but not any stranger throwing such stuff at innocent minds, thank you.
Follow the series
here
, I am sure there will be some very nice moments along the road.
********
There is nothing great about
Daler Bora
or
Lentil fritters
. Every cuisine has its own version of it. Simple delights to tide you on rough days.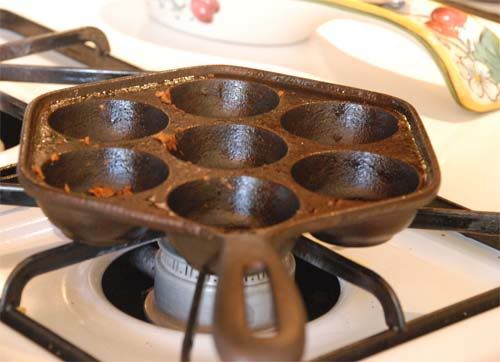 What is different about today's
dal bora
is how I made them, using a
strange contraption that looks like an instrument
used by aliens in 6000BC and later excavated from Harappa. It was
this
,
this
and
this
and
this
that played a major role in me ordering this strange stuff for only $10 on the internet. Yeah, they sell such relics from the past on the internet and call it Dutch with a still stranger name,
ebelskeiver pan
.
You would think there is a link between the Dravidians and the Dutch, yeah more similarity than the "D", for this
same Ebelskeiver pan is popular in Southern India as the Appe pan or the Paniyaram Pan(
a staple in the South Indian kitchen as my friend indosungod says
)
.
I had never ever heard or seen such a thing in all my life in India and so though I bought it in December, it sat uptight and conscious waiting to be of any service.. And then
this
gave me the push and since then I have been on a roll. I have made pakodis and fritters and all kind of fried stuff that I would normally not make much.
With this pan my oil usage was way less. I did not have to heat a whole lot of oil for frying only to be thrown out after use. Also my pakodis/ boras/fritters were tiny and cute which meant we could eat more of them thinking we were doing portion control.
This time it was the very
Bangali
Dal er Bora
made in the
Southie Appe Pan
, something like Mani Ratnam making a Tollywood(Bengal's Holywood) movie.
Read more...
Daler Bora/Lentil Fritters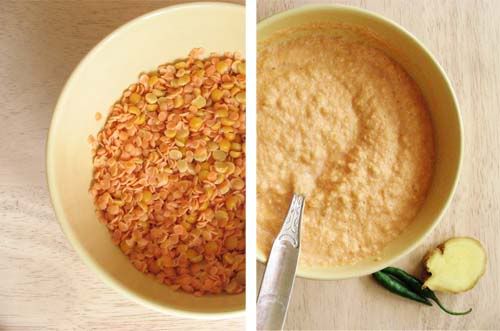 Soak

1/2 cup of Matar Dal(split peas) & 1/2 cup of red Masoor Dal

in water for half an hour. If you want only Musur Dal er bora, You can increase the masoor and decrease the Matar till Matar Dal becomes 0 cup. If you don't have matar dal use chana dal.

In the blender add



the soaked lentils




1" piece of peeled and chopped ginger




3-4 green chili




1/2 cup of water



and make a smooth paste.

Add

salt to taste

to this paste. If you wish add

1 tsp of roasted cumin powder

. Since I was making

niramish

bora I did not add any onions. Ok to tell the truth I forgot and decided it was a

niramish bora

. But you can add

1/2 of an onion chopped fine

.

As a reader "khabarpagol" says in the comments, finely chopped corriander leaves and a few nigella seeds in the batter makes the bora tastier. So go ahead and add that.

Beat the lentil paste with a fork till everything is well mixed up.




Now add oil to each of the round slots of the ebelskeiver pan and heat. Since my pan is cast iron, I add a little more oil(about 2tsp oil in each slot) for the first batch. For the next batch, I just add drops of oil along the edges.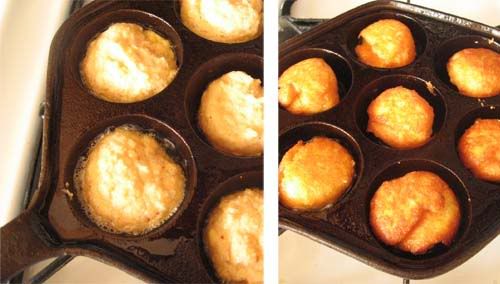 Add a spoonful of lentil paste in each of those dark crevices and see the oil merrily bubbling around. Keep the heat at low medium. Once one side is golden brown with the help of a fork, a spoon or a skewer turn the other side and cook till both sides are brown and crisp.


If you do not have this pan, don't fret, you can always fry this the regular way.




Tomorrow I will tell you

what I did with these daler bora or fritters

, other than eating them just like that of course.