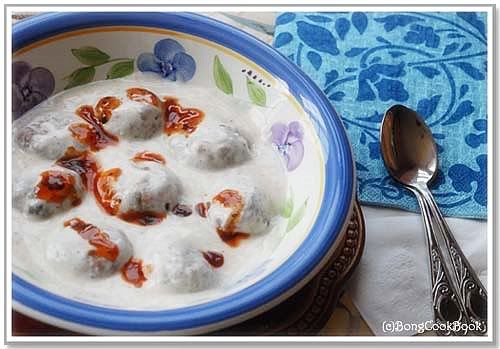 A
large chunk of my growing up years have been spent in
small town India
. Small towns, small buildings, narrow roads, greener trees, wider skies and smiling people. This town I am talking about was so small that it did not even have an air-conditioned restaurant or a public movie hall.
The township had
a movie club and showed 4 showings of the same movie
each week. Every family got two passes each week, 8 for the month and you went and saw whatever movie they played that week. By you, I mean only the adults, no one thought kids needed to watch movies and so there were no passes for the kids.
Did we feel we were missing something ? No, nothing that I can think of. I remember seeing "Mr.Natwarlal" after the final exams, sharing a seat with a friend when my Mother lend me her pass after the exams and I don't think it was a movie worth remembering if not for the rarity of the situation.
Though the town had no decent restaurant, it boasted of a very
delicious sweet shop
. The shop was nondescript with its thatched roof sitting limply on sturdy bamboo poles, rickety benches and tables where the flies made merry and grubby glass counters displaying the sweets. The
owner and also the sweet maker aka pastry chef
, however had a character. He was rotund, with white walrus seal mustache and sat stirring the milk down to
khoa
so happy and contented that he personified the sweet shop. And his products were to die for. If I close my eyes I can still imagine how good his
lyangcha
and cream chop was and it has been two decades since I have tasted them.
Now this post is not about the movie hall nor the sweet shop. I digress. It is about the small town though, where neighbors dropped in without making an appointment a month early and my Ma happily entertained them without thinking her time was being wasted. She enjoyed making a quick snack on such occasions and a very popular one was the
Paurutir Dohi Vada
or
Bread Dahi Vada
.
Made
with soft white breads and thick yogurt, it was a quick snack
, the ones that you can make while chatting with your guests. It is good that is quick, for it needs to be devoured as soon as you make it and does not stand well if served later. My Ma says, this recipe is from my
Dida(my Mom's mom)
who in turn had got it from a now defunct Bengali magazine called
"Amrito
". I am sure there must be other versions of it around but this is my
Ma
's or my
Dida
's or maybe the now defunct
Amrito
's or someone who raked her very creative brains to make her family eat bread long long time ago...
Though my
Ma insists that I use ONLY WHITE BREAD
for this dish, and that is how it tastes best, I have
stuck to my guns and used WHOLE WHEAT BREAD
. If you have white bread, do use that as the
vadas
are crispier that way.
Read more...






Paurutir Dahi Vada/Bread Dahi Vada





Note

: before you take the plunge there are two things to note (1) this tastes better with white bread though I liked it with wheat bread too (2) this is NO substitute for the real Dahi Vada

Take

6 slices of bread

and remove the crusty edges. Do not throw away the edges, you can make croutons out of them.




Holding a bread slice in the palm of your hand, sprinkle water on it and then press between your palms squeezing out the water. The

bread should become soft and pliable

so that

you can make a dough out of them

but it should

not be soggy and watery

.

With your hands make a dough out of the softened bread slices. To the dough add


1/4 tsp of Roasted Corriander powder,




4 Green Chili chopped




1/2 tsp of chopped ginger




salt to taste




a drop of oil


and mix well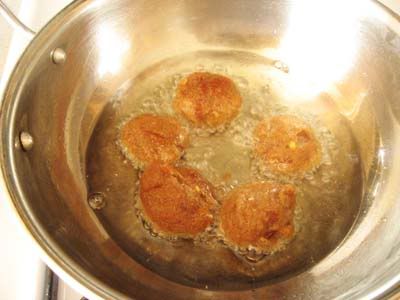 Make

small rounds of ball

from this dough.

Ideally the balls should be flattened like the real vadas and not really rounds






Deep fry them in oil till they are crisp and deep brown.Alternately fry them in the appe pan till they are brown and crisp on the outside.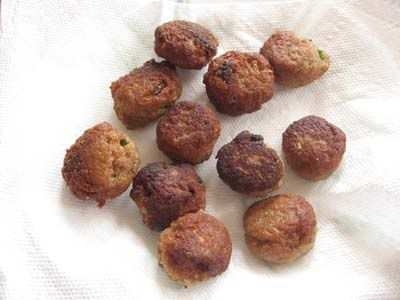 In a a bowl take

1 cup of thick yogurt

and whip smooth. To the yogurt add


1/2 tsp of sugar




1/2 tsp of Kala Namak/salt/aamchur




1/4 tsp of Red Chili powder


and whisk till everything is mixed.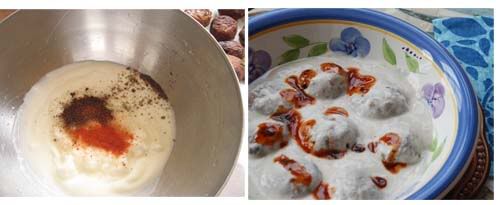 In a serving dish put the fried bread vadas, pour the beaten yogurt on them so that the vadas are completely covered in yogurt. Drizzle your favorite

sweet tamarind chutney

and serve immediately



Tip

: I did not do it but garnishing with a fistful of

sev

would be a good idea.